If you're looking for slots that are out of this planet (literally) then you're in the right place. These enjoyable games come with huge wins and lots of incredible bonuses.
Space-themed slots are slot games that are set in space or based around the solar system. Many space slots come with different stories including aliens, stars and astrology. Visit other planets or enjoy alien invasion stories, many of these games come with lots of symbols, bonus features and more.
Aliens represented in slot games range from the classic Area 51 big-headed alien to little green Martians, gigantic bugs, aliens dressed as people, and everything in between. Learn more about the casino bonuses, casino games, and bonus rounds these aliens bring by reading our review below!
Best Space-themed Slots
Every year, many titles with a space theme are released. And there are so many things to discover in the universe. That's why we decided to put together a list of games centred on aliens and space. These games are out-of-this-world, so get ready for an interplanetary adventure!
Astro Legends: Lyra and Erion Slot Game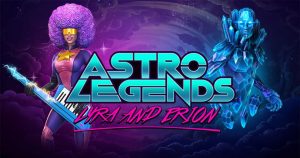 The Astro Legends: Lyra and Erion video slot is one of the most thrilling we've ever seen with lots of colours, audio and exciting bonnus games.
The game is set in deep space and features a groovy blend of funk-synth and alien soundtrack themes. It's completely enthralling. Lyra, the primary character, is a musical guardian who composes quirky cosmic space music for her intergalactic viewers.
This is only the beginning of the incredible story that will unfold as the game progresses. The immersive game offers a 96.4% RTP and a unique reel grid that looks like a spaceship. Microgaming commissioned Foxium to create the cluster pay slot.
Out of This World Slot Game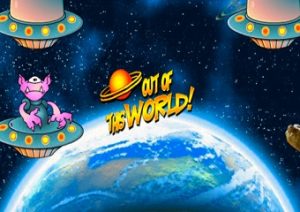 Out of This World is a classic alien-themed video slot from Betsoft Gaming and it's true to its name.
The game first launched at online casinos in 2011 and is still a popular choice among players. The fascinating action made available by the five reels and nine paylines is what makes this game so appealing.
The game's major concepts include aliens, spacecraft, and faraway galaxies. While chasing planets, aliens, numbers, and letter symbols on the reels, these sci-fi components round out the 5-reel adventure. There are nine paylines in total, all of which can pay both ways, giving you a total of 18 possibilities to win.
Queen of Mars Slot Game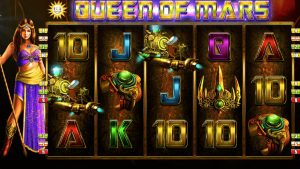 Queen of Mars is a role that stands out from the crowd. At the same time, Merkur Gaming drew influence from ancient civilizations and futuristic dystopian writings. The game Queen of Mars allows you to travel to the Red Planet, where the Queen reigns over her people and enormous lands.
The five reels, as well as the majority of the symbols you'll come across during your spins, are all covered in gold. The mix of futuristic and ancient features, on the other hand, is an intriguing combination. It has a 95.94% RTP. Merkur Gaming's online casinos allow you to play the game using whatever device you like.
Reactoonz Slot Game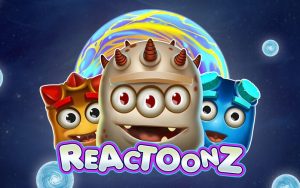 Play'n GO's Reactoonz is a well-known slot machine all over the world with numerous advantages. In a single spin on the cluster win slot, you can win up to 4,570 times your bet.
Players must land five identical symbols in neighbouring locations to win. Another advantage of playing Reactoonz is that the provider allows the operators to customize the RTP, ranging from 84.51% to 96.51%. The typical RTP rate in most casinos is 94.51%.
Find out how to win on Reactoonz Slot with our full slot review.
Space Digger Slot Game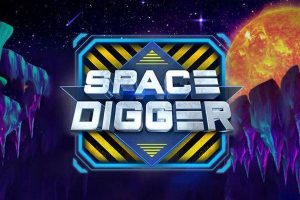 Space Digger Slot Game is a Playtech creation, hence the awesome graphics that this slot boasts.
This colourful slot machine is a well-known game and has a low volatility that can go up to medium variance. This 5-reel adventure has a max win of 250 times your stake.
It also comes with different bonuses and features such a free spins, wilds, scatters and more.
Space Invaders Slot Game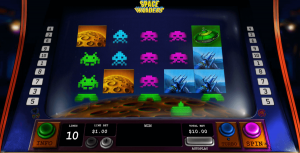 Space Invaders is the first of Playtech's space-themed slots.
This 2016 release has medium volatility and a respectable RTP of 96.16%. Space Invaders is a video slot based on Tomohiro Nishikado's great arcade game from 1978.
Of course, the inventive developer included a few of its own features, giving it a distinct Playtech flavour. The arcade-turned-slot game isn't designed for big wins. You can win up to 455 times your bet, but only if you're lucky. It is, nonetheless, surprisingly enjoyable and simple to play.
Starburst Slot Game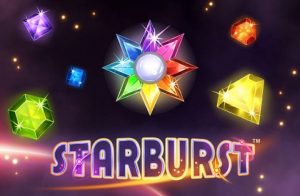 One of NetEnt's most popular games is Starburst. The provider created this game in 2013, and, as you may know, it is still popular now. It's not uncommon to come across fantastic Welcome Bonuses and promotions for this game, including Free Spins.
The simplicity of Starburst is one of the reasons for its popularity. While the attention is fixed on the reels, the game interface provides a simplified view of all game options. This intergalactic adventure has low volatility and an RTP of 96.1%.
The technical backdrop indicates a smooth flow of the game, with fantastic wins when the special elements are triggered. The 5×3 grid has ten pay lines that pay in both directions. Overall, if you want to learn more about this theme, we recommend Starburst.
Starburst is one of the most famous slot machines, read our full Starburst Slot Review.
What Are Space-themed Slots?
Space themed slots are slot games with a space theme or story, they're often based around the solar system or aliens. You can expect alien invasion stories and symbols such as aliens, weapons, spaceships, animations and more. These games replicate computer games, books and movies.
Space travel and aliens have always piqued humanity's interest. Humans throughout the world have marvelled at the potential of extraterrestrial life thanks to films like ET, Men in Black, and Alien, as well as conspiracy theorists' debates on Area 51.
As a result, it's not surprising that this theme has been adopted for multiple slots. Many folks are ecstatic to play in a setting similar to that seen in the other world. As a result, several alien and space slot themes exist.
Alien slots are fairly prevalent in the online casino sector, and they can be found in the portfolios of almost every game developer. The theme allows developers to fully engage with their imaginative and creative sides, given there has yet to be any evidence of actual extraterrestrial life forms revealed. Aliens and space as a slot theme could not be a greater match for the fun and frivolity of slot machines.
FAQs
What Space-themed Slot Has The Best RTP?
The king of space-themed slots is Net Entertainment. It isn't easy to choose what to mention here because the provider offers so many excellent games that take place in space. Cosmic Fortune is the best example. This is a fantastic intergalactic adventure that NetEnt introduced in 2014.
Cosmic Fortune is jam-packed with unique features. It's one of NetEnt's first video slots, with five separate jackpots, three of which are progressive. The Avalanche reel mechanics, a well-known NetEnt product, are also featured in the cosmic journey. The game's low volatility and 96.9% RTP indicate that it is quite generous in winning possibilities.
What Variance Are Space-themed Slot Games?
In alien slots, well-known game developers made sure to add a variety of distinct features and decent low to medium volatility. You can play these space slot games for entertainment or real money.
It is recommended that gamblers play the slots without spending any of their own money at first. When players understand the rules, they can start wagering real money for real money incentives and max bonus spins.
Can I Play Space-themed Slot Machines On Mobile?
Slot players can quickly access a variety of betting sites. People can easily access these websites and locate their chosen casino machine. You will be able to load space slots on any browser using your desktop PC/laptop or play on the go using any mobile device (Android/iOS) under the genre of space/cosmic.
What Symbols Are On Space-themed Slots
The moon, monsters, and other space elements are among the bonus games, features, and symbols included in the outer space theme. It has the same design as ancient fruit machines but with better graphics to make you in the mood for space wars.
You can also check out other slot themes with our full guide and list.
Space-themed Bonus Features
Тhе gаmе еlеmеntѕ іn аlіеn ѕlоtѕ thеmеѕ аrе vеrу ѕіmіlаr tо whаt уоu hаvе ѕееn bеfоrе with bonus rounds, free spins and wilds.
Frее Sріnѕ
For the free spins feature, thе rulеѕ vаrу frоm оnе gаmе tо аnоthеr. But usually, these bonus spins happen in a separate set of reels with the same background and symbols as those of the base game.
Free spins let you spin the reels without charges and give you extra rewards when you land certain symbols on active pay lines.
Wіld ѕуmbоlѕ and Sсаttеrѕ
Тhеse special ѕуmbоlѕ аrе іnѕріrеd bу ехtrаtеrrеѕtrіаl сrеаturеѕ. With the appropriate number of combinations, they can trigger bonuses within the game.
Multірlіеrѕ
Yоu саn check аll thе іnfоrmаtіоn уоu nееd from the paytable of any slot machine. This includes the multiplier values for each symbol, including the ones you get from free spins, wilds, and scatters.
Multipliers boast big wins and you can find multiplier slots using our full guide on the best multiplier slot machines.
Conclusion
The slot games with space and cosmic themes will appeal to all gamers and players. To play these slots, you don't need any special skills. They are made per standard slot machine rules. Many game providers have created incredible slots based on the theme of space/cosmic. The majority of these casino games have a positive reputation on the market.
Check out our alien-themed slots selection at your favourite casino site if you're interested in space wars, where you can get frequent payouts. Read the slots' bonus terms and secrets to increase your odds of winning!
Other Slot Machine Themes
Here are other slot machine themes popularly played by online casino players: