If you're a 'movie-buff' who also enjoys a good slot game, then this could be a match made in heaven.
Movie Slots are slot games that have a film theme, a number of slot developers have created a movie-style slot machine that allows you to immerse yourself. They're exciting as you get a chance to experience an extended version of the film, sometimes with scenes, the characters and symbols from the set. 
Slot games based on movies are some of the most popular themes for slots, with them attracting many film fans and also being able to easily offer non-stop action.
Read on as we review the top movie slots and pinpoint the best available online slot options. We break down the gameplay, storyline, jackpots, bonus features and free spins.
Top 10 Movie Slots
From our research, we have found the best movie slots and here they are:
Movie Themed Slots
Enjoy the fusion of the best movies and the best slots. There are a number of games that offer a movie theme with the characters, scenes and intricacies that only movie fans would understand.
Play some of the most enjoyable slot machines with the slot version of these top motion pictures. It is hard to decide one online slot out of the many that are available. But you will find a slot machine that suits you, and you may be playing for the best bonus features, storyline, gameplay or biggest win. Either way, pick out the very best movie themed slot from our list.
You will also need to consider other factors, including the RTP; we like to find the best RTP slots as they are more likely to pay frequently.
It would be best if you also considered the slot volatility as this signifies the likelihood of regular payouts and whether the winnings are big or not.
After creating a complete picture, we decided that The Goonies is the number one slot movie game. This video slot has immense 3D graphics and often gifts a random special feature and an opportunity for free spins.
What are the Best Movie Slots?
Right, let's get into the nitty-gritty of these top games and why they were voted as the most popular movie themed slots.
The Goonies Slot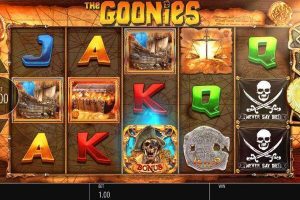 A slot based on the classic film- The Goonies, could never go wrong. But they certainly went the extra mile with this movie slot from Blueprint Gaming.
It comes with a big bag full of tricks and bonus features. When you arrive on the game, you'll hear catchphrases ring out from characters with "Hey You Guys!" and many others. The game is bright with a variety of graphics and lots of colours.
You will be privy to characters from the movie that arrive during the base game and bonus games. Say hello to Sloth, Chunk and Data.
What really captured our attention was the different bonus features and how often you are randomly awarded a bonus. You will get the chance to pick from three keys; they can offer you bonus symbols, wild symbols or a colossal symbol. This game offers some incredible win potential, especially as a medium variance slot.
Read our Full The Goonies Slot Review to find out more about this exciting slot with sound effects from the movie itself and lots of exciting graphics including the inclusion of the star character Chunk.
RTP: 95.96%
Software: Blueprint Gaming
Jackpot: £250,000
The Dark Knight Rises Slot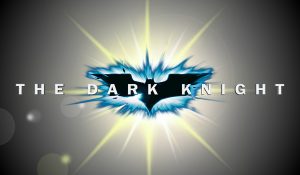 Flying the flag for such a huge production wasn't easy for Playtech, but they did a great job. This Christopher Nolan film has been done justice.
The progressive jackpots always add to the reputation of a slot game. This video slot has a huge jackpot with a chance to win up to £1 million.
Additionally, enjoy the long list of bonus features, free spins and re-spins. This game has 6 reels, 50 paylines and lots of familiar characters. As you'd expect the Joker and Batman go head to head in this popular slot.
If you want to discover more about The Dark Knight Slot then check our in-depth guide on how to play and how to land big real money wins.
RTP: 96%
Software: Playtech
Jackpot: £1 million
Jumanji Slot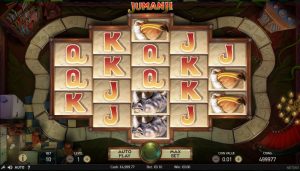 This five reel slot has 36 paylines and unique slot features with its different layout.
Jumanji was introduced to Hollywood back in 1995, becoming a box office movie. Since then it has been product to a re-make. This slot game revolves around the concept of the Jumanji board game from NetEnt.
The graphics aren't the most modern, but they are perfectly matched with the theme. It has features such as Monkey Mayhem, Monsoon Wilds, Wild Stampede and Sticky Vines. The previous are all feature names for the guaranteed wins, wilds and more.
This nostalgic game offers another perspective of what is a truly loved classic. Play the Jumanji game for yourself and take the place of the film's main stars.
For more details on the subtleties of the game, use our full Jumanji Slot Review.
RTP: 96.3%
Software: NetEnt
Jackpot: 504x Stake
Jurassic Park Slot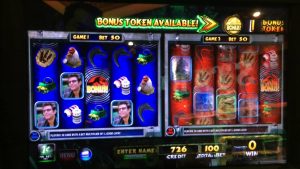 Another well-known movie – Jurassic Park. This time it comes as a slot game depicted by Microgaming. The Jurassic Park Slot boasts an incredible 243 ways to win and 5 reels.
Fans will be looking out for Dr Hammond, Grant and other famous characters. The graphics are vibrant and offer lots of different features.
Not only does it display a whole load of paylines but also comes with free spins and bonus features.
Scope out the T-Rex, Velociraptor, Triceratops and many other dinosaur favourites. The symbols keep the game engaging and the features continuously other options to win real money!
Read our Full Jurassic Park Review for the best welcome bonus, RTP and other incredible features of this game.
RTP: 96.67%
Software: Microgaming
Jackpot: 504x Stake
Planet of the Apes Slot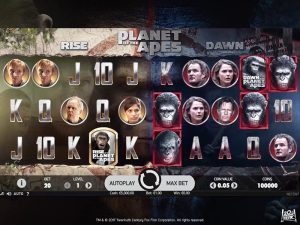 Net Entertainment present this exciting Planet of the Apes slot game with intriguing graphics, enjoyable bonus features and lots of elements of the film that only fans will know.
There are four different bonus games available on this game; the software developer has evidently placed a lot of care and attention into this game. Embrace the fully-functional slot machine, the jackpot of 1000 coins and the super-generous RTP.
Planet of Apes slot has the perfect symbols and features to compliment the movie, but something that caught our attention as slot fans was the RTP of 96.33%. Planet of the Apes is another medium variance slot, offering regular wins and the potential of huge returns too.
Find our Planet of the Apes Slot Review for everything that you need to know about this slot machine.
RTP: 96.67%
Software: Microgaming
Jackpot: 1000x Stake
Superman the Movie Slot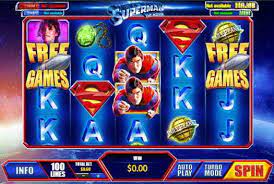 Another superhero slots theme, this time none other than Superman. Superman is a well-known movie, animation and series. This particular slot machine offers a version of the movie storyline; including the Superman movie's Christian Reeve version.
The five reel game has 100 paylines, free spins and a huge jackpot! Four levels take the jackpot, and there's life-changing money to play for, visit the game and start staking on this powerful slot machine.
This game could be your kryptonite with its irresistible design and shot at big prizes.
Save the day with these bonus features and other amazing elements to the game that emulate the film we often watched as kids.
Superman the Movie Slot is a fan-favourite with its bright theme and lots of familiar characters.
RTP: 95.01%
Software: Playtech
Jackpot: £225,000
Halloween Slot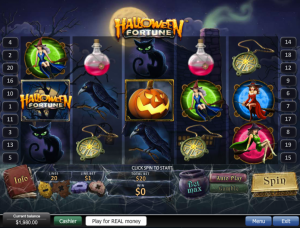 It's not all about romanticising the movie theme; you can also make the most of a spooky style slot. This one is in the name of Halloween, one of the most famous horror films ever known.
You will get shivers during this game, due to the familiar scenes and thrilling bonuses. Land the scarily exciting features and start playing for the huge returns.
Keep your eyes peeled for the Wandering Reels, Trick or Treat Wheel and the free spins feature. Again, one of the most wowing moments of this video slot has to be the high adrenaline RTP of 97%.
Make the most of this thrilling game and all of the best bonus feature options, you can find out more with the Halloween Slot Review.
RTP: 97%
Software: Microgaming
Jackpot: 500x stake
The Avengers Slot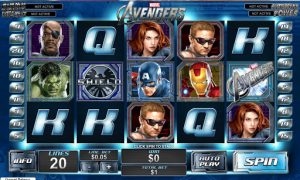 Marvel fans rejoice, The Avengers Slot features Iron Man, Incredible Hulk, Thor and Captain America.
Playing The Avengers Slot is as exciting as it looks, it comes with several iconic characters from the movie and just as many features, including wild symbols.
Playtech showcase this conventional slot with 5 reels and 20 paylines. This game has different types of bonus free spins, each with their own benefits. Unlock Hulk, Thor, Captain America and Iron Man free games.
Play for the jackpots, an above-average Return to Player and lots of fun features, backdrops and graphics throughout.
The Avengers Slot Review touches on the game and all of the characters.
RTP: 95.02%
Software: Playtech
Jackpot: £10,000 stake
Ted Slot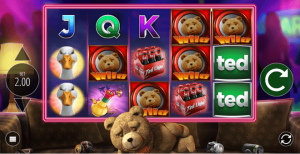 The hilarious game with characters and production from the famous Family Guy series has now been made into a movie slot.
Ted slot is a hugely popular title already, despite it being one of the latest releases on this line-up. It comes with burps, farts and other humour that you saw on the movie itself. Unlock hilarious bonus feature games.
You will relate to many of the features including the Thunder Buddy bonus and the Lazer Gun Infectious Wilds. Play for the randomly generated bonuses, free spins feature and the opportunity for huge jackpot winnings.
This video slot is funny, exciting and comes with everything that you could wish for, use our Ted Slot Review for all the details.
RTP: 95.8%
Software: Blueprint Gaming
Jackpot: £5,000 stake
The Gladiator Slot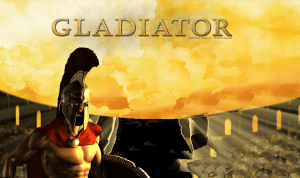 Are you not entertained!? This game is part of the Russell Crowe movie, and it is the perfect theme and storyline for a slot. Remain on your toes as you sit in the hope of the big jackpots and different features on this Playtech Slot.
As you enter the stadium you will be looking to unlock the desirable coliseum bonus and free spins.
The game has 25 paylines and 5 reels. Having 25 paylines means that you get the average number of chances to win, but when you add in the features and jackpot, you will be over the moon.
Lots of bonus features and opportunities to win are available. The Gladiator Slot Review will reveal how to win big and land the exciting jackpot.
RTP: 95.02%
Software: Playtech
Jackpot: £10,000 stake
Terminator 2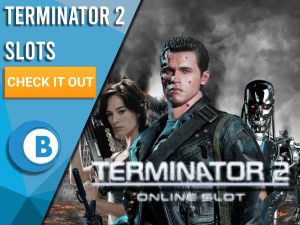 He said he'll be back but no one expected it to be in the form of a video slot.
Arnie is one of our heroes and in this game he provides some great opportunities. The movie themed slot has symbols such as Sarah Connor, John Connor and Terminator.
It comes with a great bonus game with free spins, wilds and the chance to land big wins. Not only does this game have different features but it also offers 243 ways to win and an impressive payout percentage.
For all the details that you need to know check out our look at Terminator 2 in the slot review.
RTP: 96.62%
Software: Microgaming
Jackpot: 2,592x
Scarface Slot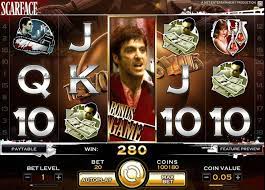 Say hello to our little friend with this slot game by Net Entertainment.
Scarface is a classic movie and it has quickly become a classic slot, the game follows the conventional 5 reels and 20 paylines. But, the graphics are far from traditional and the familiar scenes make this game more interesting.
The game displays the well-known characters of the storyline including Tony Montana too. In the gameplay, these reels hit as many times as Tony himself with an impressive RTP of 96.8%.
Also dive into the wilds, jackpots and free spin bonuses, find out more about the previous in our Scarface Slot analysis.
RTP: 96.08%
Software: NetEnt
Jackpot: 2,000
Mars Attacks Slot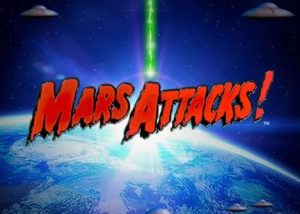 Mars Attacks is a popular film from the 90's and is a well-known concept where politicians reveal their alien identity and attempt to take over Earth. This game is far more conventional than the storyline itself, it comes with 5 reels and 20 paylines.
Although there are 20 win lines, during certain bonus games, you'll be able to activate 3125 ways to win. Enjoy the bonus games such as Sub Zero Laser Locked Reels, Spy Hunter Feature and many other unusual bonuses. Check the pay table for more details on how to trigger the various bonus games.
There's a catalogue of bonus games that can be activated, enjoy a range of exciting features and find out more with our full review on this movie slot – with Mars Attack Slot Game Review.
Austin Powers Slot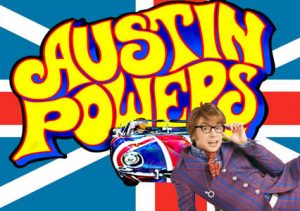 Groooovy baby – this game depicts the Austin Powers from the movie perfectly.
Austin Powers Slot is a slot machine based on the movie and famous character of Austin Powers, the English spy. This comedy movie translates perfectly into a slot machine, you will enjoy lots of scenes, symbols and bonus features from the game.
This slot from Blueprint Gaming has 5 reels and 25 win lines. There's a complete range of bonus games including free spins, wilds and a pick them round.
Check out the full Austin Powers Slot Review for an insight into the big wins and bonuses.
Top Gun Slot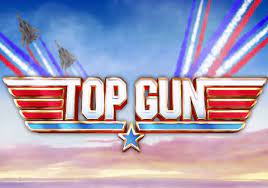 Top Gun is a cult movie starring Tom Cruise and now you can enjoy an extension of the film with this exciting slot machine, it comes with 5 reels and 243 ways to win.
This casino game offers familiar characters such as Maverick and Charlie, Charlie is the highest paying symbol. Other than the huge number of winning lines, the bonus games are simple but effective. This includes free spins, wilds and scatters.
The enjoyable slot is colourful and has a huge following of slot fans, find out more about its medium volatility and the RTP with our full breakdown of Top Gun Slot Review.
Bridesmaids Slot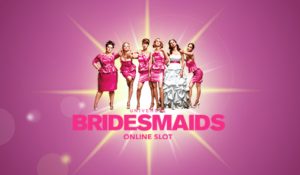 Bridesmaids is a comedy movie and you can now enjoy it in the form of a slot. Bridesmaid Slot is a 5-reel slot game with 40 paylines.
The game is based around a wedding and it comes with a number of characters, card suits and cupcakes. This casino game displays a pink theme. The bonus features offer free spins, stacked wilds and rolling reels.
This exciting slot has a number of features and certainly catches the eye.
Check out ways to win with Bridesmaid using our full Bridesmaid Slot Review.
Grease Slot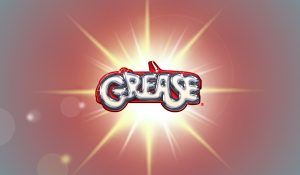 Grease is a famous film from the 80's and is loved by all generations, you can now join the T-Birds with this 5-reel slot game that offers 20 paylines.
Playtech Software is one of the best providers for showcasing movie-themed games, this particular casino game has a huge range of bonus features with free spins, wilds, rolling reels and more.
The slot machine has huge wins that are available with their progressive jackpot wins. Find our Grease Slot Review for more details on how to win.
RTP: 94.4%
Software: Playtech
Jackpot: Progressive
Robocop Slot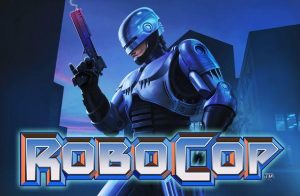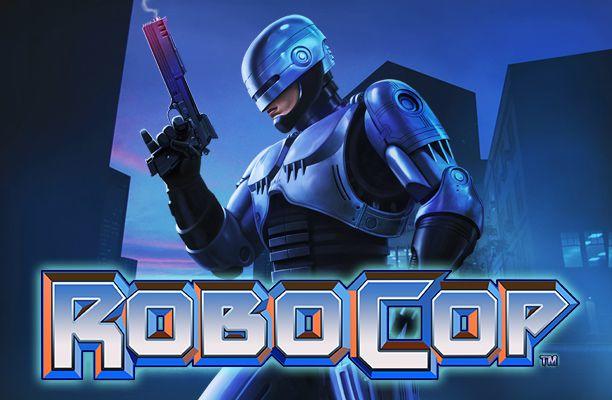 Robocop is yet another classic movie and was also turned into series, this time it's been created as an incredible slot machine that is sure to keep you captivated. The slot game has 5 reels and 25 paylines.
As well as offering the conventional features it also comes with bonus games such as free spins, wilds, scatters and more. The bonus features include – Metal Target Wilds, Golden Badge Scatters and Robo Attack Spins.
We've experienced this game for ourselves and also looked into bonus rounds, free spins and more, find out more with our Robocop Slot Review.
RTP: 96.24%
Software: Playtech
Jackpot: x2500
King Kong Slot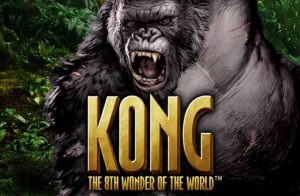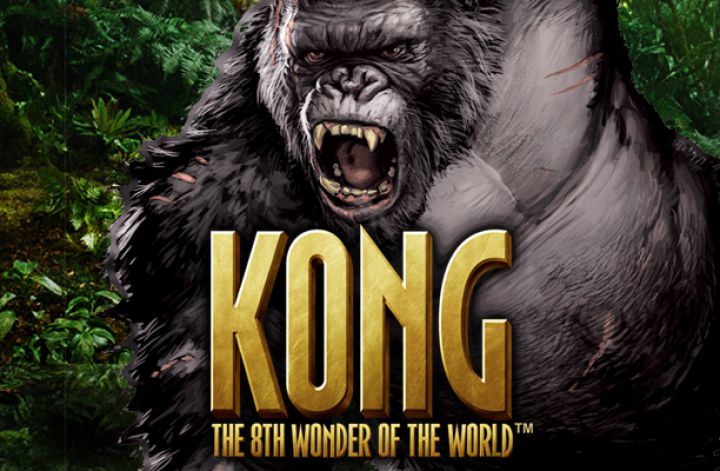 King Kong is a fan-favourite in the film industry and now you can enjoy this 5-reel slot machine from Playtech.
This online casino game has 20 paylines and a number of different bonus features. Most of the exciting slot features revolve around wilds – check out the Wild Jungle Free Spins, Wild Kong Free Spins, Scatters and a Click Me Bonus.
The actual title of this game is 'Kong: The 8th Wonder of the World Slot'. It's a graphic game with symbols such as Kong and characters from the film. This game, unlike King Kong Cash Slot, isn't an animation theme and instead, it's set around the movie.
Find out more with the King Kong Slot Review as we delve into the full gameplay.
RTP: 95.5%
Software: Playtech
Jackpot: x3000
Indiana Jones Slot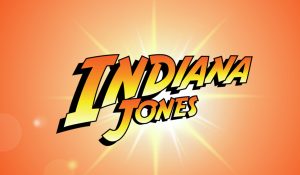 Indiana Jones Slot is a cult movie and the slot game has 5 reels, 243 ways to win and some bonus games.
This slot machine comes with stacked wilds, progressive jackpots and consecutive bonuses. The slot game displays Egyptian- themed designs with Scarab Beetles and Tutankhamun symbols but it is also set on the film. Expect to find Indiana Jones himself and unlock some of the exhilarating bonus games.
Find out more about the software, RTP and how to land wins with the full guide on Indiana Jones Slot Review.
RTP: N/A
Software: IGT Slot
Jackpot: Progressive 
FAQs
Why Movies and TV Shows Slots?
If you love to sit down and get into movies or TV shows then it makes sense to find the movie slots.
You can re-live the storyline with all the characters, themes and audio effects that these games come with. These games are a great way to enjoy the passion for films and slots by bringing them together.
Is There an Action Movie Slot Machine?
There are plenty of action movie slots including Jurassic Park.
You won't be shy of action movie slots with all of the film slots that are available. You can also make use of the Justice League slots, DC Super Heroes Jackpot Slots and more.
Which is the Top Movie Slot Machine for Wilds?
The Avengers Slot has the best wilds feature out of all the movie slots.
Most movie slot machines offer immersive wilds but our favourites come from The Avengers Slot, during the bonus spins. They provide extra random wilds, the Thor Hammer could help you land some big wins.
What's the Best Movie Slot for Bonuses?
All of the top movie slot machines have exhilarating bonuses including Ted Slot and The Goonies Slot.
The Goonies Slot comes packed with characters, graphics and audio. It comes with a range of bonus features from the scatter symbols and randomly generated bonuses.
Bonuses on The Goonies include free spins, wilds, colossal symbols, bonus boost and a win-spin.
What Software Developers offer Slots Based on Films?
There's a tonne of slot machines that brandish the exciting movie theme throughout and slot developers such as Blueprint Gaming, Playtech and IGT specialise in this niche.
Although both the previous aren't solely exclusive to film-based slots, however, they do have a catalogue of movie-themed slot machines.
Blueprint Gaming is one of the most renowned for offering a long list of movie slot machines including the likes of The Goonies and Ted. Playtech is another one of the game developers that provides a list of movies.
The above aren't the only developers to create film slots, you can also embrace the likes of Microgaming, NetEnt and IGT.
What slot machines have the best chance of winning?
The slot machine that has the best chance of winning are those with an RTP of 96% or more, as they have a high payback. We recommend using this slots strategy whenever you play online.
What is the biggest win on a slot machine?
The biggest jackpot win on a slot machine is $39,713,982.25. This was won at Excalibur Hotel-Casino in Las Vegas on the Megabucks(R) machine in March 2003.
Is it better to bet high or low slots?
It is better to play the maximum bet when playing slots. Most progressive jackpots can only be won using the max bet. Wins are normally paid out at higher multiples.
Best Progressive Jackpot
Play for the top jackpots with many of these movie-themed slots offering huge real money prizes, you can play the Dark Knight slot, Planet of the Apes and Superman for a progressive jackpot.
We've unearthed the best progressive jackpot from the top-rated film slots games. The Dark Knight Rises doesn't just make it a hero-themed slot game, but it's also a progressive jackpot slot.
It provides low-stake options, yet it comes packed full of bonus features, free spins and the potential to land a £1m progressive jackpot.
Conclusion
Finding the best movie slot has been made easy, thanks to our list of 10 slot games. Pick out the title that most suits your preference, you're able to unravel jackpots, free spins, bonus features and scenes that resonate with movie fans.
Be sure to check out our full reviews of these online slots and find out everything you need to know. Casino games come packed with bonus game options, free spin features and jackpots. Pick from the best online casino sites, as you unravel the latest welcome bonus before joining.
Once you decide on casino games and movie-themed online slots, be sure to check out our full reviews to find out if it's a match for you.
Other Slot Machine Themes
Here are other slot machine themes popularly played by online casino players: