Television games, reality programs, and slot machines are all popular, so when someone came up with the idea to combine the three, they hit on a winning formula.
Game show-themed slots are slot games that are based on TV game shows. They come with bonus games, free spins, wheel of fortune spins, and progressive jackpots. Slot machines and game shows have a lot in common, making them a natural choice for video slot game themes.
Read this review to know how game show slots have been a mainstay of western society for decades and have become one of the main choices for slot manufacturers. Find other slot themes too – with movie slots, Egyptian themes and more.
Best Game Show-themed Slots
We've compiled a top ten list of the most popular slots based on famous reality shows and television shows worldwide. The games on our list are all one-of-a-kind in terms of gameplay and in-game prizes.
Continue reading to learn more about the specifics of each game, as well as the prizes available and the entire experience.
100,000 Pyramid Slot Game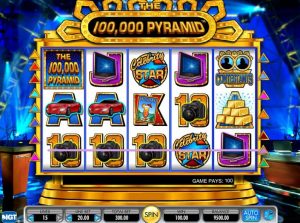 IGT's 100,000 Pyramid slot is one of the industry's most popular games with 5 reels and 15 paylines.
The similarities between the slot and the game show are obvious with the game being based on trivia. The 100,000 Pyramid logo is the highest paying symbol and also works as a wild. Other symbols include the number seven, a celebrity icon, a contender, and luxurious awards such as a brand new car. Given the game's 2010 release date, the graphic and acoustic effects are pretty impressive.
Find out more about the game and it's payouts with our full 100,000 Pyramid Slot Game Review.
Big Wheel Slot Game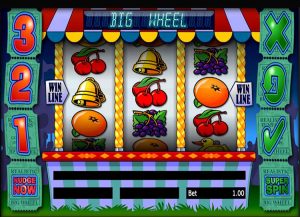 This vintage game show delivers an equally exciting classic with this Big Wheel Slot Machine. It comes with 3 reels and a single payline.
The Big Wheel logo, of course, is crucial in this game since it activates the extra round. A yellow duckling, grapes, and golden bells are among the other symbols.
It has a large RTP, Super Jackpots, Crazy Reels and more.
Deal or No Deal Slot Game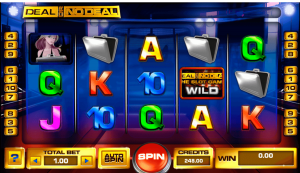 The red boxes are waiting and you could land some incredible wins, enjoy 5 reels and 20 win lines.
There are wilds and lots of bonus features on this Playtech Slot Game. The mystery banker, banker stemple, coffee mug, gaming floor, J, Q, K, and A can all be found on the playing grid. The sound effects are a blend of TV shows and classic casino slot machine sounds. Regrettably, the graphics are a little antiquated.
Three progressive jackpots, a jackpot bonus, the Bankers Best Offer Game, and free spins are just a few of the interesting features included by the software provider.
Game Changer Slot Game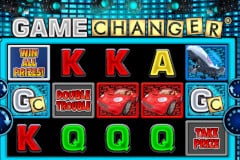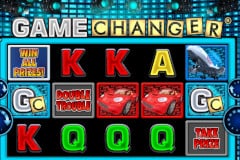 Come on down with Realistic Games' Game Changer! For this title, the software creator only looked at old game shows for inspiration. They used animations and graphics in the style of a cartoon. The background music is only played during your spins, and sound effects are minimal. Classic game show rewards, such as a yacht, a car, and even a teddy bear, inspired the symbols in this game.
The Game Changer slot has 20 paylines and is played on a standard 5×3 grid. Furthermore, the game has an RTP of 96.06% and high volatility. Game Board is a spectacular extra round designed by the program creator. During the bonus round, you can win up to 6 times your wager or massive jackpots of up to 6,000 times your stake every spin.
Jeopardy Slot Game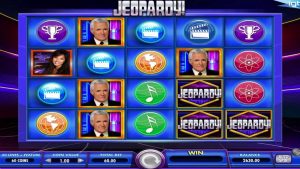 Next, we have IGT's Jeopardy slot based on a popular TV show of the same name. Prepare to be escorted by Alex Trebek, the one and only. This is feasible because of a deal struck between the software maker and Sony Pictures.
Trebek is an essential character in the game since his symbol is the highest-paid. The wild symbol is the Jeopardy logo, and the scatter is the Bonus symbol. Three contestants and five-game categories are among the other symbols. The visual and acoustic elements put you right in the heart of the Jeopardy stage, as you might anticipate.
Jeopardy is played on a 5×4-square grid with 40 different ways to win. The IGT slot also has a 95.00% RTP and medium variance. The game's creators included some fantastic and rewarding extra features. The Jeopardy Bonus Board, Double Jeopardy Symbols, and the Wild Rush feature are available when playing this slot.
Pick a Fortune Slot Game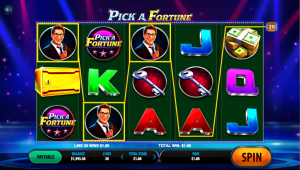 We also feature Sigma Gaming's Pick a Fortune. The exhilarating slot was likewise created by this game developer only based on the popular genre. When you play the Pick a Fortune slot, you have the impression that you are in the centre of the stage.
The host, safety deposit box, silver key, a stack of cash, J, Q, K, A, and, of course, the Pick a Fortune logo are the show-stopping icons. The graphics are crisp and appealing. Some of the sound effects, on the other hand, reminded us more of a fantastic adventure than a downtown game show.
Pick a Fortune contains 20 fixed paylines and is played on a standard 5×3 grid. This game also has a 95.70% RTP and medium volatility. The special features were executed flawlessly by Sigma Gaming. The Win Step and Pick and Choose Bonuses, as well as a multiplier function, are all available to you.
The Price is Right Slot Game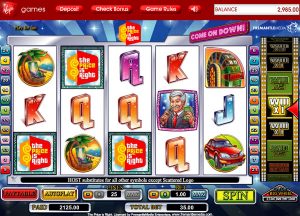 Many game show games are now available online. But The Price Is Right, produced by IGT, is still the greatest one. The distinctive huge spinning wheel and more typical casino symbols like the Royal suite – 9, 10, J, Q, K, and A – appear in this high-quality game from 2019.
The charming host, stunning attendants, and rich prizes all appear as symbols in this IGT game.
The Price Is Right is a 25-payline game played on a standard 5×3-square grid. RTP ranges from 92.89% to 96.25%, with a moderate fluctuation. The Big Wheel Bonus, Plinko surprise multiplier, and Cliff Hangers are just a few of the amazing additional features that IGT has packed into this slot.
Wheel of Wealth Slot Game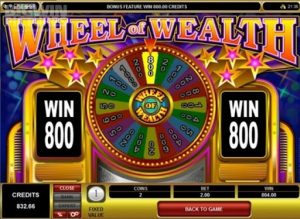 Wheel of Wealth is a game created by Microgaming, a renowned game producer. With the design of this slot, this software provider accomplished something extraordinary: combining an old-school aesthetic with modern special features. That's not all; keep an eye out for the symbols!
The Wheel of Wealth logo is the highest-paying of the slot symbols, and it also works as a wild multiplier. Gold bars, diamonds, grapes, and cherries are among the other symbols that payout. With classic sound and visual effects, this old-school game show slot theme is beautifully portrayed.
Wheel of Wealth is a single-payline slot machine with three reels and one row. It also has an RTP of 96.04% and a medium to high variance. Microgaming updated this old-school game with current unique features, including the Wheel of Wealth bonus. Also, make sure not to overlook the multiplier and Autoplay features.
Who Wants to Be a Millionaire Slot Game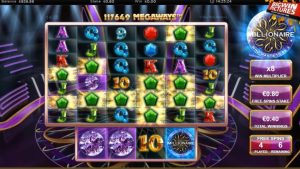 Do you want to be a millionaire? The following game is Big Time Gaming's Who Wants to Be a Millionaire.
Precious stones, as well as the 9 to Ace card icons, are used as symbols. These have no resemblance to the ingredients of classic TV game shows, but Big Time Gaming still did an excellent job with the graphics and music effects. You will undoubtedly feel as if you are the centre of a game show audience's attention.
There are 6 reels, 7 rows, and 117,649 ways to win in the Who Wants to Be a Millionaire slot. In addition, the game has an RTP of 96.24% and high variance. Big Time Gaming added some spice to the game by including the Hot Seat Free Spins Gamble and the Walk Away/Final Answer. If you enjoy online game shows, we strongly advise you to check out this game.
What Are Game Show-themed Slots?
Game show-themed slots immediately capture the interest of slot players due to their popularity on television. Although it takes time for new slot games to gain traction, game show slots sell themselves since they allow gamers to play slot versions of their favourite game shows.
Game shows are among the best things that television has to offer. Many individuals have been watching these shows and seeing people just like them win big money for playing a game.
Bringing these games to casino floors around the world and those who play them nearly ensures that gamers will play them.
You can choose from various game shows, whether they have been on the air for a long time or are brand new; it doesn't matter because practically every game show has a fan base.
You won't have any trouble finding a slot machine that symbolizes your favourite game show to play at home or on your next trip to the casino, whether you prefer quiz games or games focused more on luck.
FAQs
What Game Show-themed Slot Has The Best RTP?
Our collection of game show slots includes titles with excellent RTPs. Each slot has its own personality and way of presenting the prizes to the gamers. However, Wheel of Fortune on Tour is the slot game with the highest RTP.
Take the bus and discover the world with an RTP of 96.60%! On our list of game show slots, Wheel of Fortune on Tour is the title that provides you enrichment and trips.
Return to player percentage is an important facet of any game, it gives an idea of the likelihood of paying out.
What Variance Are Game Show-themed Slot Games?
Most of the game show themed slots come with medium volatility to high variance, this affects how often a slot pays out.
The slot version of a game show tends to offer bonus symbols and casino bonuses inspired by the prizes of the actual game show.
Therefore, you can expect to receive steady payouts or big wins when you play game show slots, even if they don't give frequent cash prizes.
Can I Play Game Show-themed Slot Machines On Mobile?
Game show slots games are designed to work on modern smart devices with Android and iOS operating systems and online casinos with responsive designs. You'll only need a computer, phone, laptop, browser, and a reliable Internet connection.
What Symbols Are On Game Show-themed Slots
Symbols on game show slot machines depend on which show is the video slot game based on. But usually, game show slots feature the TV host, wads of cash, a player's podium, coins, and the game logo as part of the game show slots' symbols.
Game Show-themed Bonus Features
There are many interesting bonus features on slots. Game shows as themes make these features more interesting since slot game providers integrate your favourite TV game shows' rounds into the slot versions.
Here are some of the special features you can find on game show slots:
Wheel of Fortune
The wheel of fortune often comes in a separate bonus round which you can trigger by landing a certain number of special symbols. You then spin the wheel and get whatever bonus feature the arrow lands on.
Progressive Jackpot
Most popular TV game show slots have this type of jackpot, which allows you to bag a ridiculously high amount of cash prize. It increases and accumulates rewards until a player gets lucky enough to hit it.
Note that you have a higher chance of getting the progressive jackpot when you plat on max bet.
Free Games/Free Spins
This feature activates when you land enough Scatter symbols on the reels. Depending on the game, you can win as little as five free spins per round, or you can also get unlimited free spins.
Wild Symbols
These special symbols can substitute for other standard symbols in the game and help you land more winning combinations.
A wild symbol can also trigger some special features.
Welcome Bonus
Some casino sites offer a first-deposit bonus package consisting of bonus games, free spins, cashback, and discounts.
Conclusion
In the realm of slots, game show slot machines have their own department. They are a very popular, frequented place for fans of a particular TV show.
The next time you're searching for a slot to play, checkup if your favourite game show has a slot game version and give it a shot. You won't have any trouble picking your favourite from the many selections available. Remember to play responsibly as always.
Other Slot Machine Themes
Here are other slot machine themes popularly played by online casino players: