If you're an avid slots fan, then you will be aware of Egyptian themed slots. They are often synonymous with video slots and are some of the most popular slot types.
An Egyptian theme is a slot game theme, it often comes with an ancient Egyptian backdrop and the usual symbols. These include Pharaohs, Cleopatra, Pyramids, Hieroglyphics and Mummies. The storylines differ between games with explorers often looking to uncover hidden treasures.
We help you decide on the best games. After trialling each slot game and picking out the best games with an Ancient Egyptian theme, you can now select the most exciting of the lot.
Find 3 reels, 5 reels and slots with progressive jackpots, we also include details on the RTP, software and everything else that you need to know.
What Are Egyptian Slots?
Often when slots players are discussing Egyptian Slots, they're referring to the theme. Egyptian Themed Slots are easy to find and they come in all shapes and sizes.
Pick out the best video slots with jackpots, bonus features and everything that suits your preference. We use this time to unravel the very best and also leave a review on each one.
Find different themes within the Egyptian Slots stylem with games such as Book of Dead, Cleopatra and Mega Moolah.
Best Egypt Slot to Start With
We believe that the best games to start on should be the classics. The most popular games are those that started this trend- Cleopatra and Book of Ra.
They are easy to play and still boast some incredible wins for new players. If you are a new player or even an experienced slot lover, these games are easy to grasp. They are engaging slot machines with plenty of bonus round options, big wins and stories throughout.
Cleopatra and other games that we have mentioned are known for their land based casino games but now they offer the IGT slot at online casinos.
Read on for our full review on the Ancient Egypt Slots and some of our favourite elements of the Egyptian Slot Games.
Best Ancient Egypt Themed Slots
Cleopatra
Book of Dead
Book of Ra
Mega Moolah
Pharaoh's Fortune
Queen of Riches
Book of Sun
Valley of the Gods
Top Egyptian Themed Slots in July 2021
Our team are well-versed at spinning the reels and we've been doing so for decades. After keeping our criteria specific to Egyptian Themed Slots in this review, we have handpicked the best Egyptian Slot Games.
Cleopatra
Cleopatra is one of the originals when it comes to Egyptian Slots, offering the classic casino style with 5 reels and 25 paylines. It is colourful game with lots of sound effects.
Once you play it, it will soon become a staple of your slot favourites. The game is simple to play yet you can enjoy slot features such as the Cleopatra wilds and multipliers. It also comes with free spins that are triggered by three Mummy scatter symbols.
You can earn upto 10,000x your stake in this popular Egyptian Themed Slot. Take a trip into Egypt from the comfort of your device!
Read the Full Cleopatra Slot Review and find out more about the RTP, software and how to win the bonus features.
Book of Dead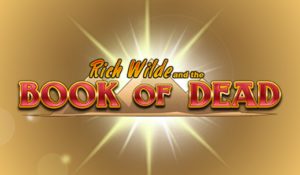 Book of Dead is a well-known Egyptian Slot and is an often explored theme. The book represents lots of texts, spells and magical experiences. Join Rich Wilde on his exhibitions as he looks to unearth some of the most valuable tombs.
Book of Dead alludes to that with this book and it comes with lots of different features. The game follows Rich Wildes' story as he travels Ancient Egypt unravelling a book of spells. Join him with the Ancient Egyptian themed symbols on this slot game and fascinating features.
The game has 5 reels and 10 paylines, plus it has free spins, wild symbols and expanding wilds. What's more, it comes complete with a gamble feature allowing you to double your money.
For more details and ways to win – use our Book of Dead review where we unravel the RTP, variance and ways to land the bonus feature.
Book of Ra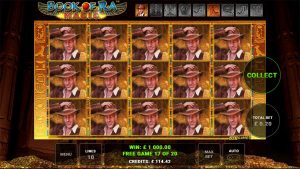 We enjoy the classic Egypt version of this video slot but there are different types including Book of Ra Deluxe. The classic slot version has 5 reels, 9 paylines and 3 rows.
It is similar to other Ancient Egyptian Slot Machines and comes with some exhilarating bonus features. Look out for the various bonus features with lots of treasures to unlock, get your hands on the free spins feature, wilds and expanding symbols.
This game has made a name for itself and the logo itself is recognised by many. Novomatic Software has done a great job in conducting the ultimate slot experience via this video slot.
Symbols include an explorer, hieroglyphics, scarab beetles and more. Check out our in-depth review and how to win on Book of Ra slot review.
Mega Moolah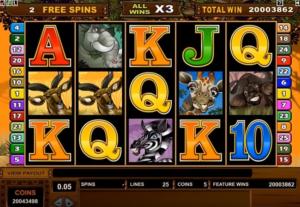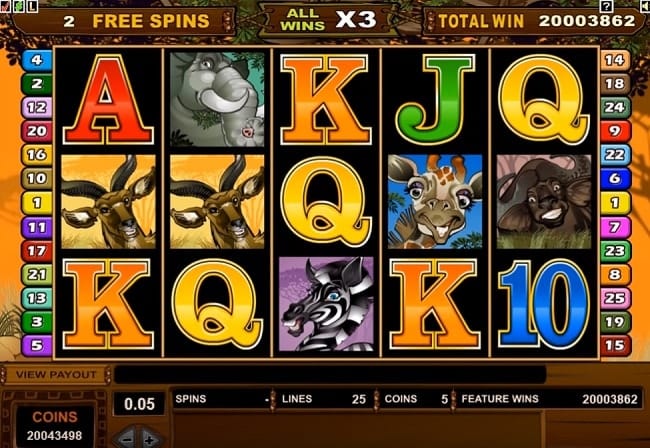 Mega Moolah Slot is known for its huge payouts and tasty jackpot.
How would you like to play for a six-figure real money prize? You can now play for over £1m, thanks to the juicy progressive jackpot on this Mega Moolah Slot. The five-reel slot comes with free spins round, wilds and huge jackpots.
The jackpot is a four-level one and you can even reach heights of £10m on rare occasions. Travel to Ancient Egypt Slots and start collecting gold for yourself. This Mega Moolah slot is one of the favourites for many. If you don't mind trading a good RTP for the chance of life-changing jackpots, then this is your game. Read the Full Mega Moolah Slot Review.
You can also check out the Mega Moolah Isis, a different version of the game that comes with more winning combos.
Pharaoh's Fortune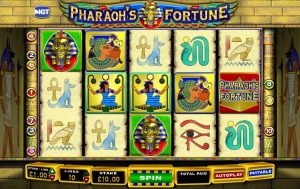 Another classic- Pharaoh's Fortune is still a fan favourite and is known for the incredible soundtrack- Walk Like An Egyptian, a real hit known across the world.
Although the graphics aren't 3D or striking in comparison to the modern-day standard, the gameplay still captivates slots players in the same way with unique bonus features, colourful designs and the chance to win big. Play bonus features including free spins, bonus spins and other bonus games.
Make use of all 5 reels as you look to land winning combinations on the 15 paylines, the casino game has the usual features such as free spins and wilds. Get your hands on some incredibly large wins, the max win is 25,000,000 coins.
It's also worth noting that the game has a huge stake range, allowing you the freedom to vary how much you wager on each bet.
Check out the RTP, software and option to look at the full review. Use the Full Pharaoh's Fortune Review for everything that you need to know about this slot and where you can play it.
RTP: 94.78%
Software: Microgaming
Queen of Riches Megaways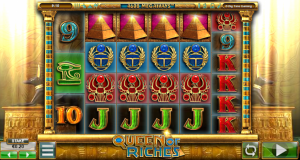 This is a standout Egyptian Themed Slot and much of that is down to the 117,649 ways to win.
Not only does have astonishing paylines but it is also one of the best RTP Egyptian Slot Games this list. This particular Queen of Riches is part of Big Time Gaming's Megaways series. That is why there are huge jackpots and also lots of different ways to win.
The maximum jackpot is 50,000x your stake. Additionally, you will also be able to land full reel wilds, wild symbols and multipliers.
There are no free spins but you can capitalise on all of the other things going for this slot. Check out the software provider, RTP and our detailing Queen of Riches Megaways Review.
Look to unravel the pyramid treasures on this adventurous ancient Egypt theme. Read the Queen of Riches Megaways Review.
Book of Sun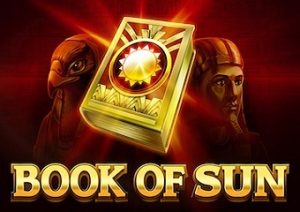 That's right- another book. This time around it's a more optimistic one than the first and it's the perfect way to celebrate Egypt Themed Slots.
This online slot is the epitome of Egypt Slots, it comes with Pharaoh, Mummies and of course, the Book of Sun. This high variance slot online slot showcases 10 paylines and the chance of a jackpot.
Win 5,000x your stake when you max bet on this exciting game, the product of Novomatic is one to watch and we believe it to be one of the Egyptian Themed Slots that has flown under the radar thus far.
RTP: 95.31%
Software: Booongo
Valley of the Gods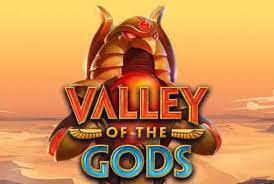 Last but not least, this Ancient Egypt slot game certainly captured our attention. The Valley to the Gods is another Egyptian Themed Slot, only with a mythology aspect.
It is an eye-catching video slot and it only takes one glance to work out what theme this Ancient Egypt slot machine sports.
The slot machine has 5 reels and an astounding 3,125 ways to win. In addition to that, you can also expect to grab free spins, bonus rounds and jackpots.
We reveal more on this game in the Valley to the Gods Slot review. Also, check out the below for details on the RTP and Software.
RTP: 96.21%
Software: Yggdrasil
FAQs
What Can You Expect from Egyptian Slots?
You can expect an exciting storyline on Egyptian themed slot games – you will often find the usual Egyptian cliches such as tombs, mummies and familiar symbols.
The symbols often include scarab beetles, pyramids and hieroglyphics. Look out for some incredible wins, RTP and lots of unusual bonus features.
Are There Any Jackpot Egyptian Slot Machines?
There are Egyptian themed slots with huge jackpots – check out Mega Moolah Isis Slot and Mega Jackpot Cleopatra.
There are different versions of the most popular Egypt slots, if you want the Cleopatra jackpot then be sure not to choose the first Cleopatra and instead, check out the jackpot version.
About Egypt Themed Slots
The Ancient Egypt theme is a popular one and is often synonymous with slot machine games – you will find lots of fantasy games that celebrate Egypt's history.
You can expect to find similar designs and symbols throughout, this includes Scarab Beetles, Cleopatra, Tutankhamun, Tombs, Pharaohs Pyramids and Hieroglyphics.
There's lots of mystery that revolve around ancient Egypt and that adds a new spark to these exciting slot machines, find your favourite games and check out the unique bonus games that are available on Egypt slots.
What Symbols Are Usually on Egypt Slots?
Although ancient Egyptian slots are all unique and come with their own bonus games and symbols, overall they have similar icons and designs.
Symbols that are usually on casino slots that have ancient Egypt themes are:
Hieroglyphics
Pyramids
Pharaohs
Cleopatra
Scarab Beetle
Tutankhamun
Conclusion
In summary, the Egyptian Themed Slot Games are some of the most popular slot games in the world. They are striking in graphics and gameplay, offering the most exciting gaming experience. As you can see, you have the pick of the bunch when it comes to Egypt Slots, there are plenty of them and each come with their own twist.
If you're searching for Egyptian Themed Slot Games then you are in the right place- pick from the compilation and choose what part of Egypt you'd like to visit today.
You will have the mysteries and treasures of bonus feature options, free spins, wilds, stacked symbols and jackpots at your command.
Other Slot Machine Themes
Here are other slot machine themes popularly played by online casino players: