Enjoy an insight into the exciting witch themed slots with lots of witches, potions and wizards.
Witchcraft-themed slots and magic have numerous forms, but they all have a sense of mystery about them, which is why it's such a popular topic among slot players. In some ways, the entire slot machine experience is based on mystery and surprise with casino bonuses included.
Will your next spin be a bust or will it land you a big win? Continue reading to find out more about Witch slot games and how wonderful it feels when large jackpots materialize.
What Are Witch-themed Slots?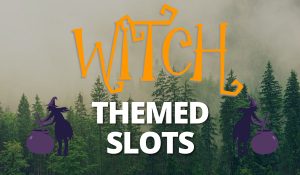 The Witch slot is such a global topic and it makes a great foundation for slot machines. Many developers have built slots with a magical theme featuring witches and wizards, often including strong thematic aspects in bonus rounds and other features to fully hammer home their message.
Witches will very certainly have been heard of in some manner, regardless of whatever country you live in. They're commonly referred to as the spell-casting, hideous hags who are always ready to throw curses. Fortunately, such supernatural beings have made appearances in a variety of media venues. This includes shows on television, literature, and movies.
However, you can also find them as part of several online slot games at new slot sites. Many of them will be themed around Halloween and concentrate primarily on the lives of witches. While there are a lot of these to choose from, picking your favorite should be simple. This is especially true with the list we've compiled below.
Many players consider the operation of witch slots to be magical. This is especially true when it comes to current machines, which now generate results using random number generators rather than mechanical reels. Nobody can see what's going on inside, and the games themselves are really a pleasant illusion that keeps us entertained while cold, harsh numbers determine our fates with each spin.
Best Witch-themed Slots
If you enjoy magic and witchcraft, there are a plethora of online slots that explore these themes in various ways.
While we can't cover every machine with a magician or someone pulling a rabbit from a hat, there are a few online games that we think are particularly noteworthy because of their gameplay.
Here are a few of the best magic games we've discovered on online gambling sites:
Witch Pickings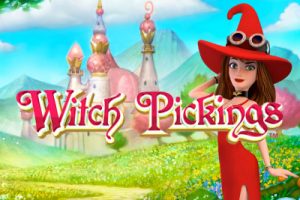 While old hags may supply iconography for classic witches, Witch Pickings does not follow this path. Instead, the game's creator, NextGen Gaming, uses images of modern-day witches dressed in colourful, stylish garb, which frequently appear on the five-reel and three-row game.
The slot icons are a vial of potion, a black cat, a seething cauldron, and a magical castle. The crystal ball sign represents the game's wild. Meanwhile, the scatter is a representation of the three witches.
To begin the free spins game, you must first select three features. Expanding wilds, symbol prizes, extra wilds, and five free spins are just a few of the bonuses available.
Merlin's Millions Slot Game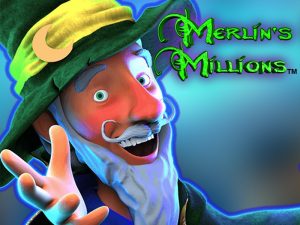 Merlin's Millions was produced by NextGen Gaming and offers some absolutely wonderful elements based on the stories of the world's most famous wizard.
Merlin himself will cast spells across the reels, and a "super bet" option allows you to pay more to turn the wild symbols (containing the game's namesake) into multipliers that can increase your earnings by up to 10x.
Spellcast Slot Game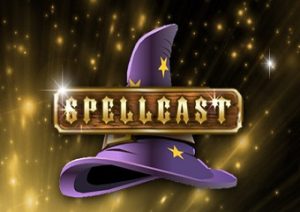 Spellcast, another amazing NetEnt game, incorporates many of the usual fairy tale motifs, such as mighty wizards, wicked witches, and towering castles.
If you find three crystal balls spread over the reels, you'll be awarded 15 free spins, each with a 3x multiplier on all wins.
Witchcraft Academy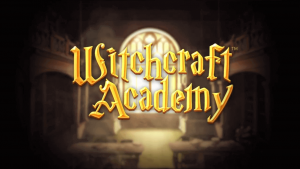 Witchcraft Academy is a 5 reel slot game that revolves around witches in training and also has 20 paylines.
NetEnt's Witchcraft Academy has an RTP of 96.38%. It starts at £0.20 per spin and can go all the way up to £200.
Efora and Earthan, the heroes of this quest, are accompanied by their dragon and owl. They're all specific symbols that deliver awards, such as the card suits (heart, spade, club, and diamond). Witchcraft Academy's game features include Increasing Multipliers, Pick a Prize Bonus, Free Spins and Improving Symbols.
FAQs
What Witch-themed Slot Has The Best RTP?
Pragmatic Play's Wild Spells has an RTP of 96.4% and is the highest RTP slot with a witchcraft theme.
You can check the return to player percentage before enjoying the best witch slot games and any that exceed 95% are generous.
Also, be sure to take a look at the overall highest return to player slots.
What Variance Are Witch-themed Slot Games?
There's a number of witch theme slot games that come with different variance. Slot volatility offers players an idea of how often and how big a game will pay out. Lots of the witch slots we found are high variance.
High variance is high volatility and it means a volatile slot game that pays less frequently but is more likely to pay big.
Although most games of this genre tend to be high volatility, we also found medium variance slots and low volatility games with this theme.
Can I Play Witch-themed Slot Machines On Mobile?
Most casinos and software developers are working to make witches and wizards games more accessible to the general public.
As a result, you may all play the game on the casino site in a browser or download the mobile app to our iOS/Android smartphone, tablet, or computer.
What Symbols Are On Witch-themed Slots
Because of their bright colors and mystical vibe, players have always preferred magic-themed slots featuring witch pickings and wild witches.
There are games on the list that have fun, mystical, dark, dreamy, and downright scary graphics and symbols.
Enter the mystical world and expect to see a crystal ball, a dragon, a cauldron, and whatnot. But be careful not to stomp on the cat's tail!
Witch-themed Bonus Features
There are numerous magical slots to try whether you're at a local brick-and-mortar casino or playing at an internet casino.
These games have a lot of bonuses so every fan of the arcane should be able to find something to enjoy in this genre.
Scatter Symbols
The Free Spins bonus round is triggered by the scatter symbol in several witch games. You'll get a number of free spins if three or more of them appear on the screen.
Wild Symbols
Wilds substitute other symbols in the game to help you land more winning combinations.
Welcome Bonus
Some games have deposit offers with which players depositing their real cash wager receive bonus spins and discounts.
Conclusion
Magicians, witches, and wizards have had their time in the spotlight almost everywhere in the world, and even after centuries of refinement, people are always coming up with new ways to innovate the traditional tactics of deception and illusion that have perplexed audiences for millennia.
With so much witchcraft and wizardry already in play, it seems only logical for a slot machine to add another layer of magical theming on top. Of course, this can take numerous forms: some games are about current stage magicians, while others are about the more dramatic sorts of mystical powers found in fantasy books such as Harry Potter or The Lord of the Rings.
In any case, the concepts of awe and wonder are always present in games with this theme, and it's easy to see why so many people enjoy them.
Other Slot Machine Themes
Here are other slot machine themes popularly played by online casino players: