Vikings occupy a large chunk of our history and that's why so many are fond of the theme. You can enjoy movies, series, books and even slot games with a Viking storyline.
These types of slots have become popular in recent times and you'll often find exciting Viking Slots at the best slot sites. If you're a fan of Norse mythology and Viking themed slots, then you're in the right place.
Our team of experts love a range of different popular slot themes from classic slots to video slot games but we have decided to take a special look at the best Viking slot.
Check out our list of best Viking slot games below, we take a look at the pros and cons of each game. After checking out these games we have only specified the best Viking themed slots.
Best Viking Themed Slot Games
Sifting through Viking themed slot games is not as easy as you'd assume. There's a huge range of them created by a list of different software developers.
We have revealed our favourite slots, here are the best Viking-themed slot games:
Thunderstruck II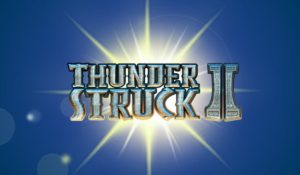 If you're an avid slot fan, then you'll already know about Thunderstruck. Especially this one, it's known for the exciting storyline and a generous RTP.
Viking slots are constantly captivating a wide audience, due to the different themes, features and jackpots that a viking slot generally provides.
Created by the famous Microgaming, you know you're in for a treat. Despite this game being released back in 2009, it is still one of their most popular games to date.
Enjoy the free spins bonus, the appearance of Thor, Loki and Odin on the reels and an impressive RTP. The Return to Player is super-generous, with a 96.65% RTP.
The max win on Thunderstruck 2 is 6000 coins and is well worth checking out, enjoy this huge jackpot win.
This slot game has a return to player percentage of 96.65%. Find out more with our Full Thunderstruck 2 Slot Review.
Hall of Gods Slot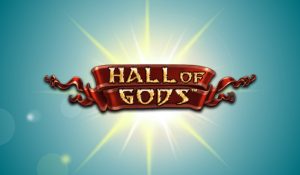 Hall of Gods game is a product of Net Entertainment Software. Although it's almost a decade old, it is still one of the best out there.
Thanks to the animation design, the appearance of Viking gods and the chance to win a life-changing jackpot, it is loved across the globe.
The NetEnt slot machine revolves around Norse mythology. It also has lots of the usual characters such as Thor that appear on the reels. If you wish to play for a mega jackpot and embrace the great Return to Player percentage that exceeds the average, then check out the sites on this page.
Net Entertainment is a software company with lots of vibrant slot games, it has an RTP of 95.7%, check out our Hall of Gods Slot Review.
Thor: The Mighty Avenger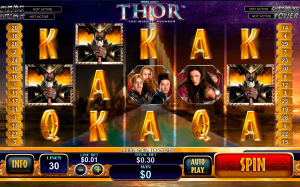 As you'd imagine Thor had to be included when it comes to Vikings themed slots. This Thor: The Mighty Avenger is a product of Playtech.
This isn't just popular because of the modern theme being based around the movie but also because it comes loaded with a generous RTP and the chance of landing one of four jackpots.
You can win upto 5,000 coins in a single spin or you can play for the big jackpot. In terms of graphics, this game is the best Vikings video slot.
Playtech slots come with a storyline and narrative, this game is based on the famous Thor character and it can be seen on the reels. The slot machine has a generous 96% RTP. Use our Thor Slot Review and find out more about the winning combinations and bonus games.
Viking Gods : Thor & Loki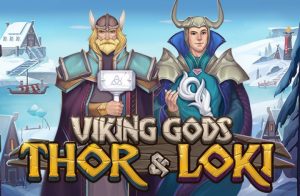 This thrilling Thor slot stands out with its colourful graphics and enjoyable gameplay.
It comes with the opportunity to win 10 free spins, land a 3×3 colossal wild and also win 500 coins in one spin. It is a five-reel video slot with 15 paylines and some exciting features.
The game has an amazing 96.8% RTP being one of the top-paying Vikings slots we could find. Plus, it also comes complete with wild free spins.
Play Viking Gods and make the most of this design, it's different to many of the others yet it still showcases a great return to the player.
Although the software developer isn't as well known as their counterparts, they've done a grand job of ensuring a smooth gameplay, fantastic features and lots of chances to win.
Playson is a lesser-known software company, they've done a great job with this game, thanks to the graphics, bonuses and free spins, find out how to unlock the spins with the Viking Gods: Thor & Loki Review.
Treasures of Thor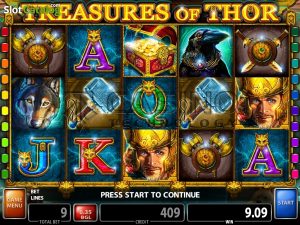 Are you searching for the treasures of Thor?
You can find them with ease, but firstly you will need to join the action at Treasures of Thor Slot. As the name suggests there are big prizes to play for and the game's star is Thor.
As always Thor takes to the spotlight in a Viking and Norse Mythology Slot. The five-reel slot has 20 paylines, bonus features, free spins and big real money wins to play for. You can get upto 5,000 coins in a single win.
The RTP exceeds the average amount of 95% that we expect. This game is one that keeps you engaged from start to finish and we understand why it is becoming loved by many avid slots players.
It's been designed by Casino Technology, a less popular software company. It has an RTP of 95.5% and we have a full Treasures of Thor Slot Review.
Viking Mania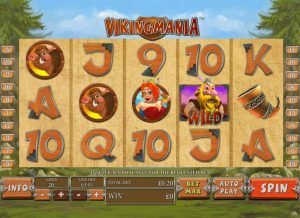 Viking Mania has one of the most fun themes around, the game has a light-hearted spin on the usual Vikings design. Take in the animation, colours and sound effects and look out for the different bonuses on this Viking Slot.
The cheery and vibrant style keeps you entertained and that's before you even look at the free spins bonus feature, the free spins can be activated by Asterix.
Moreover, it comes with an amazing RTP of 97%. This is huge, this makes it one of the best-paying Viking slot games that we could get our hands on. Plus, you will also get chance to unravel some amazing bonus features and free spins.
Playtech Slots are known for user-friendly gameplay and it has some graphics that come to life.  Read our Viking Mania review and discover more about the gameplay.
Vikings Go Wild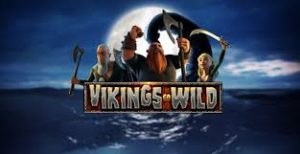 Why don't you join the Vikings as they go wild?
This comes with an animation design, it looks like a series that you could easily sit back and enjoy.
When you combine that with high volatility and regular payouts, you're in for a ride. This slot game is one for high rollers and players that enjoy the chance of big wins. The game has an incredible RTP and the variance ranges from medium to high.
So why is it called Vikings Go Wild? These Vikings don't seem that wild. But as you look at the slot game you soon realise that it's named after the numerous wild symbols that provide a good chance of winning. The wilds can stick during the respin feature.
You will also want to take advantage of the Treasure Chest Bonus that rewards more exciting free spins bonus round. Land the bonus symbol during the base game and in-turn enjoy the bonus spins and free spins.
Play for 12 free spins and make the most of the sticky wilds that offer you a better chance of winning.
Much of the concept of this Vikings Go Wild is surrounded by wild symbols.
Vikings Go Berzerk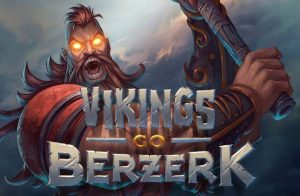 Vikings went from going wild to berzerk in this Viking Go Berzerk Slot.
You can enjoy up to 21 free spins and if you manage to activate the Vikings Go Berzerk Mode then you will get sticky wilds. This provides you with a good chance of winning on each free spin.
They really do go berserk as you add to the rage meter and trigger the bonus game.
Viking Go Berzerk Slots is exciting, it has striking graphics and some incredible bonus features. Get the Treasure Chests that add to the free spins.
The 5 reel slot game has 25 paylines, free spins and bonuses. What's more, you can enjoy regular wins and payouts, thanks to the RTP.
Enjoy Vikings Go Berzerk and all of its potential to gift you with an amazing win during the bonus spins. This Vikings Go series comes with lots of different surprises. This Yggdrasil slot software is a fast-growing company and this slot game has 96.1% RTP.
Dragon Ship
All aboard the Dragon Ship as you travel to a destination full of generous prizes and features.
The game is aesthetically pleasing with modern graphics and lots of different symbols. It's more than just a ship, you will be able to pick out a number of different bonuses. They mostly circulate around wilds, if you get a wild then you have more chance of winning on that particular spin.
Not only that but you also get the chance to unlock the free spins if the wilds expand over the entire reels 1 and 5.
Although the RTP is under the average unlike many of the others, this is still one of our favourites due to the bonus games and the jackpot of 2,500 coins.
Dragon Ship Slot Game is a Play'n Go Slot with a 94% RTP.
Vikings Go To Hell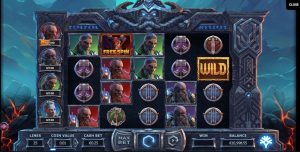 Yet another one from Yggdrasil. It is no secret that this software provider loves Viking Slots.
Vikings Go to Hell game is a favourite for many and as Viking themed slot machines go, this one is right up there. It comes with intriguing graphics, striking backdrops and lots of paylines.
The five reel slot has 25 paylines, Rage Collection, Sticky Wilds, Instant Cash, Multipliers and Free Spins.
Most slots players revel in this game because of the abundant bonus features and the impressive payouts. Not only has it got a 96.1% RTP which is way above the average but it also has a high variance. This is a volatile slot, that boasts huge rewards. Vikings Go To Hell game is an amazing Viking Slot with features and big win opportunities.
Yggdrasil slots put an emphasis on striking graphics, this particular slot game also comes with an RTP of 96.1%.
Viking Runecraft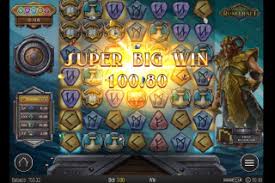 Play Viking Runecraft for a Super Big Win, as this slot machine provides some incredible features. The online slot provides a unique experience with the 7×7 grid. Although it doesn't offer a progressive jackpot,  it does build up the available jackpot win as you work your way up the levels. The game has a medium to high variance and an incredible Return to Player of 96.7%.
This game is different from many of the others and offers small icons. These icons display axes, helmets and rocks within the viking theme.
Read the full Viking Runecraft Review for everything you need to know.
The Play'n Go Slot features Super Big Wins, free spins and an unusual slot layout.
Vikings Unleashed Megaways Slot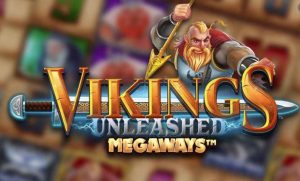 Vikings Unleashed is a popular Viking slot with 6 reels and an incredible 117,649 ways to win.
The slot game has lots of eye-catching graphics and a number of bonus games, it comes with free spins, wilds and a Megaways mechanism.
This colourful slot game displays Vikings with a number of different symbols and animation design. Play for jackpots and bonus features. Find out more about this slot with a generous 96.5% RTP and a high variance in our Vikings Unleashed Megaways Slot.
It's created by Blueprint, and they've done a great job on this Nordic slot, check out the best Blueprint Slot Games.
Vikings of Fortune Slot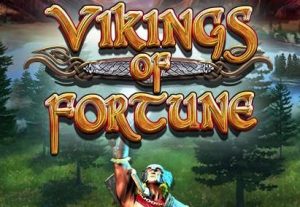 Vikings of Fortune Slot is a 5-reel game with 25 win lines and medium volatility.
This Blueprint Gaming Slot has classic icons with a sword, axes and Norse Gods. You will grasp the concept of this game within seconds, it is a Viking-themed slot.
It has lots of bonus games including Thunder Spins when you activate the bonus symbols. The max win is huge with up to 143,500 coins.
The fast-paced game is known for the wilds, scatters, free spins and a jackpot. Find out more with our Vikings of Fortune Slot Review.
Viking's Treasure Slot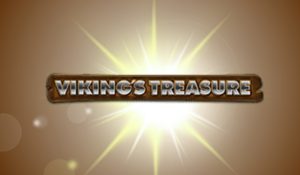 Viking's Treasure Slot has an animation design and it has all the Viking characters that you'd expect such as a bearded Viking wild and a lady with pig-tails that offers a win of 250x your stake.
Delve into the gameplay of 5-reels, 50 pay lines and a number of conventional slot features. The bonuses on this game include free spins, Viking wilds and a potential jackpot win of £10,000.
It is an easy game to play and still displays a number of classic looks that appeal to all slot players. Viking's Treasure Slot Game is a favourite of ours and is one often overlooked by other reviewers.
Why Slot Players Love Viking Slot Games?
Slot Players love to play Vikings themed slot games because of the design elements and also because of the Norse mythology.
The body of stories that we today call "Norse mythology" formed one of the centrepieces of the pagan Norse religion. These are the tales that Viking poets recited in dimly lit halls to the captivated attendees of grand feasts, and which fathers and mothers told to their children around roaring hearth-fires on long winter nights. They are epic myths of war, magic, love, betrayal, triumph, and ruin. Not only did they provide deep wells of religious meaning for the Vikings; they also speak too much that is timeless and universal in the human condition, and so continue to provide modern audiences from around the world with wonder, entertainment, and even spiritual nourishment for some.
Vikings were the Norse people from southern Scandinavia (in present-day Denmark, Norway and Sweden).
The history behind this theme goes back many centuries and when we first reviewed the Viking Themed Slots we presumed it would solely be down to design, but as we learned more on the Norse people we understood more of the culture.
There are plenty of video games and casino games with lots of viking and norse mythology including the game Vikings Go wild and Vikings Go Berzerk slot machines.
If you're searching for an entire casino site dedicated to this theme then check out the Viking Slot and our full review.
Best Viking Themed Slots Summary
Norse warriors themed slot games that also come with spectacular designs is why the viking-themed casino games are so popular. Viking slot games come with lots of animation and bonuses, making them worth checking out.
Playing fruit machines in online casinos main question is what bonus rounds can be triggered from symbols.
The symbols that get you into the high payout bonus rounds can vary depending on the slot game provider so for example, Viking Runecraft Slot has six bonus rounds symbols to trigger to Runes of Valhalla bonus to allow free spins.
When playing in the online casinos if you come across any top-rated Viking graphics fruit machines or similar in design like warriors, Asgard symbols or graphics you love to play. Then drop us a message and we can round up the highest-rated slots casino games.
Before signing up for the best viking slot sites, be sure to check out the bonus funds, best deposit bonus and bonuses for new players. You will find lots of online casinos with different Viking slot games that we have mentioned above.
Other Slot Machine Themes
Here are other slot machine themes popularly played by online casino players: