Just when you thought slot games couldn't get more exciting, online casinos present new players and seasoned pros alike with slots boasting 50 pay lines.
The 50 pay-line slots give players at least 50 times the value of single pay line machines and 50 times the probability of hitting a winning combination. Of course, this means that spinning the reels could cost up to 50 times as much. These slot games offer 50 ways to win.
Take a look at some of the best 2023 50-payline slots and keep reading to learn more about them, including symbols, payouts, bonus rounds, and more!
Best 50 Payline Slot Games
These online casino slots are unquestionably a novel and fascinating way to enjoy slot machines. They may differ in terms of extra features, but they all give amazing slot gaming experiences. The following are some of the top 50-payline slot machines to play:
Happy Halloween Slot
Happy Halloween is a Play'n GO slot game with a fun and lighthearted atmosphere, bright colors, and plenty of goodies on the reels.
There are 5 reels and 50 paylines on this slot machine. The reels can include up to 5 coins worth between £0.01 and £0.10 each. As a result, the maximum stake of each spin is limited to £25, which should satisfy the majority of gamers.
Monsters in the Closet Slot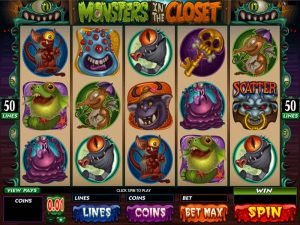 We think you'll appreciate this vibrant and colorful 50-payline slot machine. The reel symbols are all monsters, not characters, and the base game jackpot is 2000 coins for a single coin spin; obviously, how many paylines can alter the jackpot payoff – the more coins you have on a single payline, the higher the jackpot payoff.
There are a couple of intriguing extra games to choose from, the first of which is a free spin bonus. The second one is triggered by spinning three or more of the scattered key symbols into place. That's when you go searching for hidden creatures; based on who you find, you'll get a different extra game. Be nice to the monsters as some of them can give real money wins. New players will definitely enjoy gambling in this casinos slot as it provides a great gaming experience, fair deposit bonuses, and very helpful bonuses.
Gold Factory Slot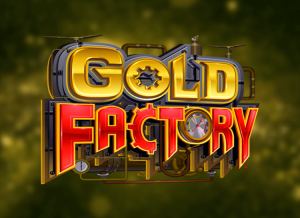 This slot offers excellent sound effects and beautifully animated reel symbols, so make sure the volume is turned up and that you're playing in full-screen mode for the finest graphics.
There are gold coins, a gold bullion cart, and many character icons among the reel symbols. To win the jackpot, line up five of the Gold Bonus symbols on any activated payline to win a massive 50,000 coins for every coin wagered on that payline, resulting in some massive pays.
Unearth more gold bars and riches as you find out more with our full Gold Factory Slot Review.
Halloween Slot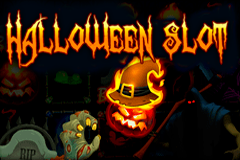 This is the only one based on the same-named horror film from 1978. Like the rest of the games on this list, Halloween has 5 reels and 50 paylines, allowing you to construct winning combos in 50 different ways.
A set of three reels will be glued together during the base game and free spins. The betting limits are also fairly generous, with stakes of up to £200 per spin permitted.
Halloween Slot Review is our full analysis and comes with lots of bonus features and a horror theme.
What is a 50 Payline Slot?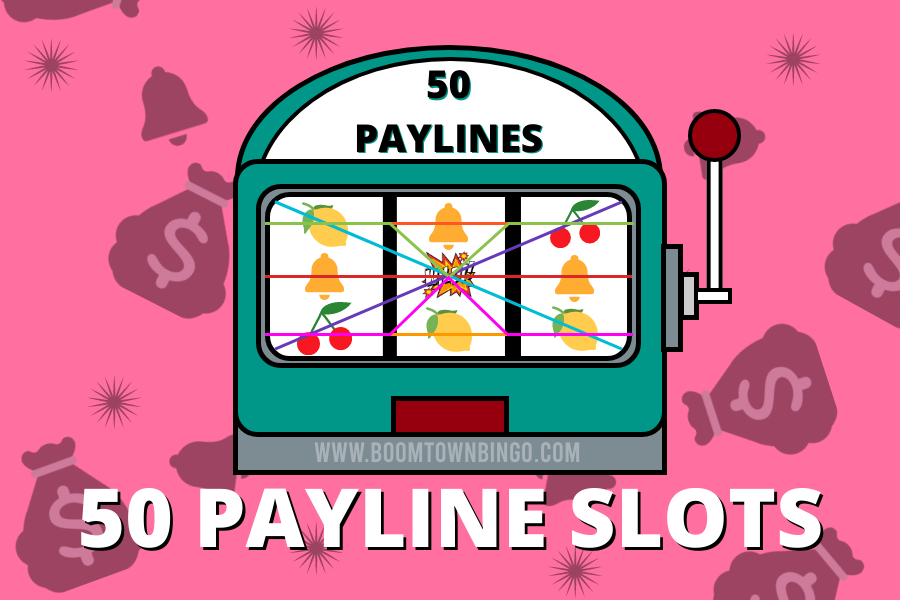 After the introduction of 40-line games, it appeared that there wasn't much more that could be done in terms of pay-lines. On the other hand, several major software developers generated several well-known characters worldwide and re-created them in action-packed slot machines with 50 lines.
Normally, these slots have five reels. The biggest advantage of playing a game with five reels and fifty paylines is the thrill and entertainment you can get from them. When you play 50 payline online casinos games instead of single pay-line games, it's evident that you'll have more fun and win more frequently. So, really, everything you're betting you're most likely to get back since these casino slots pay pretty well.
If you want to discover the potential payline slot games, find out more with our full guide.
Frequently Asked Questions
How Does a 50 Payline Slot Work?
The games are centred around pay lines, whether you're playing classic slots or the latest online 3D releases. The series of winning combinations that crisscross the slots reels are known as paylines. Now, for 50 payline slot machine games, you'll see that the game usually has five reels or follows a 5×3 or 5×4 layout.
Paylines usually run from left to right, thus the winning combination starts on the left with Reel 1 and links to a symbol on Reel 2, Reel 3, and so on. Connecting at least two symbols usually results in a payout. Only two matching symbols, or two matching symbols plus Wilds or Scatters, can form a winning payline in this game.
Every game has a different payout but each provides a great gaming experience no matter the bonuses and winning lines there are. The money wins and other casino wins can depend on how many lines are active. All you have to do is check the game's settings, wagering requirements, and featured pay table before place bets so you know if you're up for trying the game out.
Where to Play 50 Payline Slot?
When you try out 50 payline casino slot game, you can be sure that you will be getting the next level of getting slot winnings, jackpot wins, and overall gaming experiences. Many gamblers are not enjoying this 50 paylines slots on several websites such as these:
Majority of the world's leading slot prividers have already started to include 50 fixed paylines in their respective casino game site so you now have more options for a fun gambling experience. Because the number of paylines on the slot machines increases the possibilities of matching symbols on the win line, the payline slots have a better probability of triggering free spins too!
50 Payline or Multi Payline Slots?
Multiway slots are the perfect solution for gamblers who find 50 paylines insufficient. Developers have their own methods for squeezing in multiple paylines, such as modifying the structure of the reels or awarding right-to-left AND left-to-right combos, and some can have over 100,000 paylines. These slots are great if you want to test your skill in strategy.
You can chooose from 1 to 5 reels, plus an extra row, to create one of the 1,024 possible combinations. That means you have more possibilities of landing great casino winnings when you spin. However, before you place a bet, do take note to play responsibly since there is still a pretty great risk here.
Before you spin this kind of slot machine, you might want to try betting on a slot machine with 50 lines. It can definitely prepare you for the adventures and excitement that multi payline casino slots can give you.
50 Payline Online Slots Bonus Feature
In a 50 payline casino slot game, there are infinite possibilities to win certain winning combos. You can win both bonus funds or a bonus feature or two in slots. Combine strategy and luck when you place your deposit and try triggering winning symbols or online casino bonuses such as those stated below:
Progressive Jackpot
It's important to note that not all slots are progressive jackpot slots. This is because most of the 50 payline casino games already post pretty hefty jackpots and maximum payouts, along with a collection of bonuses to choose from and use. So, you won't really be left wanting. However, you can be assured that they won't disappoint for the slots that hold progressive jackpots.
You can find the best progressive jackpot prizes and play slots with the biggest wins.
Autoplay
Slot features like this may be found in almost all slots. This can be used to spin the reels for a long period of time automatically. For people who enjoy multitasking, this function is ideal. Using this tool can be quite beneficial because it can assist you in forming winning combos, allowing you to win more. This applies to both the regular game and the bonus games.
Find other more exciting slot machine features with our full guide and list.
Free Spins
You may use this bonus to play casino games for free spins bonus games in online slots games. When you press the play button, the game will wager your free spins instead of whatever you're betting on in a casino slot. The best thing is that you will still be rewarded in real money if you win when playing free spins bonus games. If you retrigger this bonus, you'll get a few more free spins.
When playing slot machines in your favorite online casino account, you'll notice that the free spins feature is one of the most sought-after bonus games. The free spins bonus rounds can yield high win payouts while playing the 25 paylines, especially if the spin button is on a bet max line bet for numerous paylines.
Scatter Symbols
Scatters in an online slot machine are special symbols with varying roles depending on the game you're playing. When these icons occur as Scatters, additional game features are triggered.
When other symbols match up on a slot with variable paylines, the random number generators can increase your chances of winning the progressive jackpot.
Wild Symbol
Wilds are exceptional symbols that can help you win more coins or trigger bonus features. These wild symbols can occur on several pay lines and payout even if they don't appear on a pay line. These one-of-a-kind slot symbols can also be used to replace any other symbol.
40 Payline Vs 50 Payline Slot Machines
With 40 paylines, you'll have 40 different chances to make winning combos, as well as some fantastic bonuses. These slots may be more expensive than those with fewer paylines, but the real money wins can be greater.
Now, these casino slots are great to play, and they're now on every major site, but developers noticed that players who enjoy gambling on slot machines could take a new challenge. So, they came up with 50 payline casino slots. The general understanding of betting and winnings on these fixed paylines are the same with the 50 and 40 payline slot machine, but you stand to gain more with the 50 payline slot machine. The 50 line slot can also feature even greater offers from the software provider.
So, if you want to up your slot gaming experiences, slot machines with 50 lines are the way to go. Spin these reels
Conclusion
The number of paylines could mean bigger winning amounts, but it could also mean a bigger loss. So you may want to try gambling on an equally interesting yet less risk layout before venturing into slots that promise to give you more than the total bet.
Now that you've learned everything there is to know about slots, there is only one thing left to do: try them out for yourself! Whether you're in Great Britain or anywhere else in the world, we're sure that you'll gain great experiences and money winnings when you deposit and play slot machines with 50 lines.
Remember, with more paylines. You have a smaller chance of losing because you can gamble on a larger number of combinations. However, with fewer lines, your hand has a lower chance of completing enough combos to win! Try out some slots for free before you deposit money.
All Winning Combination Slot Machine Lines
Here are all various multi-line slot machines winning combination slots features.