Enjoy big wins and simple gameplay with the 8 win line slots.
The 8 payline slot machines are simpler, more straight to the point modern slot machine that include a high payout, and some wild and scatter symbols to assure a huge number of winning combinations with big payouts practically every time you spin. These games have 8 winning combinations. 
Curious to see what these thrilling fixed payline slots have to offer? Then read on to find out more about the top December 2022 8-payline video slots and how to trigger the bonus features or land their casino bonus, payouts, and welcome bonus offers!
Best 8 Payline Slot Games
Play some of the best eight payline slots on are some of the top online casino sites today! Don't know where to start? Then try playing these 8 lines online casino slot machines out and see how much you can gain while gambling:
Wild Hog Luau Slot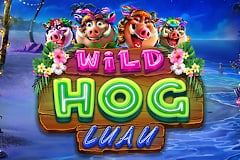 RTG's Wild Hog Luau slot machine is a fun animal-themed five-reel slot. The reels are set in a cabin on an exotic beach, where four hogs are having a wild time. Cocktails and poker cards are two more common gaming symbols.
Toss the Wild Hog Luau online slot into action to take advantage of great features and fill your piggy bank with big prizes. At several top casinos, the Wild Hog Luau slot is a terrific game to play on mobile or desktop. Now is the time to play for real money and get up to 6,800 times your stake.
9 Tigers Slot
9 Tigers appears to be a game geared on the Asian market.
It depicts the Yin and Yang components of fire and water as elemental tigers. It will have a traditional look with modern graphics and functions. The Tiger Bonus is the only meaningful feature, and it has two sides: fire and water, each of which works slightly differently. Expect a game with an RTP of 96.19%, thus making it a game that's definitely worth the spin.
Eye of the Kraken Slot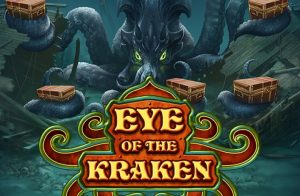 Eye of the Kraken is a Play 'N Go slots game with a 3×3 grid, nine reels, and eight paylines. It's based on the legendary sea monster and here, players can get a bonus feature in which you can sever the Kraken's tentacles and win up to 500x your bet. There's also a Dive Mode, which awards 9 free spins.
Keep an eye out for the Kraken, as his tentacles can wrap around the reels and turn symbols into wilds. You'll witness diving boots, harpoons, compasses, oxygen tanks, torpedoes, diving masks, the captain, navigator, and engineer, as well as a lot of graphic detail and an adventurous, blood-pumping soundtrack.
What is an 8 Payline Slot?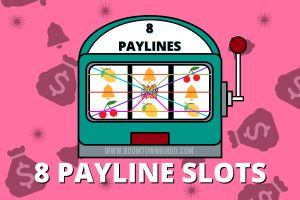 An 8-line slot machine is a game with eight paylines, this means you have 8 potential win combinations. These games are easy to play and still come with bonus features. Players that play the max paylines get a better chance of winning.
A payline on a slot machine is the region where you want the matching symbols to form winning combinations. This type of slot provides you numerous chances to match the game's symbols and win larger prizes such as the best casino bonuses. Now, unlike a traditional slot game, an 8 line slot have a more serious appearance but still provide the possibility of large prizes. That's not to suggest you can't win big on games that offer fixed paylines of less than 10 paylines or one with adjustable paylines.
The value or amount of regular wins and bonus wins are awarded based on the number of paylines. A slot with 8 fixed paylines offers modern slot games with an 8 ways to win layout where you can earn from each of those lines. Now, the wagering requirements for the different games may vary but the rules and scheme are the same.
How much you end up winning can often depend on how many lines are active in the game. 8 payline slot games are great for players with a smaller bankroll since these slots don't require such a high deposit for every new spin. At the same time, you can get some pretty high payouts within the slots several paylines.
FAQs
How Does an 8 Payline Slot Work?
In traditional slots, there is only one horizontal line that runs from left to right. These modern video slot machines have evolved to include more than one payline with various prizes. There are now vertical paylines, zig zag shape paylines, diagonal paylines, and a variety of other patterns that enable you to win more winning combination.
These modern slots can hold a single pay line with over three reels or even five reels lines, each of which corresponds to a coin wagered. In short, a fixed payline is an all-or-nothing game. Before spinning the online slot reels, you must wager on the active paylines. Your deposit is spread across all slot paylines in the game. So, if you bet £1 on the 8-payline betting line, each successful combination will cost you £0.08. You can gain wins from a deposit bonus or other bonus features that the 8 line slot offers.
Where to Play 8 Payline Slot?
Check out some of the top online slot machine games sites and try your hand out at these 8 payline online casino slot games. If you're curious to spin the most exciting and rewarding slot machines that give a good bonus game, free spin feature, and other 8 paylines video slots bonuses, then check out these sites listed below:
8 Payline Online Slots Bonus Feature
Without a fun bonus game to keep things interesting, online slots aren't the same. When you play a video slot game with a single payline or more paylines, you can expect to win real money or additional prizes and countless ways to earn them.
Make use of the paying symbols in the slot machine as well as the helpful casino games bonuses such as those listed below:
Free Spins
An 8 line slot doesn't have adjustable paylines but the number of paylines here won't be a problem since there are great slots bonus rounds such as the free spins. These can land big payouts or form more winning combinations which, in turn, can lead to more bonus rounds. Players can use this feature instead of using the lines wager. The best part is that this can be retriggered!
Scatters
The number of paylines usually is the main factor when you play and bet on slots but one feature that could help make or break your winnings is the scatter icon. This feature is great to have since it can offer different things – triggering other features is a great example. The scatter, you can trigger the free spin bonus or a great payout prize.
Wilds
Wilds provide entertaining bonus rounds in the slot because they can be utilized to boost payouts or to substitute other symbols in the game except for the scatter and bonus symbols. This feature is available as ordinary wilds or stacked wilds. Land the wilds on a winning line and you can trigger this feature just like that!
Conclusion
8-line slot machines have a lot more to them than meets the eye. You can utilize several techniques to help you strike the jackpot, or at the very least gain some fairly large rewards, if you learn the ins and outs of playing them.
As the pay lines increase, the developers have managed to add a lot more excitement in the gameplay along with fun ways to earn the prizes. We discovered slots with 8 pay lines are ideal for new players and those who prefer low bets as these games require pretty low wagers. So, sit back, relax, and enjoy slots gaming again with these simple fun slots machine games.
Paylines are just one of a number of features, you can find all of the different slot game bonus features and more – we break them down and list the slots that have some of these fast-paced bonuses.
All Winning Combination Slot Machine Lines
Here are all various multi-line slot machines winning combination slots features.