Are you ready to accept the jackpot that comes with the 30-payline slot games? Choose the slots game with your favourite theme and start winning prizes!
The 30 payline slots are interactive casino games with lots of bonus features and 30 ways to win. These slot machines showcase 30 win lines meaning that players get more than the traditional winning combinations. Most of these games come with lots of free spins and wilds.
Keep your head in the game and learn how to win the biggest jackpot with free spins, wild symbols, scatter symbols, progressive jackpot, and more when you play slots with 30 ways to pay in October 2022.
What is a 30 Payline Slot?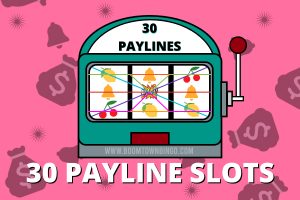 A 30 Payline Slot is a contemporary slot game that comes with a 30 maximum bet line. The mathematical sequence for the 30 line game is the same as for the 20 line game. You enhance your hit frequency by playing the highest number of lines a slot machine has to offer.
Straight paylines are seen on traditional slot machines, while some games have paylines that are a vertical line, a horizontal line, or zig-zagging across the reels. The number of symbols crossing a payline is always the same. If you play a five-reel slot, for example, five symbols will appear on an active payline.
There are is a number of games that come with a 30 Ways to Pay structure. Payline bets are often the same amount of money, and you can't bet more on one line than another.
FAQs
How Does a 30 Payline Slot Work?
There are many online slots games that come with a 30 Ways to Pay structure. Payline bets are frequently the same amount of money, and you cannot wager more on one line than on another.
Traditional online slots featured only one payline, and if players struck three similar symbols on it, they were awarded a prize. Things have changed a little in recent years, with some modern slot machines offering up to 100 paylines. Large slots, on the other hand, are unusual, and most current machines feature 15 to 30 paylines.
In slot games with 30 paylines, all a player has to do is to spin the reels and land at least three matching symbols across the reels. A winning combination usually has to start from the leftmost reel moving to the right. As the player forms longer winning combinations, the player receives higher rewards. The player can also earn more prizes when they form winning combinations on more than one payline.
Where to Play 30 Payline Slot?
There are 30 payline slots available at several online and land-based slot machine casinos. One of the major benefits of playing slot games with 30 paylines online or on a mobile device rather than in a land-based casino is that the RTP on bigger bet slots is not raised. However, there is still the option of playing with only cash stakes. Many online casinos provide welcome bonuses to new players.
The majority of the online casinos we recommend provide a diverse selection of original slot machines and jackpot games. At these online casino sites, the first, second, and third deposits are usually accompanied by daily promotions, a deposit bonus, and a welcome bonus that kicks in once the game begins. Each bonus offer is only accessible for a limited number of games after meeting the minimum deposit criterion to play with real money.
Here's where to play 30 line slots:
Best 30 Payline Slot Games
The majority of these slot games may be found in online casinos that need a small initial deposit and offer a variety of bonus opportunities. Before they can start playing the game, players must first make the requisite qualifying deposit. The games listed here are some of the most popular right now.
Some machines are fixed, requiring you to play all of the lines, while others are variable, letting you to choose the number of paylines and the amount you want to bet on each. Naturally, the less paylines you use, the smaller your chances of earning tiny amounts, but each spin will be cheaper.
Here are some of the most popular casino games with 30 ways to pay.
Land of Zenith Slot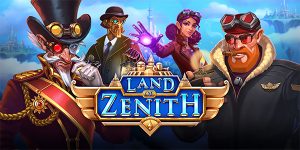 Push Gaming's Land of Zenith is a 6-reel, 30-payline slot.
It is based around a crew of sky adventurers and has a steampunk flavor. With rewards worth up to 21,003 times your bet, this game has a lot of potential to pay off. The Disc Mechanism and Turner symbols combine in Land of Zenith to unlock bonuses, which is a unique feature. Bouncing Mystery and Hypermode are two of the features accessible.
Age of the Gods Ruler of the Sea Slot

Age of the Gods: Ruler of the Seas is a video slot developed by Playtech.
This casino game has a 5-reel layout with up to 30 chances to win. Age of the Gods Ruler of the Seas has a 96.37 percent return to player. Expanding Reels, Expanding Symbols, Expanding Wilds, Jackpot, Multiplier, Respins, Stacked Symbols, and Free Spins are all included in this slot.
Enjoy the best Age of the Gods Slots and find the best features and chances to land huge jackpots.
Cats Slot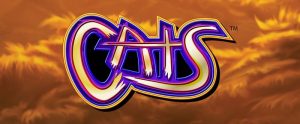 IGT's Cats video slots game is a fun game to play.
The configuration of this casino game includes of 5 reels and up to 30 paylines. Cats has a 94.93 percent RTP (Return to Player). There are a variety of features in this slot, including Double Symbols, Split Symbols, Wilds, and more. There is a free spins bonus in the game, and this is usually where the big money is won.
Read the full Cats Slot Review as we reveal the RTP, variance and bonuses.
Zeus God of Thunder Slot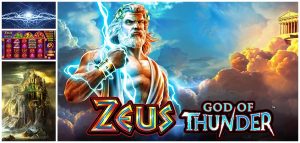 Williams Interactive has created a video slot called Zeus God of Thunder. The configuration of this casino game includes of 5 reels and up to 30 paylines.
Zeus God of Thunder has a 96.01 percent RTP (Return to Player). Bonus Wheel, Jackpot, Multiplier Wilds, Random Wilds, Symbol Upgrade, and a free spins bonus are all included in this slot.
30 Paylines Online Slots Bonus Features
Over the years, game developers have continued to push the envelope, developing games with five or more reels, hundreds of paylines, intricate special features and bonus rounds, and high-quality video and 3D visuals. As a result of this shift, a wide range of online slots has emerged, with more sophisticated feature rounds and bonus games. Regular players seek for the most interesting games and features, and game creators are in a constant fight to come up with fresh, original concepts that will keep customers engaged and returning to play their games.
Here are some of the most common slot game elements, both in the normal and bonus rounds, that you'll find in 30 payline slot games.
Wild Symbol
Wild symbols can be used to complete a winning line in place of any other symbol. Expanding wilds, shifting wilds, sticky wilds, cascading wilds, and stacked wilds are just some of the numerous ways that slot makers have experimented with utilizing wild symbols when playing with multi-payline slots.
Scatter Symbol
The main rule of slot machines is that to win, you must line up a number of the same symbol on a single payline. The scatter symbol can occur in any position on any reel and award you a win or activate a bonus feature like free spins. They are generally one of the high value symbols, and they are frequently represented by a symbol that corresponds to the slot machine's main theme.
Free Spins Feature
Free spin rounds are a bonus feature that gives you a number of free spins to help you increase your wins. Free spins may be triggered in a number of ways, including when specific symbols appear in a row on one of the reels. You'll be given a set number of spins, and any winnings will be added to your account as you watch the spins spin around the reels. This is one of the most basic and often used methods.
Bonus Round
Bonus games come in a number of shapes and sizes, and they allow you the chance to win extra cash while playing the main game. Bonus games are generally granted when specific symbols appear on the reels, and they continue for a brief time before returning you to the main game. This is where online slots really shine and start to resemble video games, with many of the features we've seen including intricate storylines.
Multipliers
Multiplier symbols, as the name implies, multiply your winnings by a specific amount. Depending on the game, this can range from an X2 multiplier to X100 and X1000 multipliers. They also come in a variety of shapes and sizes, with some running on standard reels and others only appearing as part of a specific feature or bonus game.
Check out the top multiplier slot games, you could multiply a number of wins.
Mystery Symbols
Symbols that appear on the reels during a spin but do not have a predetermined value or symbol when the spin begins are known as Mystery Symbols. Instead of using a traditional symbol, they use a distinctive feature on the sign, such as a question mark, to make them easily identifiable.
Win Both Ways
It is not something to be taken lightly when it comes to winning both ways. In fact, it's something to yell and shout about, since anytime it's used in a slot game, it's nothing short of spectacular. If you can claim wins from left to right, you should be able to do it in the other direction as well, and that's exactly what you'll be able to do with this feature turned on.
Progressive Jackpot
Progressive jackpots have always been popular at brick-and-mortar casinos, and they function by pooling a high jackpot from a number of slot machines. Any single player on any of the machines could strike it rich and walk away with a life-changing sum of money. The internet has made it incredibly simple to connect online slot machines, and progressive jackpots are extremely popular among gamers.
Conclusion
Before you can start playing a video slot, these developers created an age verification system that asks for personal information. Many famous casinos regularly encourage players to play responsibly since gambling may be addicting.
Slot games with 30 paylines are still quite dominant nowadays, with many developers and players recognizing the potential that these kinds of slot games can offer.
All Winning Combination Slot Machine Lines
Here are all various multi-line slot machines winning combination slots features.