Greek Mythology Themed Slots
Earn the favour of the gods and land the mighty wins with their blessings!
Greek Mythology Themed and Ancient Greece Themed Slots are slot games with audiovisual designs that are inspired by stories from Greek Mythology. There are many games in the industry with this Greek theme for players who want to receive gifts from different gods, like the luck from Tyche.
This is one of the best slot themes and is widely used by a number of software developers in the slot industry.
Read how to make the best of Greek Mythology Themed and Ancient Greece Themed Slots and their return to player rates, bonus features, and variances in this Greek Mythology Themed and Ancient Greece Themed Slot review.
Best Greek Mythology Slots and Ancient Greece Slots
Players may earn higher rewards by playing Greek Mythology Slots and Ancient Greece Slots, which provide several bonuses and free games.
These slot games are regulated by the gambling commission of a state like the Alderney Gambling Control Commission. The commissions check that the developer of slot games, like Pragmatic Play and IGT, for example, follow the regulations.
To help you decide which games to try, we reviewed some of the finest Greek Mythology Slots and Ancient Greece Slots.
Hot as Hades Slot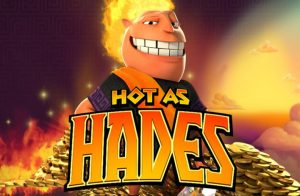 Hot as Hades is a 5 reel slot game with 20 fixed paylines.
Hades was the ancient chthonic god of the underworld. He was also the oldest son of Cronus and Rhea and his brothers were Zeus and Poseidon. This slot game, which is brought to you by Microgaming, features stellar graphics and gameplay.
The game's own emblem serves as the wild icon, and it may be used to replace any other symbol on the reels. A scatter sign in the form of a transparent helmet is also included. Scatter winnings boost your entire bet by a factor of ten, with a top payout of 25,000 coins. You'll start the Quest for the Crystal Helm round if three or more of them appear. Meanwhile, there's a Super Mode that activates at random and awards free spins.
Because it is situated in the depths of the underworld, there's a fiery backdrop to this one. There are icons of a more themed character in addition to the commonly observed A, K, Q, J, and 10 symbols. Hades, Zeus, Poseidon, Medusa, and others are among them.
Age of the Gods: King of the Underworld Slot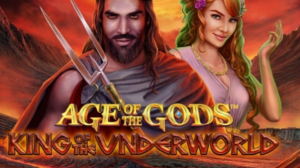 King of the Underworld Slot is a game with 3 rows, 5 reels and 20 win lines.
King of the Underworld, based on Greek mythology, is shaping up to be another terrific addition to Playtech's popular Age of the Gods progressive jackpot series. Tartarus, Cerberus, and the Three Sisters of Fate, depicted as symbols, add a sinister mood to both the game's theme and the slot's backdrop.
The most fascinating thing here, if you can look past the anguish and pain imposed by these mythological animals, is the chance of massive victories. You have the option of winning a maximum payment of 10,000x your stake or one of four progressive jackpots aggregated from all of the slots in this well-known sequence.
Find more details about this game with our full slot review of Age of the Gods: King of the Underworld Slot.
Age of the Gods:Goddess of Wisdom Slot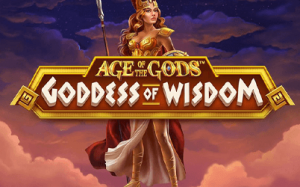 The video slot 'Age of the Gods Goddess of Wisdom' by Playtech has 20 betways and is a game with 5 reels and 4 rows.
This is another Age of the Gods slot game, this time offering a new slant on the Greek Mythology theme. Prepare for wisdom as you start to spin the reels in search of valuable treasures and jackpot wins.
The RTP for this slot is 94.94%, with an medium level of variance. Wild, Multiplier, Jackpot, and Scatter symbols are the main game features.
Check out our intel as our team of experts take an extended look at Age of the Gods: Goddess of Wisdom in our review.
Hercules High & Mighty Slot
Hercules High & Mighty is a Barcrest-powered 5-reel slot with 100 paylines that can be played for 50p to £500 a spin and features the son of Zeus (Hercules) in all his glory.
It benefits from expanding and persistent expanding wilds, free spins, and the Big Bet feature, and it has a huge and stunning aesthetic.
This slot machine is one that's known for the many features and chances of generous wins.
What Are Greek Mythology Themed and Ancient Greece Themed Slots?
In the world of slot machines, Ancient Greece stands out and, like Egypt, dominates every casino. For years, Greek mythological figures have served as a source of inspiration for slot machine developers, and they have starred in practically every slot with a Greek theme.
On the one hand, it is wonderful to have a diverse selection of games to attempt, but with so many options, even seasoned gamers can easily become overwhelmed, and the lion's share lacks a haunting aspect. Some Greek slot machines, on the other hand, manage to stand out among a sea of dubious games.
There are various Greek Mythology Themed and Ancient Greece Themed Slots games to pick from on both online and offline slot machines. Three to five reels and at least one payline are typical of these slot machines. Modern online slots games with the same principle have a number of paylines and added features.
FAQs
What Greek Mythology Themed and Ancient Greece Themed Slots Has The Best RTP?
In the modern-day slot game market, the Hot as Hades Slot game brings one of the best RTPs for a slot game in the Greek Mythology niche with 96.75%. Any percentage that matches 95% or more is considered a good payout amount.
Ancient Greece, like Egypt, has been the inspiration for a variety of innovative slot games. For those who don't know, Ancient Greece was a civilisation that existed from the 5th century BC to 600 AD. The Early Middle Ages would begin following this period and thankfully these games pay out regularly.
What Variance Are Greek Mythology Themed Slot and Ancient Greece Themed Slots Games?
Volatility in slot machines is not a new concept, but it has been gaining popularity in recent years. It is used by casino players to forecast the performance of online slot machines during their sessions and arrange their bankroll appropriately. In online slots, variance basically tells you how often you are to hit winning combinations and how big your wins will be.
You are playing a high volatility game if you are spinning a slot that does not pay out often but has the potential to pay out big. If your slot machine provides little prizes but you consistently hit them, you've got yourself a low variance game.
Many Greek Mythology and Ancient Greece themed slots may be found at your favourite online casinos and slot websites. These slot machines come in a variety of variances, ranging from low to medium to high.
If you want to play low to medium or high variance games, you can choose from these Greek Mythology and Ancient Greece games like Divine Fortune, Divine Fortune Megaways, Age of the Gods: Glorious Griffin, Gates of Olympus, and Gods of Olympus.
Can I Play Greek Mythology Themed Slot and Ancient Greece Themed Slots Machines On Mobile?
Please the gods with your best offerings and win big jackpots from these casino temples!
Many online casinos provide a large range of Greek Mythology and Ancient Greece themed slot machines. These slot websites can be visited using your favourite browser on PCs, laptops, and even smaller screens like tablets and Android or iOS mobile devices.
When players create an account with certain online slot casinos, they may be eligible for deposit bonuses and other bonus terms. After successfully registering an account, players may be eligible for a welcome bonus as well as a gift bonus.
Here are some of the best online casino websites with the best ancient Greek themed games.
What Symbols Are On Greek Mythology Themed Slot and Ancient Greece Themed Slots?
Greek Mythology Slot and Ancient Greece Slots have bonus features and symbols that reflect the mythology elements of the theme. These symbols deliver cash prizes, bonuses, and awards when they land on the reels and form winning combinations.
Trojan Horse
Heroes
Medusa Monsters
Fate Sisters
Lightning Bolts
Greek Gods – Zeus, Hades, Poseidon, Athena
Greek Heroes – Hercules, Jason, Perseus
Greek Mythology Slots and Ancient Greece Slots Bonus Features
Ancient Greece Slots and Greek Mythology Slots both have extra features and special traits that can help players win additional riches and gems. Learn about the symbols that offer higher prizes to players.
Wild Symbols
The wild symbol in many Greek mythology slot games is the Greek temple. Wild symbols can appear in any position on the slot machine and will pay out even if they are the only symbols on the reels. These one-of-a-kind slot icons can also be utilized to substitute for other game symbols. Wild symbols include extra wild symbols and wild reels.
Scatter Symbol
Zeus' thunderbolt is often used by many game developers as the Scatter symbols. The Scatter symbol is a symbol that, depending on where it appears on the online slots playground field, allows all gamblers to win huge winnings. The value of your bets or the number of lines you play have no bearing on the Scatter symbol.
Free Spins
Many Greek mythology games, like those from Red Tiger Gaming and Yggdrasil gaming, offer players a chance to spin the reels without any additional fees.
Bonus features on many slot machines take players to a second screen with a different setting. The term "free spins" is used in both online and physical casinos. The phrase is widely used to describe a bonus feature of video slots or slot machines, regardless of which casino you visit. Free spins are one of the most popular bonus features in online slots.
Bonus Rounds
Bonus rounds come in all kinds and sizes, and they provide you the chance to earn more money while you are playing the main game. Bonus games are normally activated when certain symbols appear on the reels, and they stay for a brief time before returning you to the main game. This is when online slots really shine and start to mirror video games, thanks to many of the characteristics we've seen.
Other Slot Machine Themes
Here are other slot machine themes popularly played by online casino players: