There's nothing quite like a love slot game, they come with many romantic stories.
Romantic themed slots are slot machines with a love theme throughout, these romance games captivate slot players with a storyline and familiar themes. You can expect the popular slots to offer heart, love letters and couple symbols. These games come with various grids, paylines and bonuses.
There is a lot to choose from, feel free to explore our picks below, and in the meantime, here is our review on the theme of romance. If you're searching for a variety of slot themes then check our guide on all of the best themes.
Best Romantic-themed Slots
We've compiled a list of love-themed slot machine games for you to enjoy, whether you're married, in a relationship, or single. Fall in love with these games' in-game bonus rounds and features apart from the slots themes!
Immortal Romance Slot Game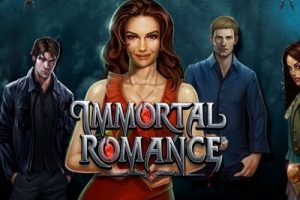 Even though Valentine's Day is all about giving and showing love, this slot, like many others recently, relies on the cult of Vampires to stir up the excitement. Aside from spectacular graphics and animation, this game features 5 reels and 243 pay lines. Once in a while, the reels would start to spin – or wildly – giving you a free chance to win.
Landing 3 of the same will get you into the Chamber of Spins. This will unlock some very nice bonuses like 10 to 25 free spins which can turn symbols into x2, x3, or even x5 multipliers. RTP (Return to player) money is over 96% which is superb for a slot game.
Read our full take on the popular slot game – Immortal Romance.
Wacky Wedding Slot Game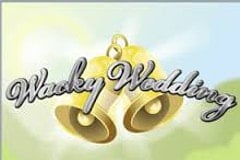 Wacky Wedding makes a parody of the typical wedding, in which everyone waits for the bride at the altar. The reels are set against a soft pastel background, with birds singing in the distance. All of the wedding symbols, such as the ring, flower, wedding cake, and champagne bottles, are included in the animation.
This slot game from Rival Gaming comes with 5 reels and 20 paylines.
There are five reels and twenty pay lines in this game. The maximum coin is £0.25, with a £1500 jackpot. The RTP for this slots game is 96%, which is excellent. Aside from standard extras such as free spins (up to 75), there is an intriguing bonus in which the player is expected to catch a bouquet and be rewarded with a prize.
Burning Desire Slot Game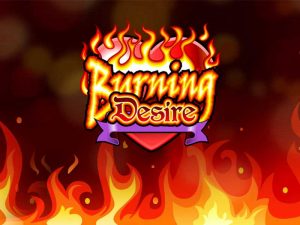 The online game appropriate for Valentine's Day has 243 ways to win, with a jackpot of 90,000 coins. The lowest stake is £0.25, with a maximum bet of £250. As with any other slot, there are a number of bonuses available. You'll get 15 free spins if you land three or more golden coins. Additional golden coins mean more free spins, up to 100 in total.
"Double or Nothing" is one of the game's most appealing features. If you guess the colour of the randomly drawn card from the deck, red or black, you can double your rewards when you win on the reels. If you miss, you'll lose everything you've won.
Burning Desire is an exciting game with a twist on the romantic idealogy, the slot comes with fiery themes and symbols.
Venetian Rose Slot Game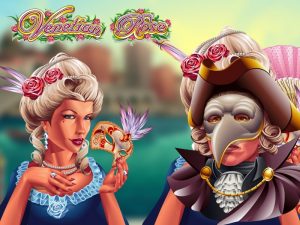 This game, which is only accessible in February each year and celebrates love as if you were in the world's most romantic city, Venice, Italy, has 5 reels and 25 paylines.
It's one of those easy games that will provide you with the delight of simply being with a loved one, spending time together, and having a little fun with spinning slots along the way. There are bonuses in the game that will provide you with good payouts and free spins.
Beauty and the Beast Slot Game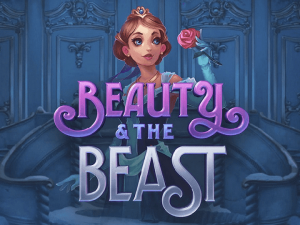 The Beauty & the Beast Slot Game is a 5 reel slot based on the famous tale.
Of course, we're all familiar with the story, but the game designers literally added their own twist to it.
This game has 5 reels and 20 pay lines, with the prince transformed into the ugly Beast as the highest-earning symbol, and the love of his life, Belle, as the second highest paying symbol. The humorous characters, servants-turned-talking-items, are also on the reels, adding a hilarious twist to the story.
Romeo and Juliet Slot Game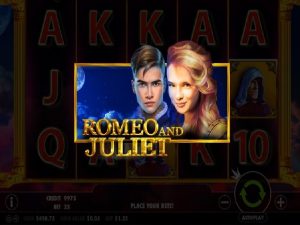 You couldn't review romantic themed slots without the inclusion of Romeo & Juliet. It's a Pragmatic Play creation, they were lucky enough to get their hands on this story and they put their own twist on the film and book.
This slot machine displays 5 reels and 25 paylines.
The most well-known tragic love story has to find a home in the world of online gaming. You'll journey back in time to Verona in order to help the two loves meet. When Romeo and Juliet finally meet, the reels are designed to provide you with 25 free spins.
Bollywood Story Slot Game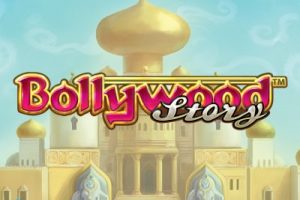 Bollywood is popular entertainment that comes with a number of different stories, this particular slot presents the Bollywood Story.
It's a romance themed game that comes with 5 reels and 9 paylines, it's unusual to find 9 win lines but it makes the game equally simple and exciting.
Unravel more of this game, its RTP and bonus features – read the full Bollywood Story Slot Review.
Full Moon Romance Slot Game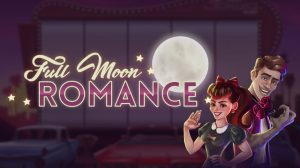 This slot game brings drive-in movie theatres to life in the moonlight. Full Moon Romance is a different type of love slot and it is a 5 reel, 15 payline slot.
It used to be a place where couples gathered together for some privacy, and it's still a great way for couples to spend a romantic evening now. You'll earn several free spins if you hit three or more Full Moon symbols.
The Sweetheart symbols, Jack and Rosie, can bring in a reward of up to 1500 coins. In comparison to other slots, the game has a beautiful background and realistic animations. The vintage motif conjures up images of old movies, the film "Grease," and romantic eras in general. There are no bonus games in this game, only bonuses and free spins.
What Are Romantic-themed Slots?
Love-themed slots are also slot games that have a romance genre. They come with some romantic stories, colourful reels and lots of bonuses. These slot machines are popular genres and have different win lines, reels and bonus features.
While the gambling market is dominated by slots with serious themes and content that is primarily enjoyed by men, there is still room for love.
Not to imply that romantic slots are just appealing to women, but male gamblers do not appear to prefer love slots over any other, at least not unless St. Valentine's Day is approaching.
The point is, whoever you are and whatever you classify as, you will surely find the best love-themed slots that will put you in the loving mood, whether they're cute, thrilling, captivating, or have that warm sweet romantic vibe to them.
FAQs
What Romantic-themed Slot Has The Best RTP?
Dr. Lovemore isn't the most visually appealing of the slots, but he can certainly bring you some cash. It's a 5-reel, 20-payline slot machine. It offers a little higher RTP of 97% which gamers will enjoy. When all five reels are matched, the jackpot is 10,000 coins.
The game is chock-full of incentives for a variety of matches, and the game's creators added a unique twist with the "Matchmaker" feature. In any case, it's one of the more amusing games available in online casinos, making it ideal for setting the tone on Valentine's Day.
What Variance Are Romantic-themed Slot Games?
Romantic slot games come in all shapes and sizes, which means that you can expect low, medium and high volatility.
The higher the volatility, the less frequent the wins but the better chance of landing big wins.
Can I Play Romantic-themed Slot Machines On Mobile?
A mobile slots app is available on some love-themed slots casino websites. Modern Android and iOS devices are compatible with the apps so you can always play on the go. Other online casinos provide a responsive design that allows you to play games on your favorite browser.
What Symbols Are On Romantic-themed Slots
What else can you expect to see on the reels but roses, hearts, and attractive men and women, with beautiful music playing in the background?
But there are also a few unexpected surprises to be found. Developers occasionally depict tragic love stories with vampires as the main characters, such as Romeo and Juliet or Bloody Love.
Of course, let's not forget that sweets and love go together as well. It is common knowledge that many people have a strong need for food. As a result, games involving cakes and cookies can be found in online casinos' Love category.
Romantic slot games offer some beloved stories and symbols that add to the gameplay, these games offer plenty of bonus features and a variety of grids.
Romantic-themed Bonus Features
Companies get extremely creative with features, especially in love slot games.
Special Game Symbols
Scatter symbols and bonus icons are most likely the most popular with gamblers, as three of those usually activate bonus features, where the big prizes are hidden.
Each time one of them appears across the entire wheel, players are awarded 10 and 15 free spins respectively. Some Scatters multiply all prizes by at least x5.
Sometimes, bonus symbols can randomly transform regular symbols into x2 or x3 multipliers.
Bonus Spins
Bonus spins or free spins are popular features of love-themed slot games. They let you spin the reels without wagering requirements.
Conclusion
Love-themed slots will make you enjoy all things romance-related such as love bugs, lovers, teddy bears, and whatnot.
If you are new to the gambling industry, start with the free versions of these romance games if your favourite casino site has them.
Then set a budget and choose a casino to deposit at once you've gained enough experience and feel ready to commit money.
Although most casinos have mobile and PC versions, playing through a browser is always a good choice.
Other Slot Machine Themes
Here are other slot machine themes popularly played by online casino players: