Listen for the tune that brings the most rewards and the biggest wins!
Music Themed Slots games are branded slot games that focus on the musical theme, lending inspiration from the different musicians, from a world-class DJ to the classic rock musicians. These casino games come with a catchy tune and deviate from the typical video slot setup.
Play your favourite songs while winning through the music-themed free games, bonus spins, and special features in this Music Themes Slot Review. Find more slot game theme features with our full guide.
Best Music Themed Slots
There are many musical theme slot games in the industry today. These slot games come with many bonus games and special features. These slot games often have cut scenes and intro video that is authentic video footage that music fans can enjoy. The cash rewards awarded by the casino sites are also great.
These slot games are regulated by a state's gaming commission, such as the Alderney Gambling Control Commission. The commissions make sure that companies like Pragmatic Play and IGT, for example, follow the rules.
We analysed some of the best music-themed slot games to help you decide which ones to try.
Guns N' Roses Slot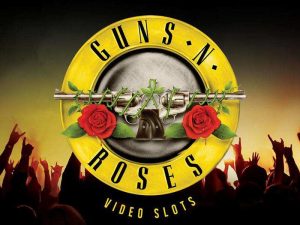 NetEnt produced the Guns N' Roses video slot game as a tribute to the iconic 1980s rock band. Axl Rose, Slash, and the rest of Guns N' Roses founded the band in 1985 in Los Angeles, and by the early 1990s, Axl Rose, Slash, and the rest of the band had become household names.
Fans of rock music will enjoy this slot game because NetEnt has captured everything that makes the band unique, including their popular music.
Stacked Wilds, the Solo Multiplier, and the Crowd Pleaser bonus game are all interesting elements of the Guns N' Roses slot game. This game is a stunning music-themed slot title, with an RTP of 96.78%.
The Guns N' Roses slot machine has a 5×3-reel layout with up to 20 paylines. It's a fun music-themed slot with plenty of action to be discovered. During gaming, players are taken to a Guns N' Roses concert. It's a fantastic method to immerse yourself in the legendary rock band's songs and epicness.
Rat Pack Slot Game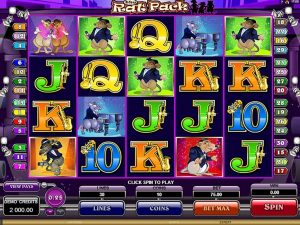 Rat Pack Slot is a 5 reel casino game with 30 paylines.
When you think of the rat pack, what comes to mind? Frank Sinatra, Dean Martin, Sammy Davis Jr and other Las Vegas casino entertainers, without a doubt. In this funny video slot, Microgaming has given us a new take on the musical theme.
The Rat Pack slot lives up to its name, with a band of rodent musicians gracing the slot's five reels. Smooth jazz tones will play while you spin the reels, adding to the musical theme. The most valuable symbols are the dapper rats, with the standard wild offering the maximum payouts. A multiplier wild symbol is also present, which doubles rewards.
Karaoke Party Slot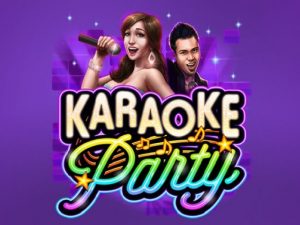 This musical slot is one for you, join the action of this 5-reel and 9 win lines. The excitement of karaoke is captured in this Microgaming slots music game.
The high-value symbols depict a diverse range of people enjoying their time in the spotlight, including single singers and groups of pals on stage. The game features a catchy song that will have you tapping your foot along while playing.
It has a gamble option that allows you to potentially double or even quadruple your winnings. The free spins bonus, on the other hand, is the game's highlight feature. If you get three scatter symbols, you'll get 15 free spins. The Karaoke Party logo acts as a multiplier wild, doubling any wins it contributes to.
Motorhead Slot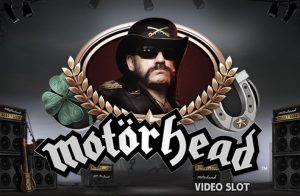 The English rock band Motörhead is honoured in this NetEnt video slot has 76 paylines.
In a high-energy entrance video, you will see actual film footage of Lemmy and his band shouting out their legendary gambling song, Ace of Spades, one of the most favourite Motorhead songs. You can also play in rock mode to hear more of the band's well-known songs, such as Overkill, Killed by Death, and Iron Fist.
The slot is jam-packed with bonus bonuses. Every spin activates the Mystery Reel feature, which comprises stacked mystery symbols with the ability to turn into others. The Bomber function, which is engaged at random, creates clusters of mysterious symbols, allowing for many huge prizes.
Check out more details on the music-themed slot machine with the full Motorhead Slot Review.
What Are Music Themed Slots?
Music Themed Slot games are a pleasure to your ears and your stash. These online casino slot games offer cash rewards while playing hits from a wide variety of musicians, like the famous English rock band Beatles. These slot games provide a vast array of reels and paylines, as well as an extensive range of minimum and maximum bets.
Slot games with a music theme come with various symbols that land on the reels to form winning combinations. These symbols include notes, musical instruments, and the musicians themselves.
On both online and offline slot machines, there are a variety of Music Themed Slot games to choose from. These slot machines usually have three to five reels and at least one payline. Modern online slots games based on the same concept have more paylines and features.
FAQs
What Music Themed Slots Has The Best RTP?
Slot games vary in payout percentage, anything that surpasses the 95% is generous. The highest-paying music themed slot is Guns N' Roses Slot with an RTP of 96.78%.
Each game varies with different payout percentages and many exciting bonuses.
What Variance Are Music Themed Slots Games?
Music themed slots have different volatility with most being medium variance. The volatility reflects how likely you are to get winning combinations and how substantial your wins will be when playing online slots and land-based slot machine games.
If you're spinning a slot machine that doesn't pay out frequently but has the potential to pay out large, you're playing a high volatility game.
In your chosen online casinos and slot websites, there are several Music Themed Slots. These slot machines come in a variety of variances, ranging from low to medium to high. Some of the slot games you can play include Ozzy Osbourne Slot, Elvis Lives Slot, and Michael Jackson, King of Pop Slot.
Can I Play Music Themed Slots Machines On Mobile?
Keep the music playing and your wins piling no matter where you go!
Many online casinos provide a diverse selection of music-themed slots. These slot websites can be accessed using your preferred browser on PCs, laptops, and even smaller screens like tablets and Android or iOS mobile devices.
Players may be eligible for deposit bonuses and other bonus conditions when they open an account with specific online slot casinos. Players may earn a welcome bonus as well as a gift bonus after completing the registration process.
What Symbols Are On Music Themed Slots?
Slot machine games with a musical theme have slot game elements and symbols that correspond to the musical theme. These symbols provide rewards, bonuses, and extra cash whenever they line on the reels and form winning combos.
Here are some of the common symbols.
Musicians (Elvis Presley)
Rock Bands
Instruments (electric guitars, drums, bass guitars)
Concerts
Music Sheets
Music Themed Slots Bonus Features
Music-themed slot machines have a variety of extra features and unique properties that allow players to get more out of the spinning reels. Once the players have met the qualifying deposit, these game symbols award cash winnings at cash stakes.
To increase player excitement and cash prizes, software providers integrated these symbols and features in many online video slot machines. Here are some of the special features.
Wild Symbols
In music slots online, the wild symbols represent the areas that the players want to visit. Wild symbols can appear on the slot machine in any position and payout even if they appear alone on the reels. These one-of-a-kind slot symbols can also be used to replace other symbols in the game. Extra wild symbols, multiplier wilds, and wild reels are all examples of wild symbols.
Scatter Symbol
Rock icons and concerts bring the same excitement as an event and a symbol in slot games. The Scatter symbol is a symbol that, depending on where it appears on the online slots playground field, allows all gamblers to win huge winnings and activate rock mode. The value of your bets or the number of lines you play has no bearing on the Scatter symbol.
Free Spins Feature
There are different names of free spins with music-themed slots but all of these free spins award the players with a chance to win jackpots for free. There could be the Night Free Spins, Purple Haze Free Spins, Crosstown Traffic Free Spins, and Little Wing Free Spins.
Bonus features on many slot machines take players to a second screen with a different setting. The term "free spins" is used in both online and physical casinos. The phrase is widely used to describe a bonus feature of video slots or slot machines, regardless of which casino you visit. Free spins are one of the most popular bonus features in online slots.
Bonus Game
A bonus game can take many forms and sizes, and it allows you to win more money while still playing the main game. Each bonus game is usually triggered when certain symbols appear on the reels and only lasts a few seconds before returning you to the main game. This is when online slots really shine, and many of the themes we've seen are replicated.
Gamble Feature
The gamble function harkens back to the days of ancient fruit machines, where it was a popular bonus game. It allows players to 'gamble' their gains, which are normally doubled if they win but lost if they lose. Most gamble buttons demand a player to guess the colour of the next card drawn from a pack or whether the next card will be higher or lower than the previous one.
Conclusion
A music-themed slot game is often a well-designed unconventional video slot, with game developers focusing on providing players with a pleasant gaming experience whenever they play online. The high paying symbols shower players with the great cash reward that comes in these branded game slots are also a great part of the game. The music theme is also incorporated well into the game design, often carrying over up to the bonus rounds. All in all, we recommend playing games with a music theme to music fans and non-music fans alike.
Other Slot Machine Themes
Here are other slot machine themes popularly played by online casino players: