Pull the magic wins out of the top hat to bring home the best jackpots!
Magic Themed Slot games cast a spell over their player's wins, turning winning combinations from true illusions into actual cash wins. Gaining inspiration from the most famous wizard and most popular magicians, slot games with a magical theme award big wins to so many players.
Magic slots come in all shapes and sizes with different types of slot machines – find out more about the different slot themes.
Find out how to win real cash with the powerful wizards' spells and blessings through free spins, bonus spins, special features, and free spins in this Magic Themed slot game review.
Best Magic Themed Slots
Today's market has a plethora of magical-themed slot games. Many bonus games and additional features are included in these slot machines. The gambling sites also provide excellent financial prizes.
A state's gaming commission, such as the Alderney Gambling Control Commission, regulates these slot games. Companies like Pragmatic Play and IGT, for example, are monitored by the commissions to ensure that the rules are followed.
We looked at a few of the greatest magic-themed slot games to see which ones you should try.
Simsalabim Slot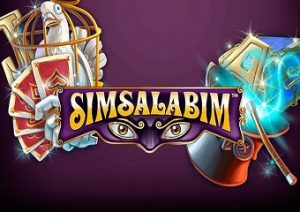 Simsalabim Slot is a Netent slot machine with 3 rows, 5 reels and 25 win lines.
Keep a look out for three bunny rabbit symbols on the first three reels when playing Simsalabim. These activate the bonus game, in which you must remove rabbits from hats to uncover cash rewards worth up to 50500 coins.
This magically themed slot brings all the thrills of a magic show to life. The stage is set with symbols like a magician's wand and top hat, a caged dove, and a locked chest in the style of Houdini. The hypnotist is a force to be reckoned with, assisting in the completion of winning symbol combinations.
Spellcast Slot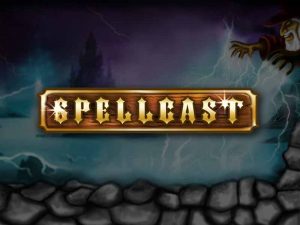 Spellcast, another amazing NetEnt game, incorporates many of the usual fairy tale motifs, such as mighty wizards, wicked witches, and towering castles. If you find three crystal balls spread over the reels, you'll be awarded 15 free spins, each with a 3x multiplier on all wins.
This spellbound slot game displays 5 reels and 20 winning combinations. It has icons such as magic wands, spellbooks, potions and wizards.
Find out how to win and also get hold of incredible bonus games with our full Spellcast Slot Review.
Merlin's Millions Slot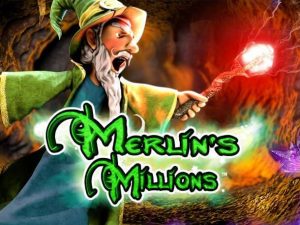 Merlin's Millions was produced by Next Generation Gaming and offer some absolutely wonderful elements based on the stories of the world's most famous wizard.
Merlin himself will cast spells across the reels, and a "super bet" option allows you to pay more to turn the wild symbols (containing the game's namesake) into multipliers that can increase your earnings by up to 10x, as designed by NextGen Gaming.
Get your hands on big money wins with the Wizard himself in the full Merlins Millions Slot.
Wish Master Slot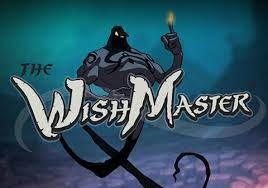 Your wish will be granted with this genie slot machine from NetEnt, it comes with 5 reels and 20 paylines.
Nothing beats a genie who is willing to give you a wish. In NetEnt's The Wish Master, you'll match cryptic symbols in the hopes of locating the elusive genie, who will grant you special powers such as multipliers, wild reels, and more if he appears.
This game is all about the wilds, there's a number of different wild features including expanding wilds, extra wilds and random wilds. Find out more about this exciting game with our full Wish Master Slot Review.
True Illusions Slot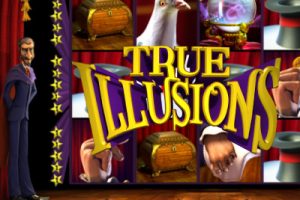 True Illusions is a 5 reel animated slot game with 30 paylines and a magic trick theme throughout.
This Betsoft slot is perhaps the best online slot for magicians available today. True Illusions features locked wild reels, a free spins game, and plenty of animated tricks to keep you entertained for countless spins, all with the company's signature 3D graphics, voice acting, and animations.
What Are Magic Themed Slots?
Magic themed slot games give players a chance to try the magic game and cast spells through the best online casino available. Magic themed games can reward players with magical wins through a wide variety of reels, paylines, and betting ranges with a small minimum bet and a large max bet.
Magic Slots online have different symbols and features that can help players land more winning combinations on the reels. Symbols like magic creatures, a wizard, a spell, and magic books are often included in the slot games.
There is a selection of Magic Themed Slot games to pick from on both online and offline slot machines. Three to five reels and at least one payline are typical of these slot machines. More paylines and features are available in modern online slots games based on the same premise.
FAQs
What Magic Themed Slots Has The Best RTP?
True Illusions Slot is the magic-themed slot game with the best RTP, it comes with an astonishing 97% payout percentage. Each of the magician and magical slot machines have a different return to player, anything over 95% is considered generous.
Find other amazing slot games in this niche, each have their own RTP.
What Variance Are Magic Themed Slots Games?
When playing online slots and land-based slot machine games, the volatility indicates how likely you are to get winning combinations and how large your wins will be. You're playing a high volatility game if you're spinning a slot machine that doesn't pay out frequently but has the potential to pay out big.
There are various Magic Themed Slots available at your preferred online casinos and slot websites. These slot machines are available in a wide range of variants, from low to medium to high. You can play a variety of slot games, including Pixies of the Forest Slot, Mighty Arthur Slot, Lady of Fortune Slot, and Spellcast Slot.
Can I Play Magic Themed Slots Machines On Mobile?
Keep the music playing and your wins piling no matter where you go!
Many online casinos provide a wide range of magical-themed slots. These slot websites can be visited using your favourite browser on PCs, laptops, and even smaller screens like tablets and Android or iOS mobile devices.
When players register an account with certain online slot casinos, they may be eligible for deposit bonuses and other bonus conditions. After completing the registration process, players may be eligible for a welcome bonus as well as a gift bonus.
What Symbols Are On Magic Themed Slots?
Magical slot machine games include slot game components and symbols that correspond to the magical theme. When these symbols line up on the reels and form winning combinations, they award prizes, bonuses, and extra cash.
Here are a few examples of common symbols in a magic slot.
Magic Creatures
Magic Portals
Wizards
Magic Books
Little Magic trinkets
Magic Themed Slots Bonus Features
Magic theme slot machines contain a range of unique characteristics and attributes that allow players to receive more from the spinning reels. These game symbols give cash rewards at cash stakes if the players have reached the qualifying deposit requirement.
These symbols and features were incorporated into numerous online video slot machines to improve player excitement and cash winnings in your favourite casinos.
Wild Symbols
The wild symbols in music slots online depict the places that the players want to visit. Even if wild symbols appear alone on the reels, they can appear in any place on the slot machine and pay out. These one-of-a-kind slot icons can also be utilized to substitute for other game symbols. Wild symbols include extra wild symbols, multiplier wilds, and wild reels. The wild symbol in magic theme slots is the magicians.
Scatter Symbol
Potions and spells keep the magic of love alive. The Scatter symbol is a symbol that, depending on where it appears on the online slots playground field, can award big payouts and activate rock mode for all players. The Scatter symbol is unaffected by the size of your bets or the number of lines you play.
Free Spins
Many slot machines have bonus features that transfer players to a second screen with a different setting. Both online and offline casinos use the term "free spins." Regardless of which casino you visit, the phrase is commonly used to describe a bonus feature of video slots or slot machines. One of the most popular bonus features in online slots is free spins.
Bonus Game
A bonus game can take many forms and sizes, and it allows you to win more money while still playing the main game. Each bonus game is usually triggered when certain symbols appear on the reels and only lasts a few seconds before returning you to the main game. This is when online slots really shine, and many of the themes we've seen are replicated.
Progressive Jackpots
Progressive jackpots have always been popular in land-based casinos, and they function by pooling a high jackpot from a number of slot machines. Any single player on any of the machines could strike it rich. The internet has made it incredibly simple to connect slot machines online, and progressive jackpots have become extremely popular among gamers.
Find the top progressive slots using our full guide on the best slot games with big wins and how to land these incredible payouts.
Conclusion
Players from all over the world can enjoy all the fun and great winnings that these slot games can offer. After the players have satisfied the casino condition of the first deposit, they can start to play the magic-themed online slots. The winning symbols in the base game and the free play feature award real money to the players.
This theme caters to players with diverse preferences, with games created that can match the taste and budget of different players. Magical Slots truly come in many shape and sizes.
Other Slot Machine Themes
Here are other slot machine themes popularly played by online casino players: