Get above and beyond the waves as you play for big wins on 7 Oceans Slot.
7 Oceans slots is a 3 reel, 1 payline slot game powered by Microgaming slot software. Being released on the 15th June 1999, this classic slot has medium variance and an RTP of 97.00%, allowing players a better chance of achieving the max win of £60,000! 7 Oceans slots is guaranteed fun!
This Microgaming slot is one that's received a lot of plaudits and for that reason we decided to dive deep into the 7 Oceans Slot game.
Read our full 7 Oceans Slots Review and find out what we found, we're were taken back by the different features, wild symbols, online casinos available and the free spins. Read on to find out more, as we break down the bonus features and mobile play.
Find all of the best slot sites that we have found for you in September 2023.
Best 7 Oceans Slot Sites
From our research, we have created a list of the best 7 Oceans Slot Sites:
Play 7 Oceans Slots Online
Through the oceans, you can take your chances to spin and win some serious money, with a big jackpot prize for matching sevens. It's easy to play, and easy to find, as it features in casinos online and through mobile devices.
How to Play 7 Oceans Slots
7 Oceans is a straightforward slots game offering simple game play with no room for confusion. This is done by offering you a single payline across 3 reels, which even use standard casino icons to keep your head focused. In order to play, you can choose your stake and then simply spin to win. Also keep a look out for scatter symbols and wild symbol features.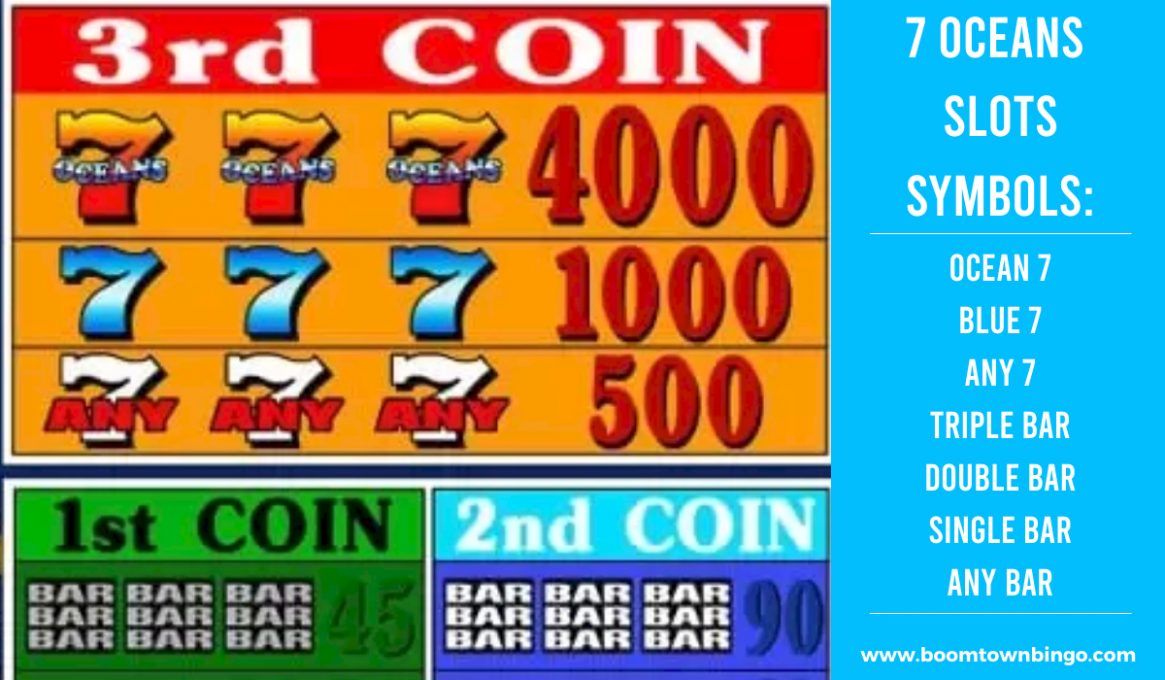 Firstly, you need to adjust your coin size between £0.25 and £15. Once you've done that, simply select how many coins you want to bet and hit 'Spin'.
On each spin, you want to match the icons across the three reels to give you a reward. Doubles and triples will give you a bigger jackpot, and, if you bet 3 coins, three orange sevens will release a huge fixed jackpot.
7 Oceans Slot Free Spins
There's no free spin features on this game. You can't win bonus rounds such as free spins, it's been designed to be easy and straightforward gameplay.
The classic has a wild symbol feature but there aren't too many other interactive features.
Interactive Features
If you're the sort of person who finds too many bonus features and extra prizes confusing, then you're in luck. 7 Oceans doesn't involve any free spins, wild symbol or bonus rounds to get in the way of your simple honest fun.
Of course, this means that you normally have lower potential wins for each game, but these could come more frequently, and you won't struggle to understand how it works.
Slot Info
| 7 Oceans Slots | Attributes |
| --- | --- |
| Casino Game: | 7 Oceans Slot Game |
| Paylines: | |
| Reels: | |
| Software: | |
| Minimum Bet: | £0.25 |
| Max Bet: | £15 |
| Variance: | |
| RTP: | 97.00% |
| Slot Theme:  | Sea |
| Symbol Designs: | Red Line, Single Bar, Double Bar, Triple Bar, Blue Seven, 7 Oceans Logo |
| Max Win: | £60,000 |
| Jackpot Type (Normal/Progressive): | Normal |
| Release Date: | 15th June 1999 |
Paylines and Stakes
This slot game only uses one payline, and the standard 3 reels found in classic casino slot machines. With only one payline, there are fewer ways in which you can win money here than there are in many other slot games. However, this keeps it easy to understand as the game itself is fairly intuitive.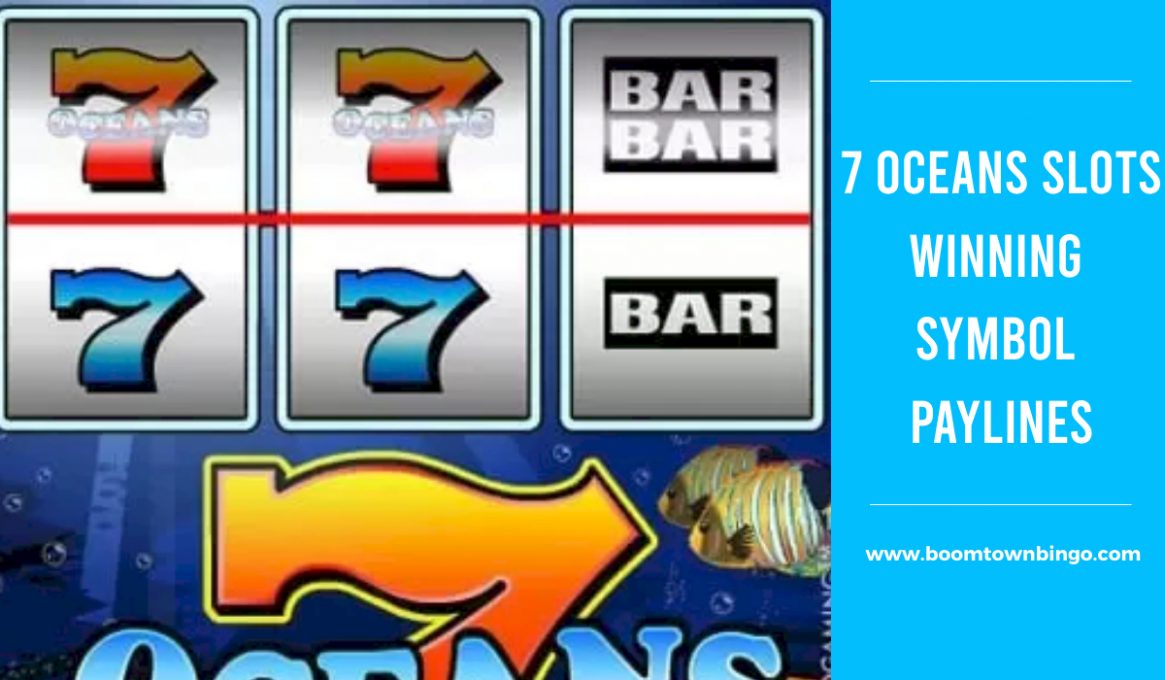 In terms of stakes, you can choose your coin size from £0.25 up to £5.
On each spin you can choose to bet up to 3 coins. Some quick math reveals that you can have a minimum stake of £0.25 and a maximum of £15, giving you the chance to earn some big jackpots.
7 Oceans Slot on Mobile Phone
Play 7 Oceans Slot from your mobile phone without the need of a mobile app.
If you prefer to play on the go, or simply don't have access to your computer, this game is also available to play on your mobile phone. Whether you prefer to play on your phone, your laptop, your desktop or a tablet, Microgaming produce a range of games like this which are available on all devices, through various online casinos.
7 Oceans Slot Graphics Design
Like many of Microgaming online slots, 7 Oceans has high quality graphic design to keep your focus while you play.
However, the underwater theme is only really noticeable through the images in the center where there are some fish to entertain you. Beyond that, it is a fairly simple layout, with standard casino icons in the slot reels themselves.
The colors are attractive, and they help you concentrate on the game without hurting your eyes. Generally, the design is pretty basic which matches the gameplay well, as you shouldn't struggle to understand what is going on or how everything works. The standard graphics compliment the standard slot design.
7 Oceans Slots Software
7 Oceans is powered by Microgaming.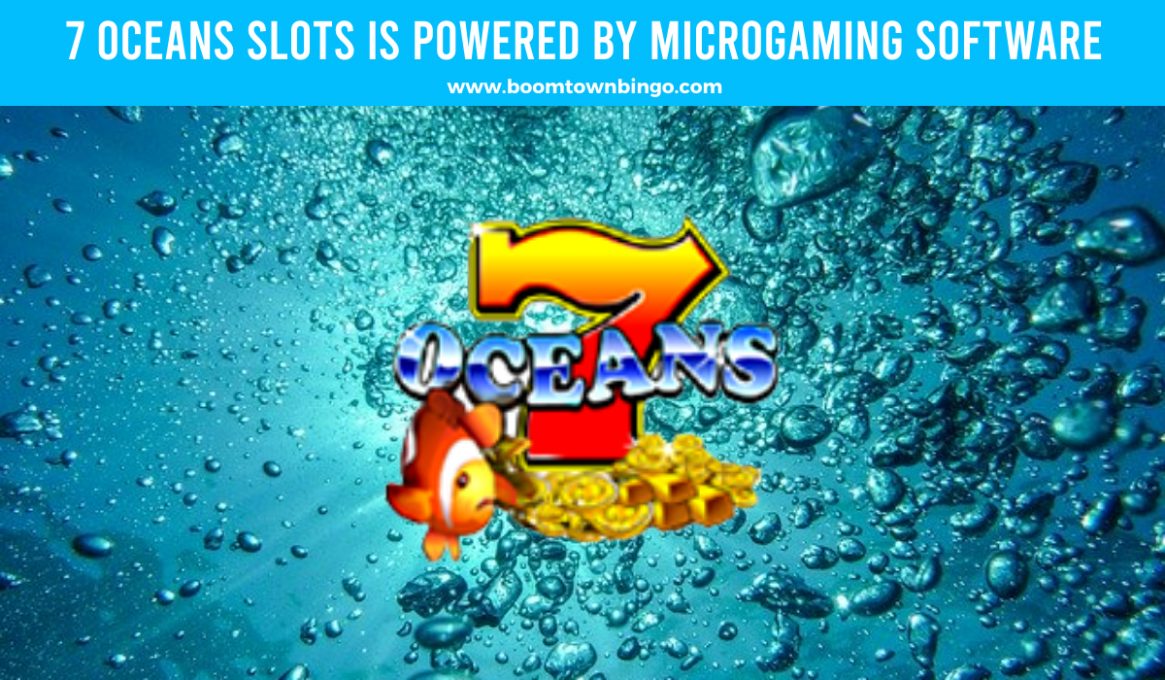 Microgaming are a popular software company which produce high quality slot games for online use. As well as 7 Oceans, Microgaming have a wide range of Slots available which can be found with high quality graphic design through your mobile phone, laptop or tablet computer. Not only are the graphics high quality, but these games tend to run quickly to give you the best gaming experience possible.
About 7 Oceans Slots
7 Oceans is a classic online slot game which, as the name suggests, follows an oceanic, underwater theme. This is a very simple game, which combines a basic layout with easy to use playing style. With only one payline and 3 reels, there is no confusion involved. This means it can be enjoyed by amateur players, who may not want to deal with the many paylines found in some modern slot games.
If you want a simple, easy to use game, 7 Oceans could be the one for you. Although there aren't many pay lines, it has a high RTP rating and a generous 4000 coin jackpot for you to try to win.
7 Oceans Slots RTP
The 7 Oceans slot game has a Return To Player rating of 97%.
If you aren't sure what RTP means, it is the percentage of the takings which the game gives back out as rewards.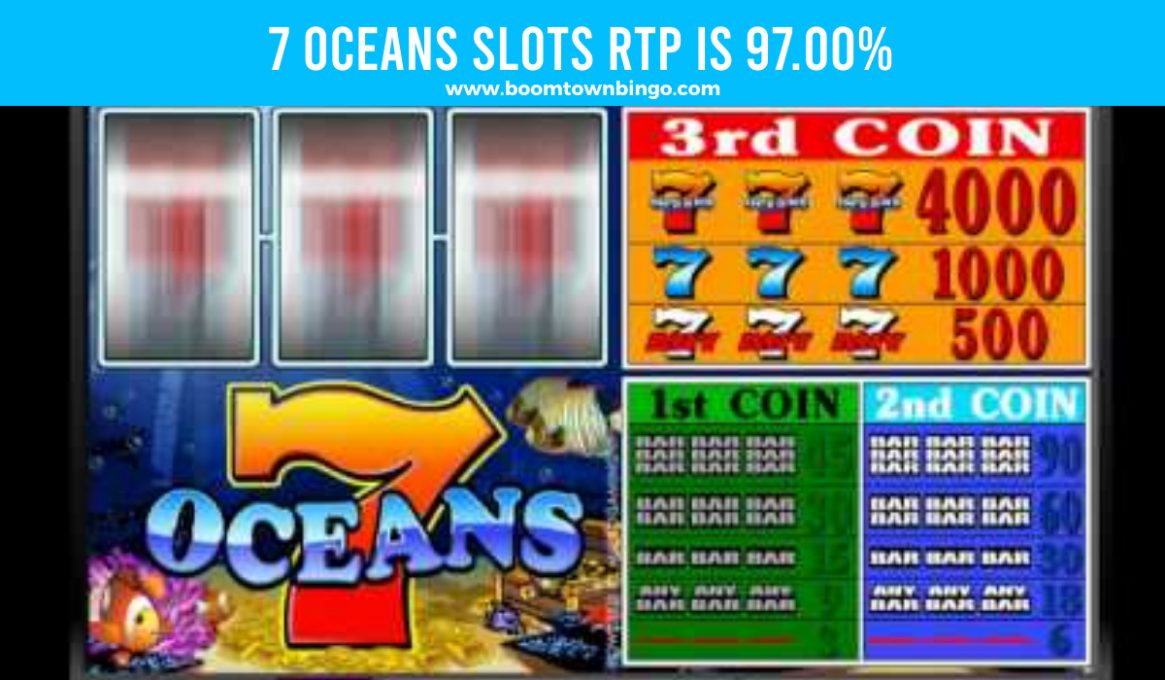 This means that for every £100 put into the game, £97 is won back by players. This is a pretty high rating in comparison to many similar slots, giving a good chance of returns on your stake in September 2023.
We look for slots with at least 95% but this is one of the highest-paying RTP's that we have found.
Slot Volatility
7 Oceans video slot has a medium variance.
This means that it's offering both big payouts and regular wins.
Related Microgaming Pages
Check out more from Microgaming below to see other offers in September 2023.
This is a shortlist of the most popular games available from Microgaming and does not mean the best in the online gamers reviews.