This classic slot takes you back to the ancient civilization of the Roman Empire with this three reel video slot. 
Roman Riches Slots is a 3-reel, 5 payline, online video slot game, developed by Microgaming. The medium variance casino game has an RTP of 93.23% and a Roman Empire theme. Keep an eye out for high paying symbols, like Roman Bust and Red Seven symbols, which can help you win up to 5,000x your stake!
The game features the mighty city of Rome and its magnificent buildings, temples, and coliseums. 
Traverse the majestic city as you search for huge rewards and incredible features – such as the striking graphics, easy to use design, wild symbols and the jackpot.
We let you in on our secret, read this full Roman Riches Slot Review– we talk you through the software, RTP, features and more.
Best Roman Riches Slot Sites
From our research, we have created a list of the Best Roman Riches Slot Sites in May 2022:
Play Roman Riches Slots Online
The Roman Riches slot machine has five adjustable pay lines and three reels. The game is straightforward without the many confusing symbols and features you find in many slots nowadays.
Even the rules are easy to follow.
Roman Riches slot is your game if you want to maintain your poise and don't want to be overwhelmed by the endless bells and whistles of newer slots.
And if you are a new video slot machine player trying to learn your ropes, Roman Riches Slot is your ideal game.
This slot machine is also unique in that its action is wholly confined to the reels. There are no additional screens and features to worry you.
So, Sit back and enjoy hassle-free wins.
Slot Info
| Roman Riches Slots | Attributes |
| --- | --- |
| Casino Game: | Roman Riches Slot Game |
| Paylines: | |
| Reels: | |
| Software: | |
| Minimum Bet: | £0.25 |
| Max Bet: | £25 |
| Variance: | |
| RTP: | 93.23% |
| Slot Theme:  | Roman Empire |
| Bonus Features: | Roman Bust Symbol |
| Max Win: | 5,000x |
| Free Spins: | No |
| Release Date: | 1st November 1999 |
About Roman Riches Slots
Microgaming released Roman Riches Slot on November 1, 1999.
This Roman Riches slot is unique. It is a slot with a simple pay table. Both the pay table and the reels display on the same screen.
So you can see the table all the time you are in play. That enables you to interpret whatever you have on the reels and what you need to do to increase your chance of hitting wins.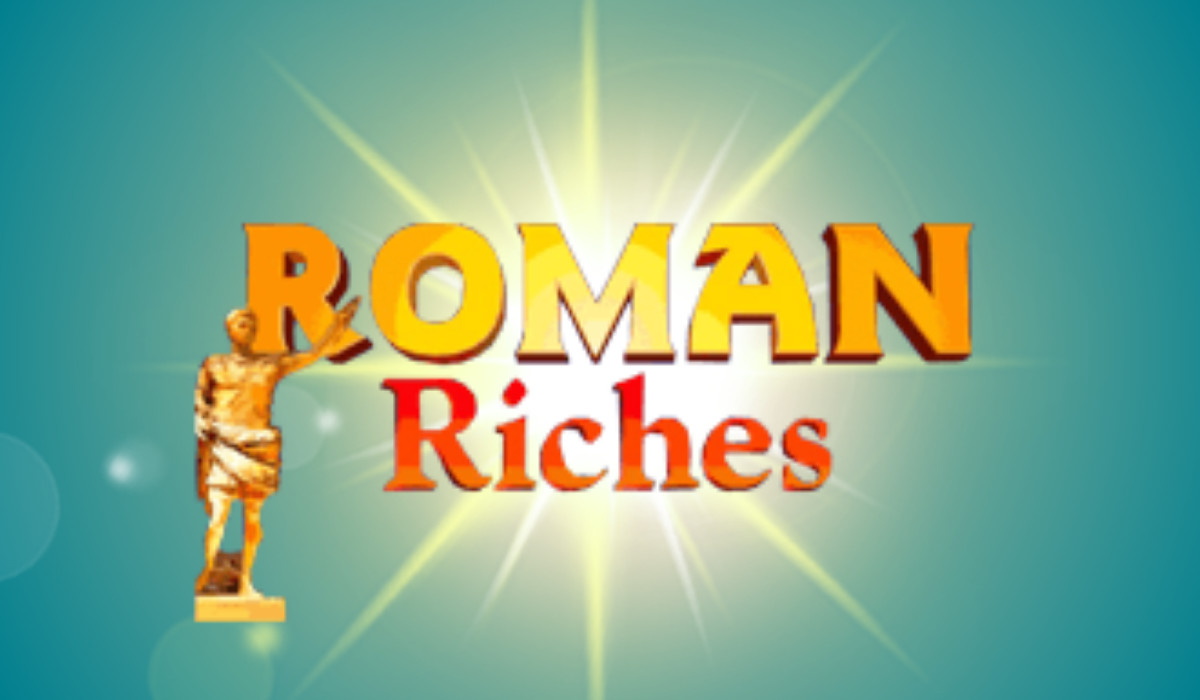 If you want a no-frills slot machine that captures the spirit and soul of classic slots, this is it. Based on the history of ancient Rome, the bust of the emperor adds pizzazz to the game, making it more enjoyable.
How to Play Roman Riches Slots
Roman Riches slot is easy to play. You start by placing your desired bet, which will range from one to five coins.
After placing the wager, you can press the button to spin. The Roman Riches slot machine doesn't have an auto-play mode, so you have to press the spin button whenever you want to turn again.
As you spin, you will check the active pay lines to see if you can get the same symbol combinations. The symbols are only three – the roman bust, sevens, and bar.
So, hitting any three of the same symbols on an active pay line will win your coins.
And it's even better for the bar symbols. Any three bar symbols on the reels will earn you some cash. The bars don't have to be on the same pay line.
Thank your lucky stars when you hit the Roman bust symbol.
The Roman bust is a wild which can substitute for any symbol in the game. So the Roman bust symbol will make it easier for you to form winning lines.
The three roman bust icons make the game more thrilling. They can give you winning combinations. If you wagered the maximum bet of five coins per pay line and you get three bust icons on the fifth pay line, you will win the game's top jackpot of 5,000 coins.
Roman Riches being a classic slot with medium variance, you have a good shot at the jackpot.
So, spin away and try your luck.
Roman Riches Slot Free Spins
Unfortunately, Roman Riches slots do not have free spin features. It is a basic slot game that emulates the classic casino games.
Despite the absence of a free spins bonus feature, you can still enjoy wild symbols, real money winnings and a jackpot.
Interactive Features
The symbols you need to look out for your wins are the roman busts, lucky sevens, and the bars.
Any triple combination of these symbols will win you prizes in the Roman Riches slot machine.
Let's see how each symbol helps you win.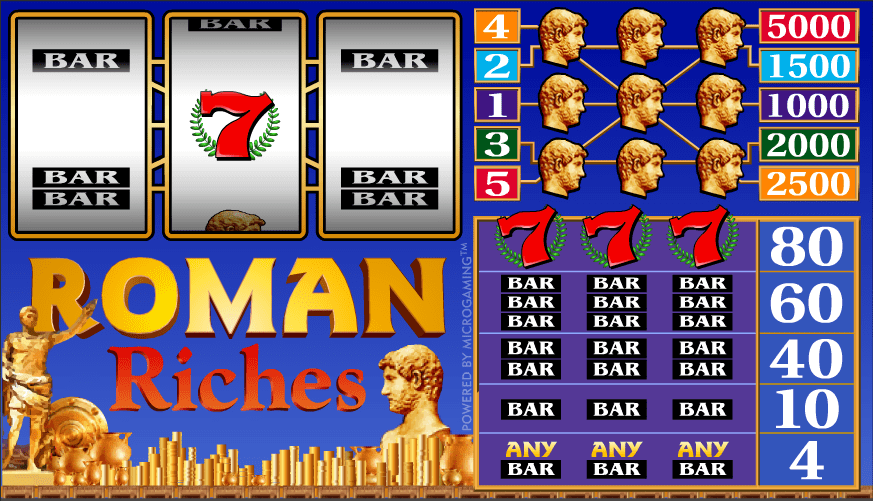 The roman bust is the most valuable symbol on display. It carries the most significant prize you can get in this classic slot.
Triple statues on the fifth pay line will make you smile your way to the jackpot. The same number of busts on the fourth pay gets you 2,500x your wager amount. But on the first, second, and third pay lines, the roman bust symbol will prize your wager by 1,000x, 1,500x, and 2,000x, respectively.
The other set of symbols is the bars. The bars come in three different forms as single, double, or triple bars.
Triple bar win combinations on different pay lines get you prizes of between 4x and 60x of your wager amount.
And finally, you need to check out on the sevens. Three lucky seven combinations on any pay line give you 80x your bet amount.
Paylines and Stakes
Roman Riches Slot has five pay lines and three reels. Unlike other similar classic slots, Roman Riches doesn't have free spins, bonuses, or progressive jackpots.
The betting range for Roman Riches Slot is GBP 1.25 to GBP 25. And you can wager between one and five coins per pay line. That's a reasonable wager range that can suit new players and the high rollers.
If you make the maximum bet, you will have the chance to win a massive 5000x your stake. You can adjust your wager any time, so you don't have to restrict yourself to the lowest or highest bet the entire time you are playing.
Roman Riches Slots on Mobile Phone
Play Roman Riches video slot from your mobile phone, tablet, laptop or desktop. This Roman Riches slot is a mobile slot game that is compatible with all phones.
It works on both iOS and Android devices without you needing to download a Roman Riches mobile phone app. Instead, you access the site through your web browser then search for this particular game. It will automatically load the version that you require.
Roman Riches Slots Graphics Design
The theme of the Roman Riches Slot machine is based on the history of Ancient Rome. It incorporates traditional symbols like the bars and the lucky sevens.
In its background, the Roman Riches slot shows the Roman Emperor Augustus, plus other roman artifacts. Among the visible relics are pottery, shields, and stacks of gold coins.
The primary colour theme in the background is cloudy blue. This colour amplifies the golden logo, making the screen pleasant to the eye.
The golden sculpture of Emperor Augustus is also a sight to behold.
Microgaming gave Roman Riches Slot a classic and classy design that is a touch above many other traditional slot machines.
Roman Riches Slots Software
Roman Riches are powered by Microgaming software, an award-winning software provider.
This famous software technology is one that's known by most in the industry and also behind thousands of different slot games, although we are aware of how good they are at their job, we decided to test this slot for ourselves.
After trialling the video slot on numerous devices, we were more than pleased. Despite it being a classic design, it is fast and works seamlessly.
Roman Riches Slots RTP Review
The return to a player for this classic slot is 93.23%.
The RTP is an important indicator as it gives an idea of how likely we are to win per spin.
Slot Volatility
This slot game is of medium variance, that means it sits in the middle when it comes to volatility.
Enjoy regular wins and still have the chance of winning big.
Other Microgaming Slot Games
Now you have read our review, check out more from Microgaming below to see other offers in May 2022.
This is a shortlist of the most popular games available from Microgaming and does not mean the best in the online gamers reviews.
Roman Riches slots is one of our favourite Microgaming slot games in May 2022.