Le Kaffee Bar Slot Machine
Le Kaffee Bar Slots game comes with a lot of online reviews from the biggest gamers online.
A combination of fun and excitement produces money gains with the Le Kaffee Bar slot machine.
Le Kaffee Bar Slots is a 5-reel, 243 payline, Coffee shop themed, online video slot game. This low variance slot, from Microgaming, has an RTP of 96.51%. Look out for bonus features, alike to Coffee Cup Scatters and the Wild Spin Again Feature, which can help you win up to 2,833x your stake!
Are you ready to know more and get inside this coffee shop? With a slot game as good as this one, you might even end up wagering the available max bet!
Read on to know more about this caffeinated reel action through this Le Kaffee Bar Slot Review!
Do you know how many websites offer the Le Kaffee Bar Slots in September 2022?
Best Le Kaffee Bar Slot Sites
From our research, we have created a list of the Best Le Kaffee Bar Slot Sites:
About Le Kaffee Bar Slots
The design is immaculate. As you play the game, you will feel as if you are in a real-life coffee shop with those cupcakes, coffee cup, and busy bee baristas.
Visual features of any online casino game are essential to liven up the style of the game.
Having said this, the 3D effects of this online slots game are very appealing to the eyes. The chalk coffee-themed shop is also a nice add on to the mood of the whole game.
The photographs are not animated but they overdid the standards of other online casino games. The lively music background is another great touch.
All in all, the Le Kaffe Bar slot machine design is top-notch.
Slot Info
| Le Kaffee Bar Slots | Attributes |
| --- | --- |
| Casino Game: | Le Kaffee Bar Slot Game |
| Paylines: | |
| Reels: | |
| Software: | |
| Minimum Bet: | £0.30 |
| Max Bet: | £30 |
| Variance: | |
| RTP: | 96.51% |
| Slot Theme:  | Coffee Shop |
| Bonus Features: | Coffee Cup Scatter, Wild Spin Again Feature |
| Max Win: | 2,833x |
| Free Spins: | Yes |
| Release Date: | 19th June 2019 |
How to Play Le Kaffee Bar Slots Online
Coffee enthusiasts are ready to love yet another slot machine experience. We all know the Microgaming way of developing great online casino games. Le Kaffee Bar Slot machine is a perfect game for coffee lovers and online casino players. Some of the main symbols seen in the game are cupcakes, coffee-related icons, and baristas.

Players will appreciate the beauty of the graphics and the concept of the game. Besides, the soundtrack is also a perfect way to boost the player's game.
Le Kaffee Bar slot machine has five reels and 243 ways to win. The 243 pay-line is very popular among the Microgaming format. Loyal online casino players will get the best of both worlds with the new pay line and stakes by this slot machine.
Features of this game will make your heart pound like drinking a cup of Cappuccino. The main attraction is best when you unlock it. Free spins and multipliers will make you step up your game.
Discovering the techniques on how to play the Le Kaffee Bar slot machine is very easy. Stakes are from 0.30 to the largest bet of 30.
The goal of this game is to collect up to 30 cups so that players may win 18 free spins with a 5x multiplier.
Whenever three icons match on either position, you will get one free Spin. Another essential tip is that players need to collect the first ten coffee cups to trigger a free spin. Any matching combinations will open the features.
Players of the Le Kaffee Bar slot machine must find a strategy to win. The game has options if they want to spin the reel automatic action or manual action. Players can earn up to 85,000 coins.
Mobile gambling is one of the trendiest and growing section in our industry today. Players can enjoy from the comfort of their homes. It is also very convenient to choose their liking of tables and slots. If you don't like the atmosphere inside a casino, you can try this at any time of the day.
Online casino games are a way to relieve stress. Le Kaffee Bar slot machine is one famous game that will perk up your day. Loyal fans of this slot machine will enjoy every detail the game has to offer. Players have options to play whether on a computer, phones or tablets.
Interactive Features
To gain winning combos, players must also bet higher. The key to the main game feature of Le Kaffee Bar Slot is looking out for coffee cups. These cups determine the number of spins you will accumulate.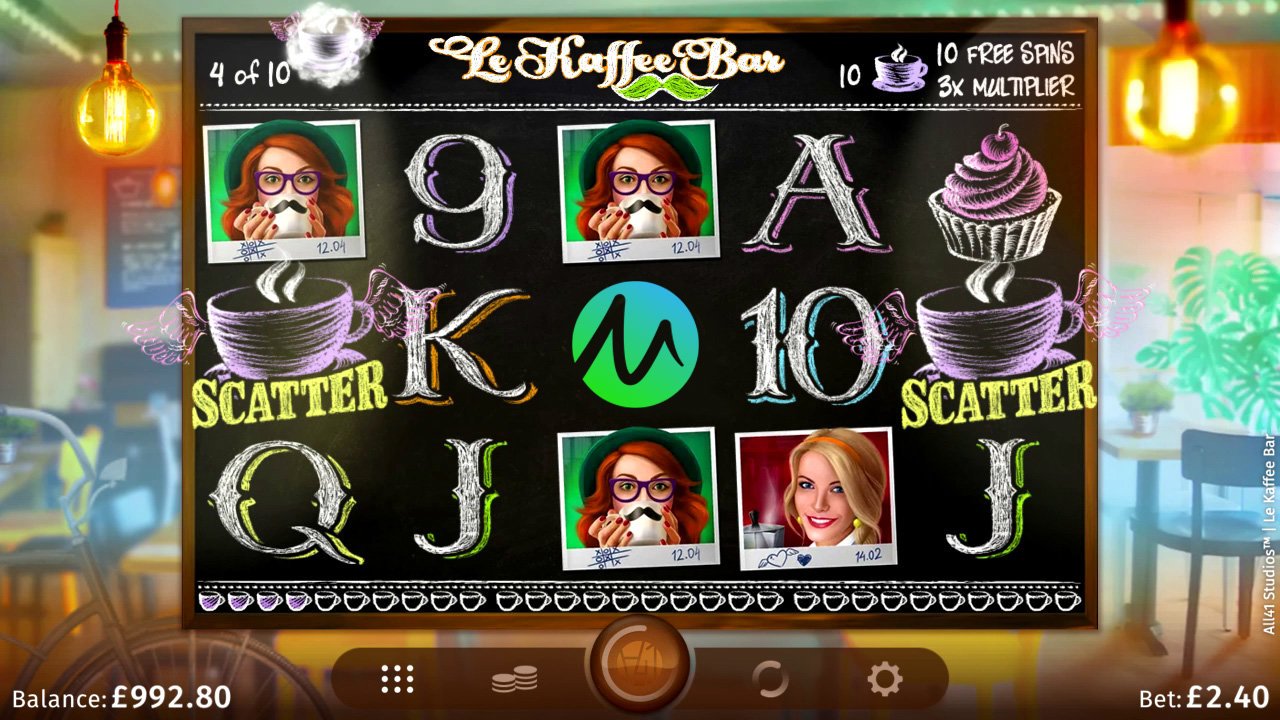 More surprises will appear if players keep playing until the end. Most of the features will be out in public, especially the Wild Spin Again feature. The best winning game is to collect 30 coffee cups.
Wild Spin Again is another feature to boast. Three matching symbols that will appear in the reel grants you one spin. Scatter Collection is a feature that will appear on the first and fifth reels. Patience is the key to winning grabs because it pays to wait.
What Symbol Triggers the Le Kaffee Bar Slot Bonus Free Spins?
Microgaming developed online casino games that have no deposits. Players do not need to worry about cashing out. All you need is to relax and enjoy a warm cup of coffee and keep on winning.
Online casino games are on-trend nowadays. Anything is possible with Microgaming casino games. Good internet connection and gadgets are all you need. The best part? It is FREE!
Paylines and Stakes
The Le Kaffee Bar slot machine has more chances of winning compared to other online casino games. The 243 pay-line will keep you up to your seats. Players need to bet higher to earn big wins. The goal is to accumulate more than ten coffee cups to earn free spins and multipliers.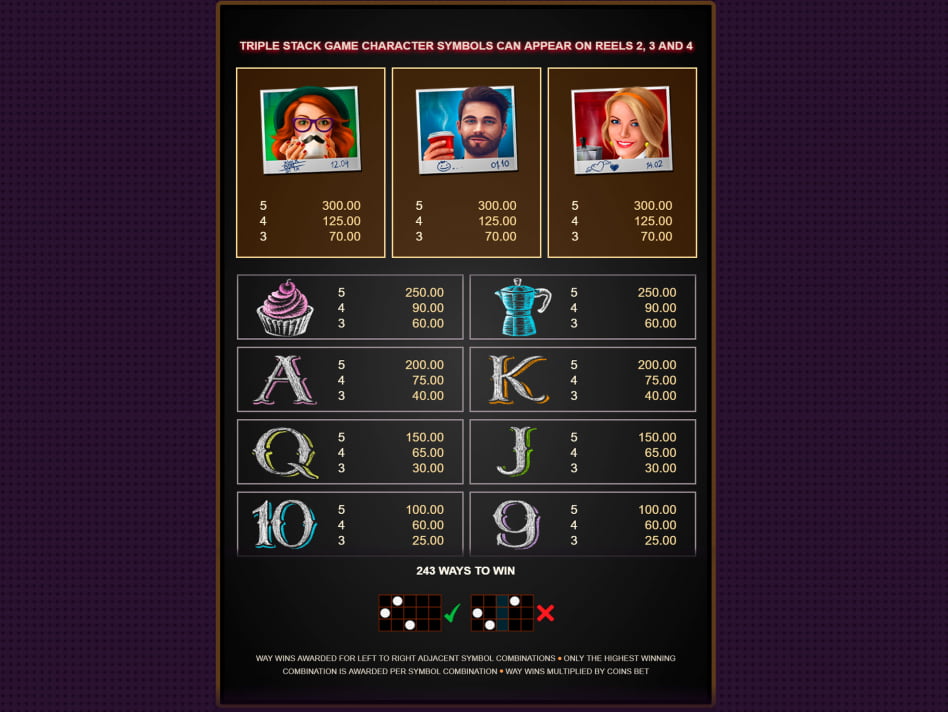 The company made sure its consumers will enjoy this game and also will keep coming back for more.
Le Kaffee Bar Slot Game Software
Le Kaffe Bar Slots game is powered by Microgaming Software.
What is Le Kaffee Bar Slots RTP?
Le Kaffee Bar slots advertise with a Return to Player percentage of 96.51%.
It is an average number compared to other RTPs. The only difference is that Microgaming's` Return to Player percentage is stable.
Slot Volatility
Players must be sharp and smart to place their bets because stakes are sometimes high on this game. In spite of a decent winning, it has a less variety slot, so players needed to be lucky.
Summary
For first-timers, you can hover through the buttons and make way to success. It has a straightforward software that is easy to understand.
Once you begin to play this addicting game, you will be coming back for more.
Le Kaffee Bar Slots Review
Other Microgaming Slot Games
Now you have read our review, check out more from Microgaming below to see other offers in September 2022.
This is a shortlist of the most popular games available from Microgaming and does not mean the best in the online gamers reviews.
The Le Kaffee Bar slot Review is a great slot game to complete the trilogy and one of the most popular Microgaming games in September 2022.