Chief's Fortune Slot Machine
Help the Indian Chief gets dressed for a rain dance in this slot game with a splash of Native American memento.
Chief's Fortune Slots is a 3-reel slot game with 1 payline and 2 rows on each reel. This classic, Indian-themed slot game powered by Microgaming offers a £240 jackpot. With a 94.35% RTP that can be won with Wild Chief symbol, Special Arrow symbol, and the Chief's Bonus Game.
Then read on and discover the incredible bonus features of this mobile slot game that brings together serious payouts and humourous proceedings through this Chief's Fortune Slot Review for 2023!
Best Chief's Fortune Slot Sites
From our research, we have created a list of the Best Chief's Fortune Slot Sites:
About Chief's Fortune Slot Game
Chief's Fortune is a video slot game that features a classic clean look with an ancient Indian theme. It has three reels and one payline.
Chief's Fortune has a cartoon theme revolving around the Native American Indian culture. All the game's information is condensed onto one screen.
The game shows a chief looking resplendent in a ceremonial headdress.
The visually striking symbols also have a lick of paint to them.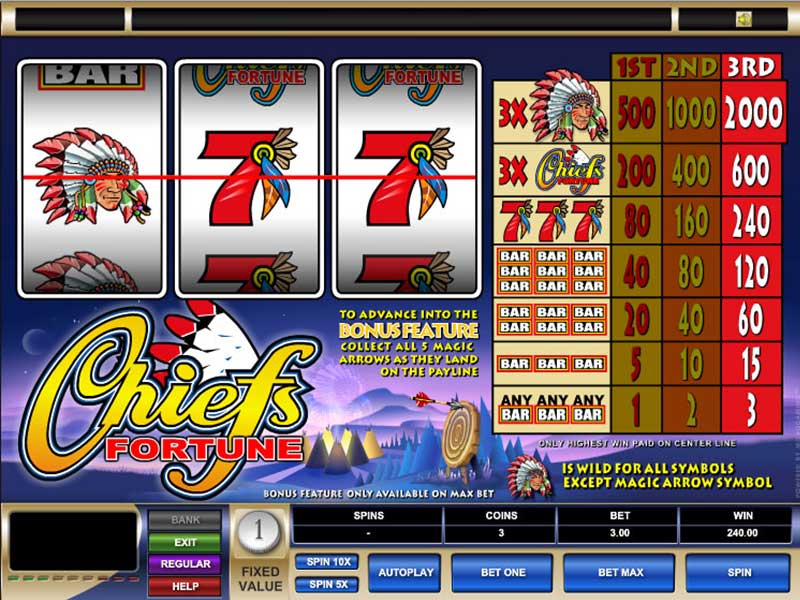 Such symbols include the triple BAR logos which have an orange border and the lucky seven icons which underwent an Indian makeover.
The magic arrow is also one of the featured symbols in the game.
The symbols are set against the background of a Native American village packed with teepees.
The sounds are that of a typical retro slot machine with the whirring noise made during the spinning of the reels and the bleeps made when a payline is winning.
Slot Info
| Chief's Fortune Slots | Attributes |
| --- | --- |
| Casino Game: | Chief's Fortune Slot Catalog |
| Paylines: | |
| Reels: | |
| Software: | |
| Minimum Bet: | £1 |
| Max Bet: | £3 |
| RTP: | 94.35% |
| Slot Theme:  | Indian, Cartoon |
| Bonus Features: | Wild Chief, Special Arrow Symbol, Chief's Fortune Bonus Game |
| Max Win: | £240 |
| Free Spins: | No |
How to Play Chief's Fortune Slots Online
Before getting to spin the reels alongside traditional Native American tents, slots players should first set their bets.
To do this, they must decide whether to bet one, two, or three coins.
Playing Max Bet means betting all three coins on a single spin.
Next, players can click on Spin to start spinning the reels.
Players must be able to form certain combinations to win. One of which is three of the stunningly headdressed Chief.
Chief's Fortune is currently not available on all mobile devices such as iPhones, iPads, Android phones, and tablets.
But the great news is that interested players can still play the Chief's Fortune video slot game for free or with real money on selected online casinos slot sites!
Interactive Features
Chief's Fortune offers bonus features, including the following:
Chief symbol
This symbol is essential since it is the Wild symbol of the game.
It can substitute for other symbols in the game.
The wild symbol can also earn players some winning combinations by making them appear more frequently.
Special Arrows symbol
This symbol is the key symbol in the game.
The special arrows appearing on the central payline means that the game will take the players to a new screen where they are to accomplish a particular task.
In this bonus game, the players are to dress the Chief for his rain dance.
Here comes the funny thing about this game.
Aside from Native American headdresses, the players must choose items of clothing that include bunny slippers, hi-tops, and football helmets.
This then enables players to win up to 600 coins if they can get the Chief to dress in traditional Native American clothing.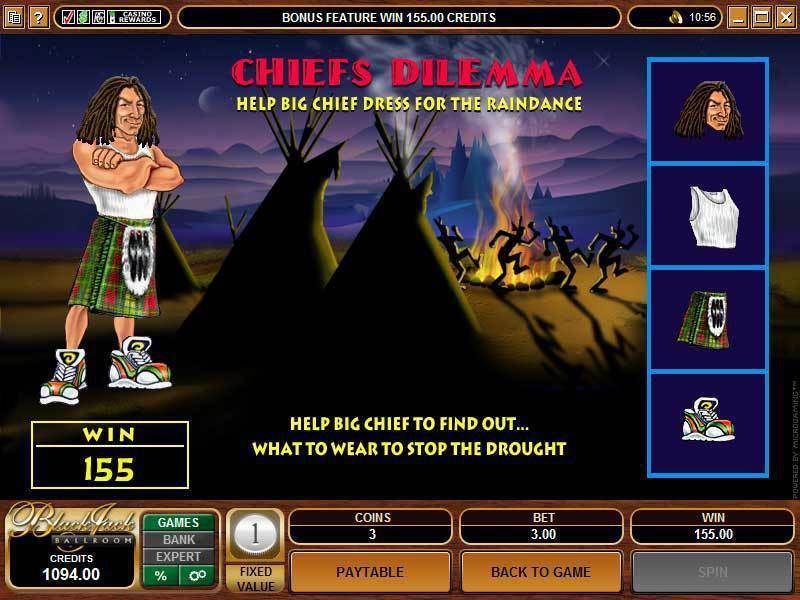 Chief's Fortune Bonus Game
To enter the Chief's Fortune bonus round, players must manage to have an arrow icon in each space of the game's single active payline.
This means that the players have to collect five arrow symbols and then spin the reels again to see if they are lucky enough to score.
Players have to take note, though, that the Chief's Fortune bonus game can only be triggered if they have placed the maximum bet.
Upon opening the game, players will see the rather peculiar options of the items of clothing to be used by the Chief for his rain dance to stop the impending drought.
The players must then click on four cards which will unveil the items of clothing to dress the Chief with. Doing so can easily win them cash prizes.
Three pay tables on the right part of the screen show how much each accessory is worth.
The Native American items of clothing naturally have the highest values with each item being worth 150 coins.
To get the highest possible prize, the players must then dress the Chief in the proper attire from head-to-toe.
What Symbol Triggers Chief's Fortune Slot Bonus Free Spins?
The Chief's Fortune classic slot does not have a Free Spins round.
However, it has a bonus game wherein slots players can enjoying giving the Chief a fancy makeover for his rain dance.
Paylines and Stakes
Chief's Fortune only has one payline on which to get some wins, but the payout has three levels.
The coin levels are fixed with a minimum of £1 per spin and a maximum of £3.
The jackpot prize for Chief's Fortune is a whopping 2000x, and it is brought by three of the Chief in his stunning headdress.
This jackpot is only possible when the players are gambling at the maximum level.
Playing one coin gets the highest possible real money win of 500x while two gets 1000x.
Chief's Fortune Slot Game Software
Chief's Fortune slot is powered by Microgaming.
Microgaming is a software provider company based in the Isle of Man.
They have received awards such as awards for excellence, global gaming awards, and many more.
What is Chief's Fortune Slots RTP?
The RTP for Chief's Fortune slots is 94.35%.
This payout percentage corresponds to Chief's Fortune slot's payout percentage, meaning that the players can have a return of £94.35 from an investment worth £100.00.
Slot Volatility
The slot volatility of Chief's Fortune slots is still unknown.
Summary
To feature ceremonial headdresses, villages packed with teepees, and all things Native American, Microgaming shows how players can have a great time spinning the reels amid a beautiful Indian reservation through Chief's Fortune.
These features make Chief's Fortune attractive to players who prefer newer and more updated slot machines.
This is a great game offer for those who are interested in native design and have lots of chances of winning big cash prizes.
Fancy going on a roll with a Native American chief and dressing him for a rain dance?
Then head over to the Chief's Fortune Slot Sites listed in this Chief's Fortune Slots Review for 2023 to help the Native Americans stop the drought in their Indian reservation while earning real money prizes on the side!
You May Also Like
We have researched and reviewed all other Microgaming Games you might also like: