This little piggy went to the market and this little piggy wins a fortune.
Piggy Fortunes Slots is a game full of excitement, story tales and bonus features. The astounding free spins feature opens a chance of unlimited spins with multipliers.
Piggy Fortunes Slots is a 5-reel, 25 payline, online video slot game, powered by Microgaming. The medium variance casino game has an RTP of 95.93% and a Nursery Rhyme theme. Bonus features, like Wolf Wilds, Three Pig Scatters and Multipliers, can help you win up to 10,000x your stake in real money!
If that sounds interesting to you then you should check out this 5-reel slot game with 25-paylines.
In this full Piggy Fortunes Slots Review– we talk you through the entire video slot game from the software to the RTP. We were mostly surprised by the unique free spins feature.
Best Piggy Fortunes Slot Sites
From our research, we have created a list of the Best Piggy Fortunes Sites in June 2023:
Play Piggy Fortunes Slots Online
Piggy Fortunes is a popular online video slot game, making it one of the most played slots. There are five reels and 25 paylines in the game – perfect combination.
Also, this video slot game is a non-progressive slot with free spins and multipliers. And that makes it more addictive.
About Piggy Fortunes Slots
Piggy Fortunes Slot's theme is the Three Little Pigs story. Over the years, they base a lot of slots on movies, comic books, and classical novels.

This one is inspired by a nursery tale. The Nursery tale concept is new for slot machine producers in choosing a theme.
The story of the Three Little Pigs is a theme inspiration for an amazing 3D online slot game. That is how the Piggy Fortunes slot was created.
Slot Info
| Piggy Fortunes Slots | Attributes |
| --- | --- |
| Casino Game: | Piggy Fortunes Slot Game |
| Paylines: | |
| Reels: | |
| Software: | |
| Minimum Bet: | £0.25 |
| Max Bet: | £75 |
| Variance: | |
| RTP: | 95.93% |
| Slot Theme:  | Nursey Rhyme |
| Bonus Features: | Wolf Wilds, Three Pig Scatters, Multipliers |
| Max Win: | 10,000x |
| Free Spins: | No |
| Release Date: | 1st April 2014 |
How to Play Piggy Fortunes Slots
This slot game is like any other- you will need to set the stake and spin the reels. The aim of the game is to match the symbols on winning lines.
On the reels of this 25-payline slot, there are three little pigs, their straw, and houses made of brick and wood. The big bad wolf tries to destroy their house and chase them as prey.
The action will help you win some decent cash on this fun online slot. Hitting the special features significantly increases your winnings. The wolf Wild symbol, and the three little pigs scatter will all trigger the Big Bad Wolf bonus.
The wolf attempts to blow the houses he lands next to while giving away multipliers. The scattered pigs extend the bonus round by restoring the destroyed houses.
Find other exciting games including the robot-themed slot game – Robo Jack.
Piggy Fortunes Slot Free Spins
The free spins bonus round starts when there are at least three scatter symbols. When you are in this round, things are a lot more exciting. There is no fixed number of free spins, and the Wolf determines its duration.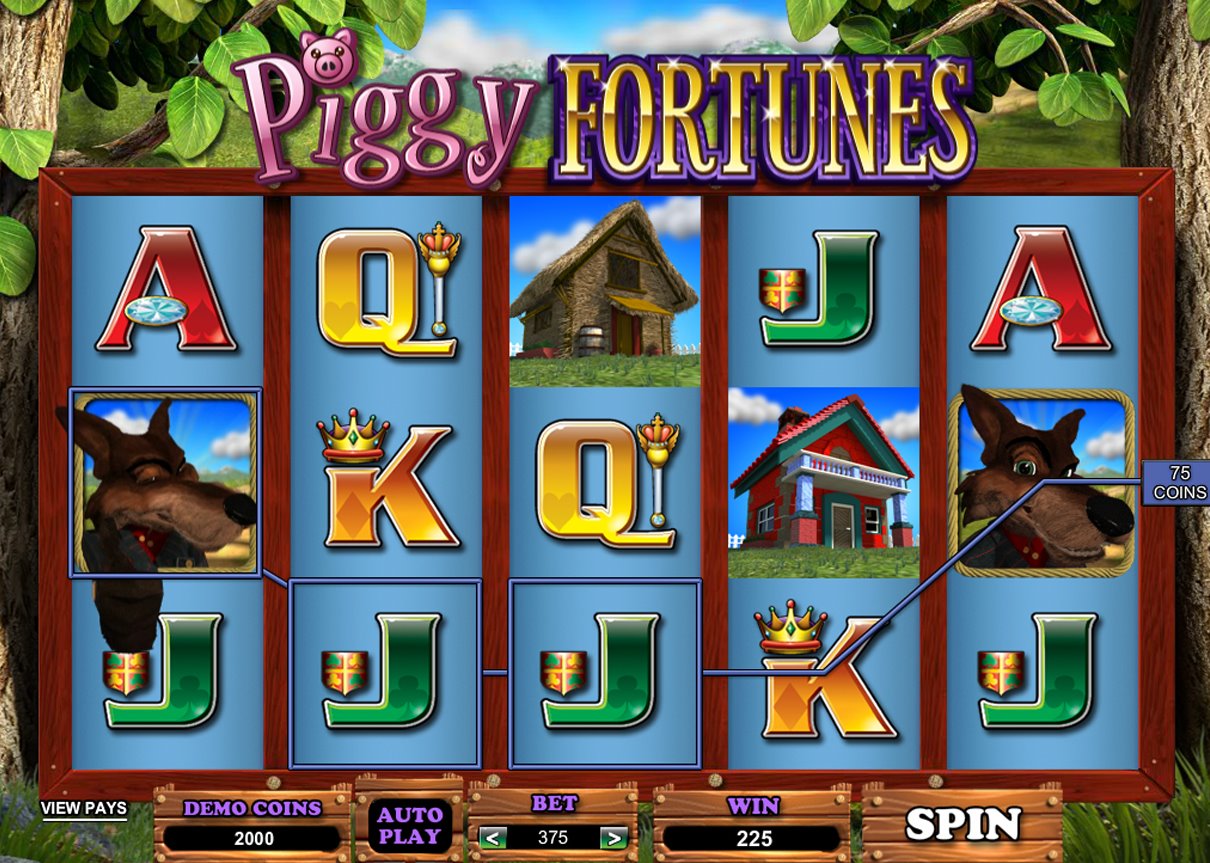 That is because each time the Wolf appears to blow down the houses, the free spins round ends. The houses are on the reels, but if you hit Three Little Pigs during the free spins round, they restore the houses.
The bonus feature extends when that happens.
Multipliers are very common in a lot of online slots today. It is so common that they are not even considered a bonus feature because of it.
The multiplier depends on the level. It can double or triple winnings, and sometimes you can even get a 4x multiplier. That only means more rewards.
Interactive Features
Piggy Fortunes slot has an intricate bonus feature, unlike any other online slot game. The bonus feature plays with the card symbols in poker, which have lower values. These are the Jack, King, Queen, and Ace.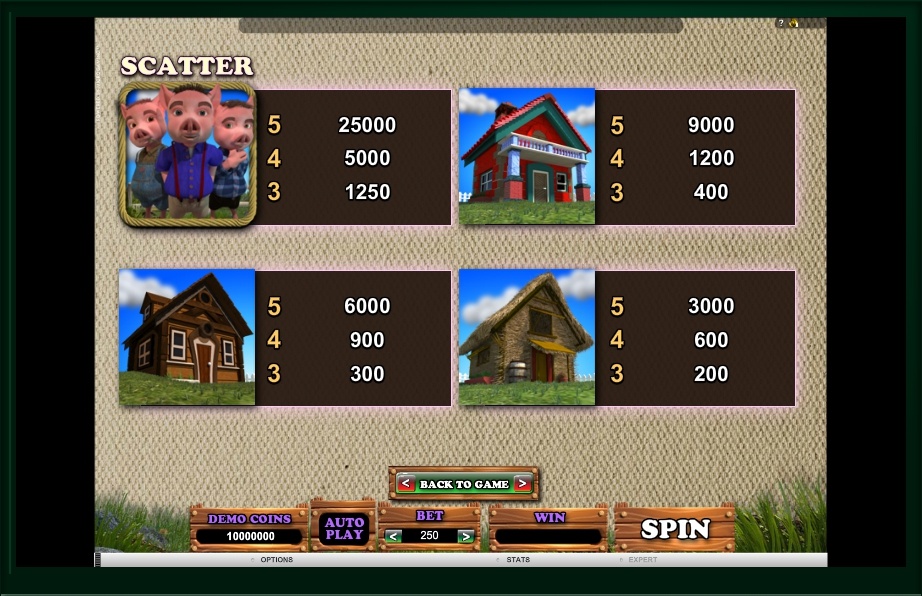 The symbols with a higher value are the animals, the different houses, the three pigs, and the big bad wolf. The wolf is the Wild symbol, while the pigs are the scatter symbols.
Piggy Fortunes is not a progressive jackpot game, but there is a fixed amount of 13,500 coins. You can win that when you bet 15 coins in a payline. The free spins round an award up to 54,500 coins, which is an excellent way to gain big payouts.
Paylines and Stakes
The bets are easy to set, but do not scrimp on this because you can wager from GBP 0.25 to GBP 75. You must choose a coin denomination from 0.01 to 0.20, line bet, and payline to create the bet you want.
There is even an automatic spin feature when you use the 'expert' mode, which you can find at the bottom options.
Piggy Fortunes Slots on Mobile
Piggy Fortunes slot is available for playing on mobile devices. It has a mobile optimised desktop site.
There are also online casino apps that have Piggy Fortunes in their game library. This way, you can either visit the site using your mobile device or open the app where you can play Piggy Fortunes.
Today, it is almost mandatory to have a mobile version. That is because most people do a lot of things using their mobile devices. That includes playing online casinos while on the go.
Piggy Fortunes Slots Graphics Design
Those who developed Piggy Fortunes opted to feature the he Three Little Pigs and the Big Bad Wolf in 3D. People know that this is an old story, but it looks different in this online slot. You will see for yourself once you spin the reels.
The game has an awesome graphical design that makes it more impressive. The soundtrack music is pleasant to keep you from getting bored while playing.
You will have fun watching how the wolf blows away the houses, and the three little pigs restore them. The developers know how to tell the nursery tale in an exciting online slot game that lets you win big.
Piggy Fortunes Slots Software
Piggy Fortunes is designed and powered by Microgaming Software.
This is one of the latest creations of Microgaming. Even if it is, the theme is from an old nursery tale, the game is still very lovable.
It does not disappoint those who play this online slot with how it turned out. Piggy Fortunes takes them back to childhood while they spin the reels. Also, Microgaming does not make something that will only become a flop because they are one of the best.
Piggy Fortunes RTP
The RTP of Piggy Fortunes slots is 95.93%.
This is above the average of 95% RTP and means that you have a good Return to Player percentage.
A percentage of this amount helps you gauge how much you could win per spin.
Slot Volatility
Piggy Fortunes has a medium variance game.
This means the winnings are not that frequent, but the amount is significant. Thus, you should not feel bad if you do not win often.
You should check out this game today and help the Three Little Pigs have their house back. The 3D graphics is also something to look forward to because it makes the game look more realistic.
Other Microgaming Slot Games
Now you have read our review, check out more from Microgaming below to see other offers in June 2023.
This is a shortlist of the most popular games available from Microgaming and does not mean the best in the online gamers reviews.
Piggy Fortunes slots is one of our favourite Microgaming slot games in June 2023.