Sizzling Scorpion Slot Machine comes with a sting, the exciting video slot is a 3-reel phenomenon.
It's a classic slot that recalls some of the fruit machine designs, only with additional features.
Sizzling Scorpion Slots is a 3 reel, 1 payline, online video slot game, powered by the MicroGaming slots software. This casino game has an RTP of 96.24% and a hot, desert theme. Look out for bonus features, like the Scorpion Race Bonus, which could help you win up to 5000x your stake in real money!
In this Sizzling Scorpion Slot Review, we take an in-depth look at the game and all of its bonus features. It comes with a Scorpion Race Bonus and a scorching Jackpot.
Although there's no free spins or wild symbols, we discovered some interesting things about this slot in 2023, read on to find out more.
Best Sizzling Scorpion Slot Sites
From our research, we have created a list of the Best Sizzling Scorpion Slot Sites in 2023:
About Sizzling Scorpion Slots
Microgaming developed the Sizzling Scorpions Slot Online software. The game combines a combination of exciting desert wildlife and the chance to win up to 5,000 credits.
The concept of Sizzling Scorpion Slot is unique. No wonder why casino lovers from different parts of the world enjoy this game.
What makes Sizzling Scorpion Slots entertaining? It's rewards and a bonus feature where you get to race the scorpions. That's what makes it more fun as compared to other slot machine games.
Sizzling Scorpion Slots Online has a fixed one pay line feature. It also has a bonus pack that could increase your chances of winning.
The three-reel slot machine is perfect for first-time players. The features are easy to understand and have a straightforward interface, so it's easy to play.
Slot Info
| Sizzling Scorpion Slots | Attributes |
| --- | --- |
| Casino Game: | Sizzling Scorpion Slot Game |
| Paylines: | |
| Reels: | |
| Software: | |
| Minimum Bet: | 0.5 |
| Max Bet: | 1.5 |
| RTP: | 96.24% |
| Slot Theme:  | Desert theme |
| Bonus Features: | Scorpion Race Bonus |
| Max Win: | 5000x |
| Free Spins: | Yes |
Interactive Features
Aside from the scorpion icon, other icons are also present in the Sizzling Scorpions.
Figures that complete the desert vibe are present in the game – the sun and a buzzard (which is the bonus symbol). If you land one of these bonus symbols on reel 3, then you will unlock an exciting Scorpion Race Bonus. This bonus races three scorpions and if you happen to choose the winner, you could win upt0 100x your stake.
Traditional slot machine symbols can't be missing too. These include the Single, Double, Triple Bar icons, and the green lucky number 7.
Sizzling Scorpion Slots Graphics Design
The visual graphics of the game are pleasing to the eye, so spinners remain engaged while playing.
The graphic design is two dimensional — isometric viewpoints used to create three-dimensional illusions.
The graphics and animation team of Microgaming have made sure that the game is pleasing to the eye.
How to Play Sizzling Scorpion Slots
A player needs at least one coin to play and can use a maximum of three coins. Of course, when you play with three coins, the prizes get higher. The Jackpot pay-out is a combination of three scorpions. You could win 5,000x when spinning three coins.
Even if you play with one or two coins, the jackpot pay-out is generous.
There's an extra feature in which you get the chance to play the bonus game. Use three coins to spin, and when the Buzzard Symbol drops on the winning line, on the third reel, the bonus game prompts.
The scorpion race begins! You could choose from three scorpions; Sting, Striker, and Venom.
Paylines and Stakes
For punters, it offers only one pay line when spinning; in other words, you only have one chance. There are combinations on the reel that increases your chances of winning.
The reel does not even need three similar icons to win. This is a feature of Sizzling Scorpion Slot that other slot machine game doesn't have. The prizes and its combinations are in the interface of the game.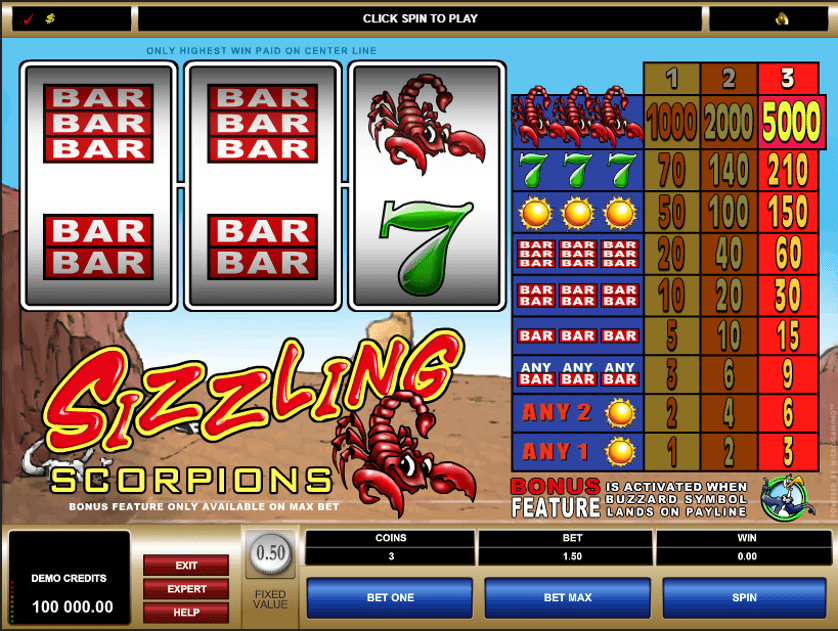 Here are the possible combination and prizes.
Bonus: Buzzard on the third reel, with three coins
Play Sizzling Scorpion Slots Online
Playing live in the casino is as fun as playing online. The rules are all the same, plus the fun interface will glue you to your seat.
Wherever you are, you can play the Sizzling Scorpion Slot online.
Wherever you are in the world, the game accepts almost all kinds of currencies. You only need internet access to play. You do not need to download anything.
Playing Sizzling Scorpions Slots online is more manageable. 24/7 customer support lines are available for clients. They assist in managing deposits and withdrawals.
There are dozens of online casinos where you could play Sizzling Scorpion Slots. Most of these websites offer a free demo game and offer no deposit bonuses.
Sizzling Scorpion Slots Free Spins
This video slot is a classic and doesn't offer any free spins. Despite the absence of free spin features, you can enjoy the Scorpion Race. We discuss this above, land the bonus symbol and capitalise on the chance to win huge real money wins.
Sizzling Scorpion Slots on Mobile Phone
Play Sizzling Scorpion Slots from your mobile phone without hassle. This slot game has been created to easily run from your device whether that's iOS or Android.
There's no requirement to download a Sizzling Scorpion Mobile Phone App, instead access the website from your browser and find this particular game. It will load the mobile or desktop version accordingly, thanks to the HTML-5 that's built in.
Sizzling Scorpion Slots Software
Microgaming developed the Sizzling Scorpion slots software in January of 2011. In 1994, the UK based company was the first developer of online casinos in the world.
They also developed the software for mobile casino gaming. No wonder the software is of top-notch quality, thanks to the genius idea of Microgaming. They're the force behind thousands of different slot games.
Sizzling Scorpion Slots RTP
The RTP Percentage (Return to Player) is 96.24%.
The average slot pay-outs documented as of 2019 is 93-94%. 96.24% RTP made Sizzling Scorpions Slots one of the highest RTP online.
Other Microgaming Slot Games
Now you have read our review, check out more from Microgaming below to see other offers in 2023.
This is a shortlist of the most popular games available from Microgaming and does not mean the best in the online gamers reviews.
Sizzling Scorpion slots is one of our favourite Microgaming slot games in 2023.