The famous Christmas story of Scrooge could reward you with huge winnings.
Usually depicted in films and books, you can now join Scrooge in this festive slot game.
Scrooge Slots is a 5-reel, 50 payline, online video slot game, powered by Microgaming. This medium volatility casino game has an RTP of 96.74% and a Christmas, Ebenezer Scrooge theme. Bonus features, such as Christmas dinner bonus and Scrooge wilds can help you to win up to a massive £50,000.
He may not be up for celebrating but you could land some interesting features with free spins, wild symbols and a Xmas Bonus round. 
We were emulating Scrooge when hearing about this slot game but after writing our Scrooge Slot Review, we have lots of things to tell you about.
Read on for everything you need to know about this video slot in July 2021.
Best Scrooge Slot Sites
From our research, we have created a list of the Best Scrooge Slot Sites in July 2021:
Slots Info
| Scrooge Slots | Attributes |
| --- | --- |
| Casino Game: | Scrooge Slots Game |
| Paylines: | |
| Reels: | |
| Software: | Microgaming |
| Minimum Bet: | £0.01 |
| Max Bet: | £0.50 |
| Variance: | |
| RTP: | 96.74% |
| Slot Theme:  | Christmas, Scrooge |
| Bonus Features: | Xmas Dinner Bonus, Scrooge wilds |
| Max Win: | £50,000 |
| Free Spins: | Yes |
| Release Date: | 5 December 2009 |
Play Scrooge Slots Online
Feel like being in a festive mood and having fun – then Scrooge slot is the right game for you.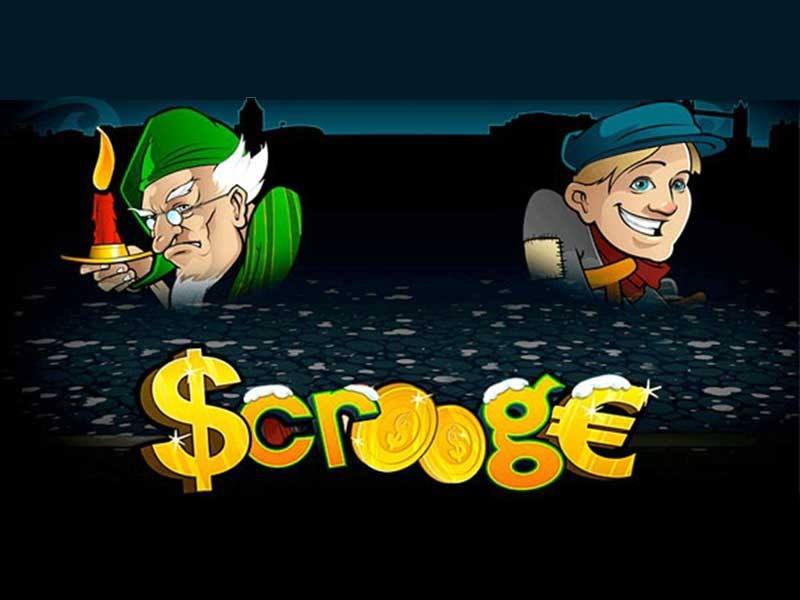 Charles Dickens' famous book Christmas Carol forms the basis of this classic game. Ebenezer Scrooge is the leading character in the book and the most essential player in this game.
The other players are Tiny Tim and Jacob Marley. The Ghosts of Christmas – Past, Christmas Present, and Christmas Future add colour to this game.
Spectacular graphics, great music, and grand animations add glamour to the game. The game has five reels and 50 paylines. Play it online and enjoy the festive season.
About Scrooge Slots
Charles Dickens' novel Christmas Carol forms the basis of the game. The game gets its name from one of the characters in the book – Scrooge.
Christmas is a time of happiness and sharing. The game has these elements in it. You get to serve dinner and find out who eats it first.
Lovely music, loveable animation, and beautiful graphics add richness to the game.
You can bet between 1 and 250 coins for each spin. The jackpot is a reasonable 50,000.
The Christmas countdown calendar shows the date in the upper left side corner. The top right side corner has one free spin.
When you smash any one of them – the calendar or the free spin – you get an additional day.
How to Play Scrooge Slots
You can play Scrooge on all major casinos. Try it on designated slots and have a lovely time.
The number of coins per payline is in the range of 1 – 10. You get a massive jackpot of 600.
The characters raise your jackpot points.
It ranges from 200 – 250 for the minor players. The three ghosts bring you 300 – 400 times based on the Ghosts you get.
The hero and maximum provider of 600 times are Scrooge.
If a winning combination occurs, the player must choose any of the symbols from the combination. The chosen symbol adds a future free spin randomly to the counter or adds to the countdown calendar one day.
The Free Spins function is disabled with the number of free spins in the counter when the calendar date is 25 December. During free spins, payouts are doubled.
Scrooge Slot Free Spins
The Door Knocker is the scatter symbol and increases your winning rate. Get three or more scatter symbols, and receive a Christmas Dinner Bonus.
Scrooge has a separate way to trigger free spins. Collect at least two symbols and proceed with the free spins.
Interactive Features
Scrooge has a variety of symbols – clock, Christmas Ghosts of Past, Present, and Future. Additional symbols are a bag of cash, keys, a clock, a ledger, and a safe box. These symbols provide a low winning opportunity.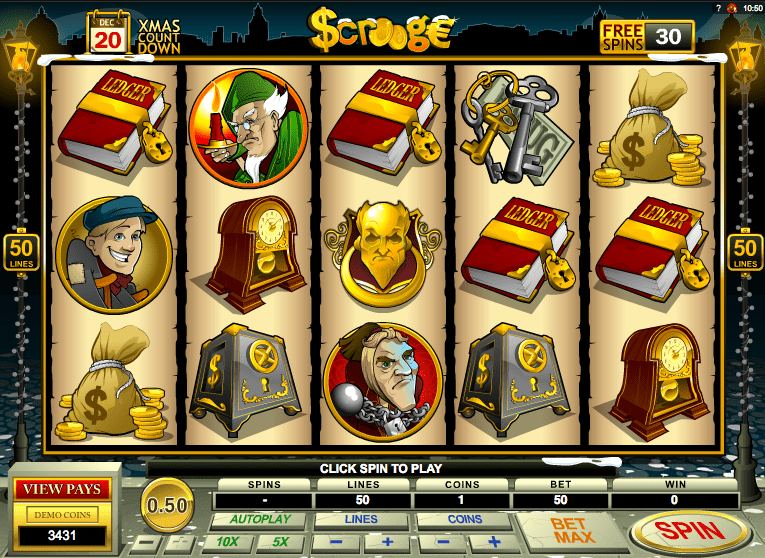 Interactive Features of the game are Bonus Multiplier and Multiplier Wilds.
The Wild Symbol is the Scrooge logo. The scatter symbol is the Door Knocker.
The Wild symbol doubles your win rate and gets you a Christmas Dinner Bonus Round.
Paylines and Stakes
On a range of 0.01 to 22.50, there's a chance to win 75,000.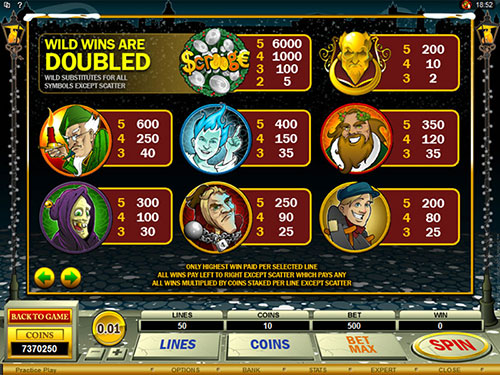 You get 15 free spins and expanding wilds on three reels.
Tiny Tim multiplies the line bet by 200 when you match five symbols. Jacob Marley gets you 250 times.
The Christmas ghosts of the Future, Present, and Past respectively fetch you multiples of 300, 350 and 400 times.
Scrooge gets you a remarkable 600 times' value.
Scrooge Slots on Mobile Phone
Play Scrooge on your mobile phones. Ensure the mobiles are internet-enabled or have net connectivity. You can enjoy the game on iPhones, Android phones, and iPads.
Play Scrooge on the go, play it while you party, listening to music, or when you are travelling.
Scrooge Slots Graphics Design
The graphics are excellent. They are better as compared to games released at the same time.
The background music, animation, and graphics are everyone's favourite.
Scrooge Slots Software
Scrooge runs on Microgaming software.
One of the leaders in online slots development.  You can feel that this is a well designed software.  There are no issues throughout the gameplay making this a smooth experience.
Scrooge Slots RTP
Scrooge RTP is 96%.  This is above par when it comes to the majority of the online slots and is favourable with the avid gamer.
Slot Volatility
Scrooge Slot Game comes with a medium variance. You can sit back and enjoy frequent wins and the occasional big win too.
Other Microgaming Slot Games
Now you have read our review, check out more from Microgaming below to see other offers in July 2021.
This is a shortlist of the most popular games available from Microgaming and does not mean the best in the online gamers reviews.
Scrooge slots is one of our favourite Microgaming slot games in July 2021.