Bikini Party slots, as the name suggests, is a beach-party-themed slot game produced and maintained by Microgaming.
It's a video slot game with the usual five-reel set up. It offers a whopping 243 possible paylines to win from, giving you much more variety in what kind of wins you can expect!
Do you know how many sites offer Bikini Party slots in June 2020?
Best Bikini Party Slot Sites
From our research, we have created a list of the best Bikini Party slot sites:
Bikini Party Slots Graphic Design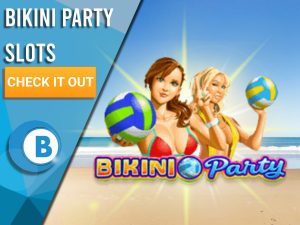 The visual style of Bikini Party Slots is the first thing most people will notice about it, mainly because of the characters it's using as mascots.
There are plenty of bikinis, with some of the symbols even being slightly cartoonish women taking part in volleyball or standing by the water.
The special symbols are either the game's own logo or an image of a volleyball hitting a net. It's easy to pick them out if they come up on one of the winning paylines.
The frame of the game itself is set up like a volleyball net, hooked up against two posts with a warm, inviting beach and the cool ocean behind it. If you're a fan of warm weather, parties, or both, you'll feel at home here.
How to Play Bikini Party Slots
Bikini Party Slots uses a very familiar setup when it comes to adjusting and placing bets.
The "Bet" button opens a drop-down menu of all the options you'll need. First of all, you'll want to use "Coins Size" to set how much you're choosing to bet per coin (between 0.01 and 0.50). Then, you can use "Coins" to set how many individual coins you're using per line.
Once that's done, you have the option of either clicking "Spin" to make a single spin manually, or "Autoplay" to pre-load a chosen number of spins automatically.
If you use the Autoplay system, you can still interrupt the spins if you change your mind.
Interactive Features
As an online slot game, Bikini Party has a few ways to earn bonuses or take part in its special features.
The most direct one is through the Scatter symbols, also known as the volleyballs – get three or more, and you start the Free Spins in-game feature.
This gives you 15 free spins at no extra cost to yourself, and all your winnings from them are tripled. Even better, if you land at least three Scatters again, you'll earn another 15!
There's also a re-spin feature, which you can use if you feel like one or two reels might be close to giving you a win.
After each spin, you'll have the option of re-spinning reels individually. Each extra spin adds a small extra cost: you can re-spin reels as many times as you like, or simply move on to a normal full-board spin at any point.
If you use this carefully, you can salvage a bad loss or boost a win even further without having to pay for a full spin like normal.
There's also the Wild symbol – in this case, the Bikini Party logo. These stand in for all other symbols except Scatters, which can help you earn wins that you would have otherwise missed.
Bikini Party Slots on Mobile Phone
Bikini Party is a multi-platform game that's fully available on all major devices. This includes desktop computers/laptops, as well as most common phones and tablets.
Things will differ slightly across the larger and smaller screens. The gameplay is all the same, and you won't run into any platform-exclusive deals or bonuses: it's all shared.
Bikini Party Slots RTP Review
The RTP for this game is around 96.52%, at the time of writing this. That's a fairly average RTP, but that isn't a bad thing, since it could definitely be far worse.
The free spins and ability to re-spin individual reels can help push your win rate a little bit higher if you're dipping below. Remember to make use of them whenever it feels like a good idea and you can start winning more than average!
Microgaming Software
Here is a list of the most popular Microgaming games online players love to play in June 2020:
This is a shortlist of the most popular games available from Microgaming and does not mean the best in the online gamers reviews.