Are you ready to snap with joy on this Crazy Crocodile slot game?
Crazy Crocodile Slots is a 3-reel slot game with 1 payline and 1 row on each reel. Play n' Go opted to keep this animal-themed classic casino game, awarding a £4000 jackpot at medium variance and a 95.4% return to player rate. The symbols in this game are bars, a red 7, and crocodiles.
It's time that crocodiles stopped getting a bad rap, let's take a look at this video slot in our full Crazy Crocodile Slot Review of September 2022.
Best Crazy Crocodile Slot Sites
From our research, we have created a list of the best Crazy Crocodile Slot Sites and online casino sites:
How To Play Crazy Crocodile
As you might expect, Crazy Crocodile has a classic layout which makes it easy and accessible to play.
The reels are standard and the paylines are outlined clearly, making it easy to keep track of the action and see whether you are going to be a lucky winner.
Most of the symbols in this game are things you have seen before, such as the triple bar and the lucky sevens. This evokes a sense of nostalgia and makes Crazy Crocodile take a piece of your heart instantly.
Even though it is a classically styled slot machine, Microgaming has made sure not to keep the gameplay this way. The gameplay of Crazy Crocodile is made up to the standards we have come to expect from Microgaming.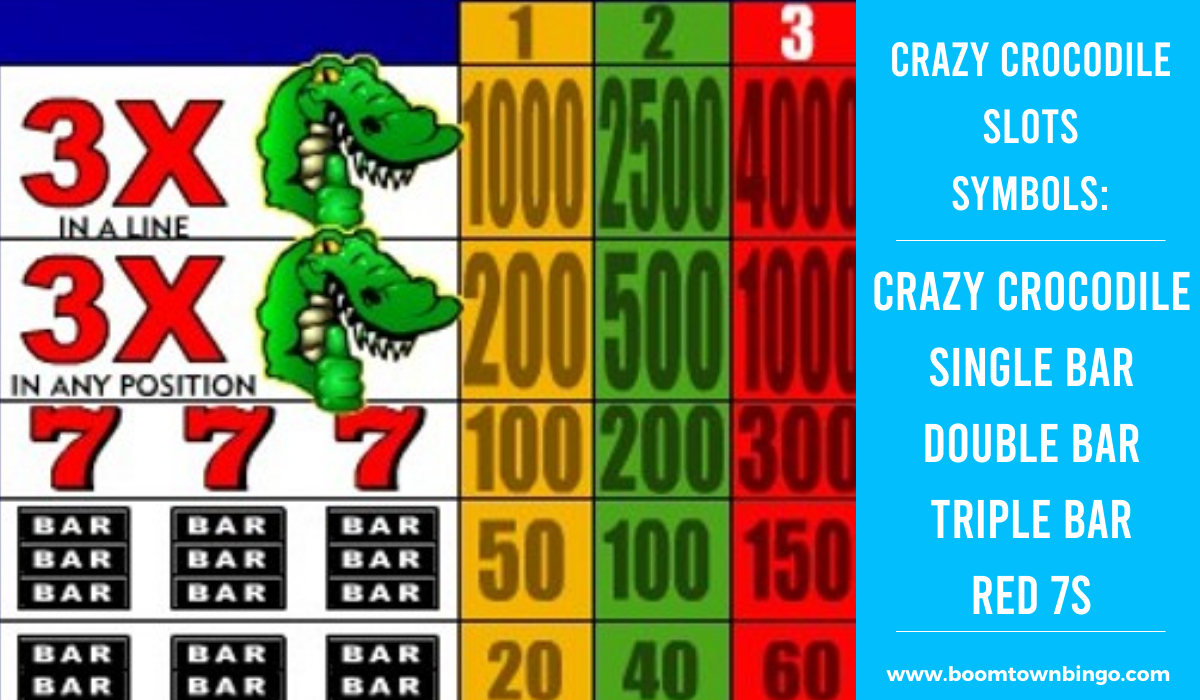 The interface is clear and easy to understand but features some brilliant technology to help you on the way.
There are three main buttons to this game allowing you to bet one payline, bet the maximum amount, or you can also choose to just spin which will mix up the entire interface of this game.
Above these buttons are the total bet and total bin displays that allow you to keep track of your spending and ensure that you are gambling responsibly.
It can be quite easy to get carried away when you are having fun online, but you need to make sure that you are only staking what you can afford.
Slot Info
| Crazy Crocodile Slots | Attributes |
| --- | --- |
| Casino Game: | Crazy Crocodile Slot Game |
| Paylines: | |
| Reels: | |
| Software: | |
| Minimum Bet: | £0.25 |
| Max Bet: | £15 |
| Variance: | |
| RTP: | 95.4% |
| Slot Theme:  | Animals, Crocodiles, Classic |
| Max Win: | £4000 |
| Free Spins: | No |
| Release Date: | 17th of June 2012 |
What Symbols Trigger the Crazy Crocodile Bonus Free Spins?
Crazy Crocodile Slot does not come with free spins. You will enjoy a range of features and chances of real money wins but they haven't buckled to the pressures of bonus features.
Paylines And Stakes
Crazy Crocodile slots is a classically designed game that has three reels and just one pay line.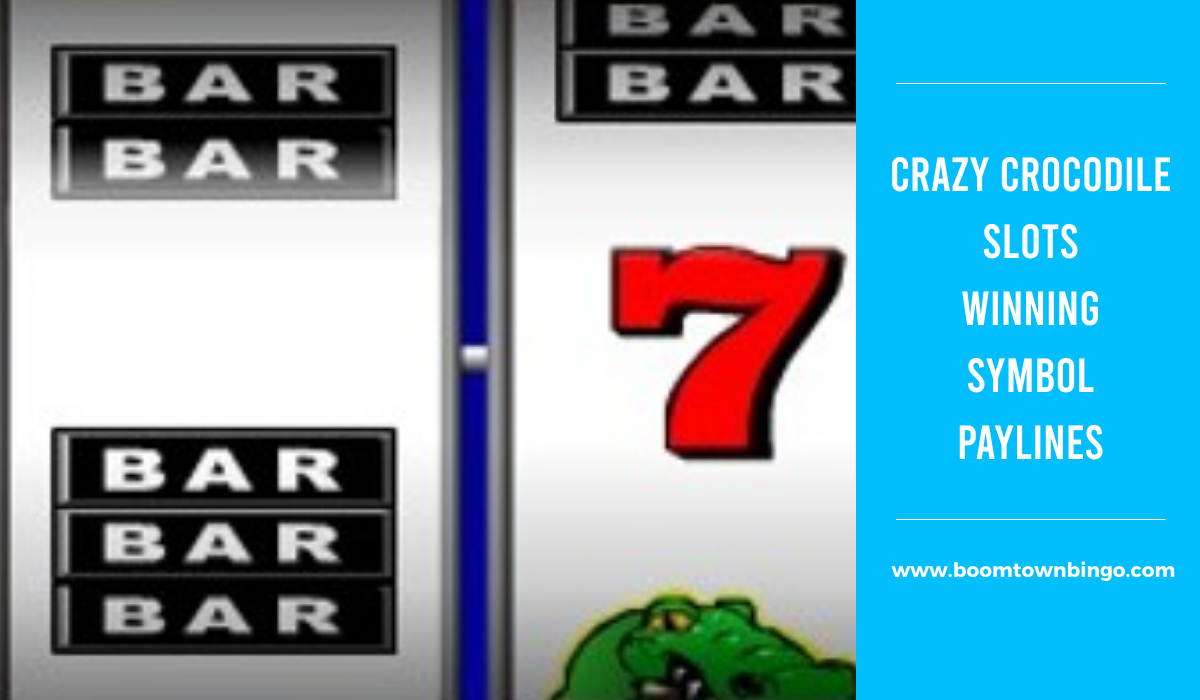 This makes it very easy to play and offers a lot of opportunities to win, no matter what your skills are or how much experience you have in the casino. You can bet different amounts with one coin, two coins, three coins or just set it to max coins for optimal returns.
The more that you stake and the more that you win will get you through the three levels.
Interactive Features
Crazy Crocodile has three playing levels that you will need to work your way through in order to get your hands on the big jackpot.
There is a paytable that is located on the left hand side of the screen, just off from the reels, that allows you to keep track of your progress during this slot game and see how close you are to winning.
This paytable will light up to show you where you are in terms of your bets and game level.
Another great feature of Crazy Crocodile is the sound effects.
Not only is the background music fun and upbeat, but every win will set off the sounds of coins falling. This will make you feel as though you have been transported into a classic casino when you're really just comfortable at home.
Crazy Crocodile Software
Crazy Crocodile slots has been developed by industry-leaders Microgaming.
This developer has a wide catalog of slot and casino games, with some of the best titles in the business being credited to this company in September 2022.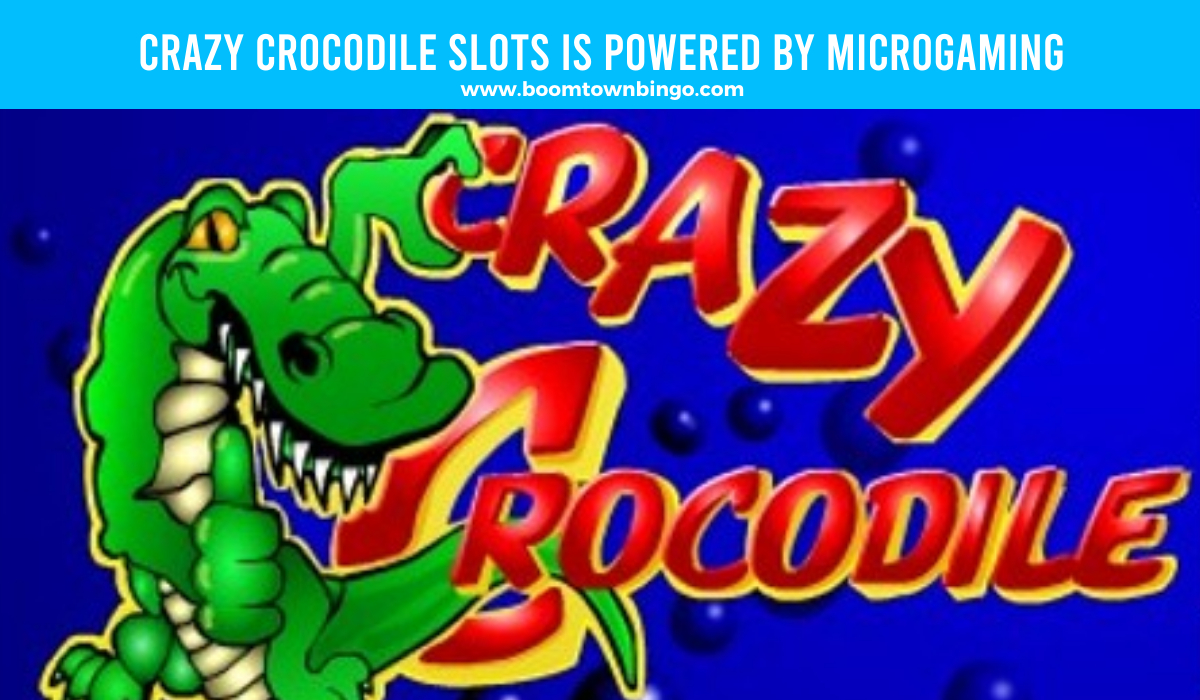 With Crazy Crocodile, Microgaming are going back to their roots and have created a retro-inspired slot game that looks great on all screen sizes.
As this developer is one of the best in the business, you can rest assured that this slot game is high quality and fully responsive. It has some unique features and stunning graphics, as well as being suitable for mobile play.
Whether you are at home or on the go, you can dip your toes into the water and see if you can win it big with Crazy Crocodile slots.
About Crazy Crocodile Slots
This slot game really does feel like a blast from the past as it encompasses everything that we'd describe as 'classic'.
Unlike a lot of other titles from Microgaming, Crazy Crocodile has not been overdone with animation or graphics and instead relies on a solid screen where you can clearly see all the action on the reels.
This may seem dull or boring to some online players, but when you really think about it this is all we need.
We have been spoilt over the past few years when it comes to video slots and it has lead many players believing that bold gimmicks are needed in order to make it worth our time.
However, Crazy Crocodile slots is here to prove us all wrong in September 2022!
This doesn't mean that this is a boring slot game in any sense of the word. It still has some wacky features that fit in well with the classic design of the reels.
What is the Crazy Crocodile RTP?
Crazy Crocodile has an RTP of 94.5%.
This falls slightly under the average RTP but during our trial, it was almost unnoticeable. The game has classic features and is a joy to play with the chance of big wins.
Slot Volatility
It is a medium variance slot, allowing regular and big wins.
This is the best of both worlds, read more on our medium variance slots article.
Related Microgaming Pages
Check out more from Microgaming below to see other offers in September 2022.
This is a shortlist of the most popular games available from Microgaming and does not mean the best in the online gamers reviews.