Billion Dollar Gran Slots
Visit your charismatic Gran for a shot at her billions on this three reel classic.
It's an easy game to play and comes full of exciting surprises, if you're a fan of video slot machines then you'll love this.
Billion Dollar Gran Slots is a 1 payline, 3-reel, online video slot game. This cartoon themed casino game has a medium variance and an RTP of 95.5%. The Microgaming classic has bonus features including Nudges, Holds and a Bowling Green Bonus. Keep an eye out for cup of tea and boules symbols!
Your Gran has a billion dollars and you could unlock winnings with this classic fruit machine. It even comes packed with gambles, nudges, let 'em spin bonuses and big wins. 
Read our full Billion Dollar Gran Slots Review to find what we discovered about this slot game in June 2023.
Best Billion Dollar Gran Slots Sites
From our research, we have created a list of the best Billion Dollar Gran Slots sites:
About Billion Dollar Gran Slots
Sit alongside this heartwarming and generous grandma while she takes a shot at the classic fruit slots. Who knows? She might and give you a chance to win the $5,000 jackpot. Who would want to miss out on that?
This pink-haired Gran doesn't just sit around knitting. She does so while clad in jewels amongst all her winnings. Billion Dollar Gran takes players back to the classic Vegas slots. What can be more classic than a Granny winning thousands in Vegas?
Gran is a standard 3 reel, 1 pay line slot game that drops several bonuses throughout the game that it would be next to impossible to lose!
Slot Info
| Billion Dollar Gran Slots | Attributes |
| --- | --- |
| Casino Game: | Billion Dollar Gran Slot Game |
| Paylines: | |
| Reels: | |
| Software: | |
| Minimum Bet: | £0.10 |
| Max Bet: | £10 |
| Variance: | |
| RTP: | 95.5% |
| Slot Theme:  | Comedy Cartoon |
| Bonus Features: | Bowls Bonus Game, Nudges, Holds, Gambles, Let 'em Spin Bonus, Shifta Feature, Jackpot Bonus |
| Max Win: | £20,000 |
| Free Spins: | Yes |
| Release Date: | 1st February 2010 |
How to Play Billion Dollar Gran
Follow Gran and win billions!
The Billion Dollar Gran, although a classic, shifts from the usual play style of most slot games. For this game, players would much rather play to get free spins than play to get combos and get credit prizes.
For each round of WinSpins, players are guaranteed a credit prize. This can go anywhere from 1 to 500 credits.
Players can win credit prizes through WinSpins and Bonus Games. This is played on another reel or screen. For this round, the prizes are bet multipliers. The biggest jackpot in this game is a 2,000x multiplier.
Billion Dollar Gran Slots on Mobile Phone
Billion Dollar Gran video slot can be played from any mobile device. Enjoy the fully functional game from a phone, tablet or desktop without hassle.
You can play without the need to download a thing, simply visit the site from your web browser and then load the game itself.
Billion Dollar Gran Slots Graphics Design
This game is an ode to the old ladies who play on the vintage classic slot machines – the grannies who can be seen focused on slots until they hit the jackpot.
Billion Dollar Gran is a colorful cartoon spin that brings players back to the good old days. All the details involved show Gran's billions – everything from her loud getups and her jewels, to tea drinking and eating Battenbergs.
This senior citizen is living large with her billions, as seen in the background when you play each round. This game gives players a peak of the day in the life of a wealthy Gran.
Interactive Features
Bonus Features include:
Bowls Bonus Game
WinSpins
Nudges & Holds
Shifta
Let 'em Spin
Several of these features have fate decide for you.
Paylines and Stakes
Bowls Bonus Game – This game is triggered when players land three bowls on the pay line. Pick a bowl and let Granny roll the ball to the Jack. Players receive a multiplier of bets that range from 5x to 2000x.
Wins are determined by the bowl's distance from the jack:
The minimum is 25x your bet
Better positions = better payouts (e.g. 50x, 100x and 2000x)
WinSpins – The spins are can be used on a different reel. Here, 3 reels and 5 pay-lines are featured, and you are guaranteed to win.
Winning Combinations
1 for 3 cherry symbols
25 for 3 gran symbols
Nudges & Holds – Nudges come randomly and lets players jog down the reels individually to make a winning combination. This may also come with a nudge repeat, chance for one more spin or a gamble.
– Holds are also random and let players freeze certain reels.
Shifta – This feature gives you an automated spin. This does not give players a guaranteed win.
Let 'em Spin – This bonus appears on the notice board above Granny. This is a hint to just let the reels spin, ultimately, this is win spins.
Billion Dollar Gran Free Spins
Although there's no free spin bonus, you can enjoy many other features discussed above- that includes respins, win spins and some incredible base game features.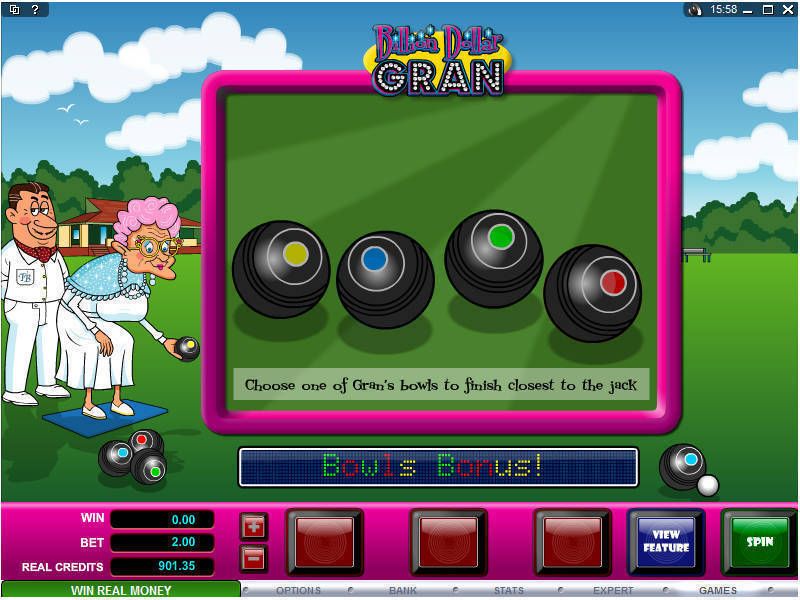 Make the most of the aforementioned bonus features on this slot machine.
Billion Dollar Gran Slots Software
Billion Dollar Gran Slots is available on the Microgaming software. 
As this is one of the older generations of slot games, no particular software is needed to access the game. Classic slots like Billion Dollar Gran do not usually include a lot of game features. However, this game has more features than some of Microgaming's larger games.
Microgaming has been focusing on games that are more 3-dimensional. There has been a more proven success with games that are not as fancy or progressive.
The game also includes more player-friendly features in older games. This makes them less complicated to understand. This simplicity brings more players to actually play for fun rather than play to win.
Disclaimer: This game has been pulled out and is no longer available on most online platforms.
What is the Billion Dollar Gran Slots RTP?
The RTP of Billion Dollar Gran slots is 95.5%.
The endearing Billion Dollar Gran has a medium variance.
We recommend looking out for sites with high return to player values to ensure you get the best return when you are playing the games.
Slot Volatility
Billion Dollar Gran slot has a medium variance.
That means that you can enjoy regular wins and some tasty returns in the process too.
Related Microgaming Pages
Check out more from Microgaming below to see other offers in June 2023.
This is a shortlist of the most popular games available from Microgaming and does not mean the best in the online gamers reviews.