Play for juicy jackpots on the Bingo Bango Boom slot machine, it comes with three rows and a single payline.
If you're a fan of classic fruit machines, then you're going to love this slot game. It comes with bonus features that you're familiar with such as nudges and big real money wins.
Bingo Bango Boom Slots is a classic bingo themed video slot game, with an RTP of 96.5%. This medium variance casino game is powered by Microgaming. The bonus features on offer include the Bingo Bango Boom Bonus and nudges, which can help you win up to £5'000 on this retro fruit machine!
Embrace the nudges, holds, wild symbols and other amazing features.
If you want to learn more then you're able to read our full Bingo Bango Boom Slot Review, as we delve into the software, RTP, paylines and bonus feature options in September 2023.
Best Bingo Bango Boom Slot Sites
From our research, we have created a list of the best Bingo Bango Boom Slot sites:
About Bingo Bango Boom
Bingo Bango Boom is not a standard slots machine as it is a 1 line slot and 3 reel game. It has a bonus game that happens randomly. This burst of good fortune gets players up to 3000x multiplier value on the amount bet.
This game also has several features alongside the juicy treats. These are the Boost feature, the Skillshot feature, and the Stoppa feature.
This classic game is one that any pro would appreciate. It requires skill and strategy as it is slightly harder to maneuver around compared to the offline versions.
Slot Info
| Bingo Bango Boom Slots | Attributes |
| --- | --- |
| Casino Game: | Bingo Bango Boom Slot Game |
| Paylines: | |
| Reels: | |
| Software: | |
| Minimum Bet: | £0.10 |
| Max Bet: | £10 |
| Variance: | |
| RTP: | 96.5% |
| Slot Theme:  | Cartoon Bingo Fruit Machine |
| Bonus Features: | Bingo Bango Boom Bonus, Nudges, Holds, Gambles, Shifta Feature |
| Max Win: | £5,000 |
| Free Spins: | No |
| Release Date: | 18th October 2016 |
How to Play Bingo Bango Boom
Before you dig in, here are a couple of tips and tricks:
The minimum bets: 0.10
The maximum bets: 10
Bingo Bango Boom is a trail ladder with 8 steps. This will take players to the main feature.
There are no wilds or scatter symbols here, although players should be mindful of bonus game features such as nudges and holds.
Once you have matched all 3 numbers on the bingo-styled game you will win the game.
Interactive Features
There's a range of bonus features and elements of the slot to unlock. Here are the bonus rounds that you can expect.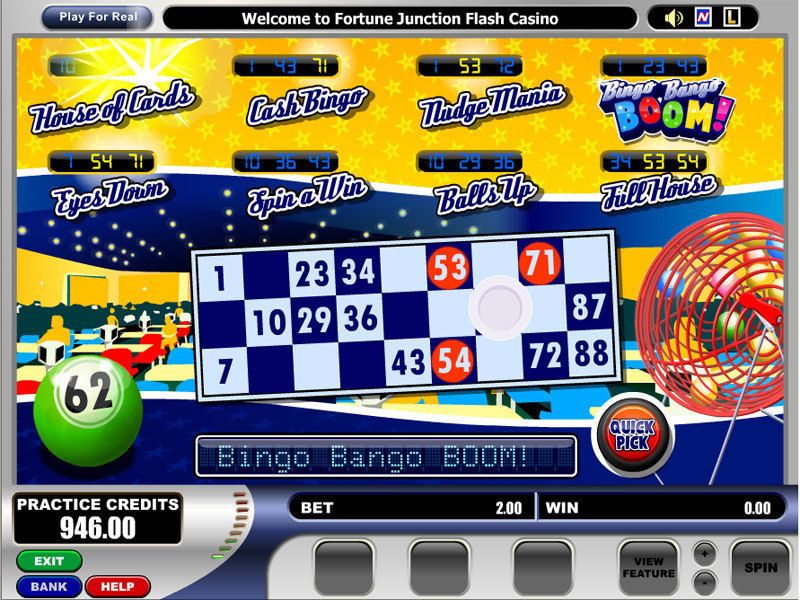 Bingo Bonus – A row of 8 balls are seen at the lower part of the screen. These light up during certain segments of the game.
– Players get a chance to pick from the stars on the left once all 8 balls have been lit.
Stars: Bonus prizes (includes: nudges, holds, multipliers, free spins, and cash bonuses)
Holds – If the player uses a hold, they get the opportunity to freeze one reel and re-spin the others.
Nudges  – Players can rotate 1 reel forward to 1 spot.
– A maximum of 4 nudges can be used per spin.
Reel Bonus –  This is triggered when a symbol with a bonus symbol is seen on the pay line
– In this round, players can win up to 3 chances to play the bonus features.
Boost – Players can use this to boost to a random position on the Bingo Hall Number Trail.
Skillshot, Stoppa & Selector
– This feature displays a flash sequence of the Bingo Ball Number Trail.
– Players must time this right. Your skill and precision are best used at this round. By pressing the stop button at the right time, players can activate the bonus game.
Paylines and Stakes
Bingo Bango Boom video slot is a classic 3 reels, 1 pay-line game.
When playing this slot, you will be directed to a game of bingo. This happens if players spin 8 on the reels.
The Bingo Bango Boom Logo is the jackpot symbol, earning you as much as 500 coins or 500x the line bet.
Symbols and their multiplier amount:
Cherries – 2X
Lemons – 4X
Oranges – 8X
Single bars – 10X
Plums – 16X
Double bars – 20
7s – 30X
Watermelons – 50X
Bango Boom logo – 500X
Bingo Bango Boom Free Spins
Although there's no free spins, you can play for respins. These randomly generated spins can be rewarded at any point, enjoy holding reels and respinning, with more chance to win.
Bingo Bango Boom on Mobile Phone
Bingo Bango Boom is available on any PC and mobile device
Play from iPhone, iPad, Android Phones, Tablets or Desktops. You can access this game from your device whilst on the move, thanks to the HTML-5 code.
This ensures that it can offer you a mobile friendly version of the game for iOS or Android.
Bingo Bango Boom Graphics Design
This game puts a fresher spin on another classic slot machine game – making it louder and more colorful in design.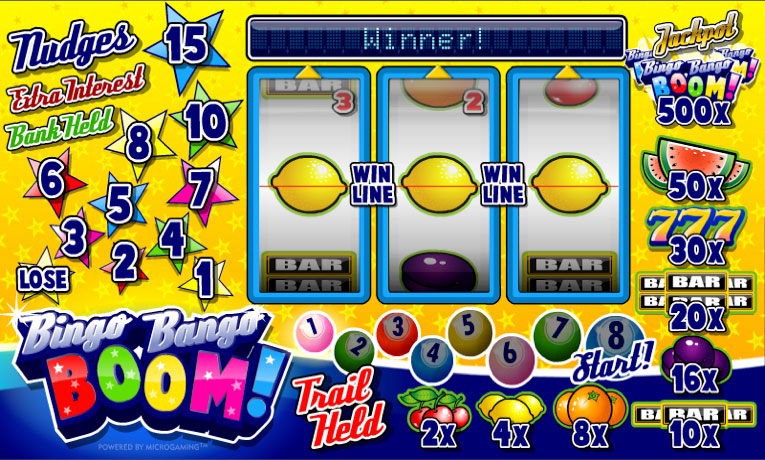 Bingo Bango Boom is set in a brightly lit bingo room and features brightly colored bingo balls while showcasing the standard fruit slots. A bonus game is thrown in for some extra lively fun. The symbols are varied, vivid and mouthwatering.
They range from juicy oranges, bright red cherries, lemons and plums to fresh watermelons. The classic symbols like the 7th, the big golden bars are also included to help entice players.
Bingo Bango Boom Slots Software
The Bingo Bango Boom slots is a video gaming slot by Microgaming.
Unfortunately, it has been discontinued on tablets and mobile devices. Although players can still visit this like here to play some fresh fruit fun.
What is Bingo Bango Boom Slots RTP?
Bingo Bango Boom Slots has an interestingly high RTP of 96.50% and has a low variance.
It is important to have a high Return to Player to ensure you have the chance to win money back.
Look out for high RTP slots to see if you would like to play even more games!
Slot Volatility
It has a low variance, allowing lots of regular wins.
Expect Bingo Bango Boom Slots to provide frequent wins during spins.
Related Microgaming Pages
Check out more from Microgaming below to see other offers in September 2023.
This is a shortlist of the most popular games available from Microgaming and does not mean the best in the online gamers reviews.