With Floridita Fandango you get transported to the famous Cuban restaurant Floridita Fandango. This type of online slots machine is a basic one and it can give you lots of fun and profits.
Floridita Fandango Slots is a 3-reel slot game with 1 payline and 1 row. Microgaming released this alcohol-themed casino game with a £2500 jackpot at a 95.93% return-to-player rate and a medium variance range on the 15th of June 2002. Some of its symbols include cocktails, BAR, and cherries.
Read this full Floridita Fandango Slot Review.
Are you interested in finding out more about Floridita Fandango Slot Sites May 2023?
Best Floridita Fandango Slot Sites
From our research here is a list of the best Floridita Fandango Slot Sites.
How to play Floridita Fandango Slots
These slots are easy to play. You can choose to play either with one, two or three coins per spin.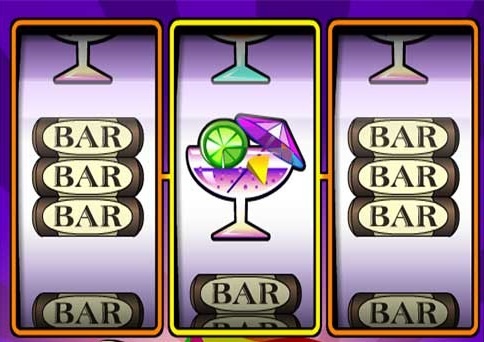 You can place an initial bet of $0.25 and this can reach the level of $5 which is among the lowest in the market. If you hit three identical symbols then the multiplier changes. It aligns to the number of coins you are playing with.
In the initial form of the game there is no auto play button. The expert version does have the autoplay button which can give you 500 spins. All this with no need to press the spin button again and again.
Finally, there is a MAX BET button that can give you the chance to win big!
Slot Info
| Floridita Fandango Slots | Attributes |
| --- | --- |
| Casino Game: | Floridita Fandango Slot Game |
| Paylines: | 1 |
| Reels: | 3 |
| Software: | Microgaming |
| Minimum Bet: | £0.25 |
| Max Bet: | £15 |
| Variance: | |
| RTP: | 95.93% |
| Slot Theme:  | Classic, Alcohol |
| Max Win: | £2500 |
| Free Spins: | No |
| Release Date: | 15th of June 2002 |
What Symbol Triggers the Floridita Fandango Bonus Free Spins?
Interactive Features
There are no special interactive features in that game. The combination of three identical symbols always triggers a joyful reaction.
Cocktails, BAR and cherries, all belong to the interactive symbols that pop up. You need to be more focused to the game and a quick spinner.
You will end up with earning a lot of money provided you are matching all three.
Paylines and stakes
This classic Cuban restaurant slot game has three reels and one pay line. It is the basic type of slots game that can travel you to the past.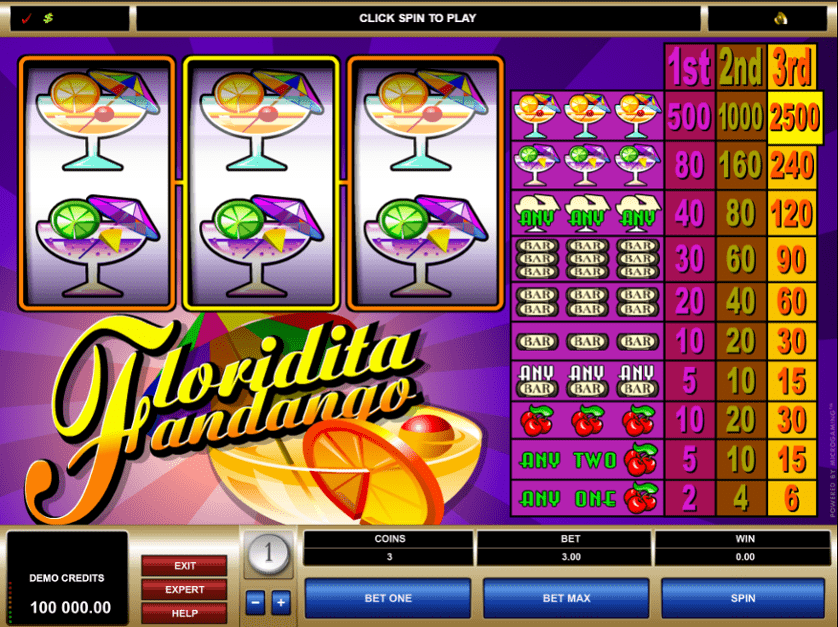 Stakes are starting from $0.01 and can come up to $5 per spin. You can choose the coins you want to play with from one to three. Then there is a multiplier table that makes you win more as the stake increases.
Any cherry and any BAR symbol brings you earnings. These come with no need to have extra matching symbols in the same line.
Floridita Fandango on Mobile Phone
These slots are available in desktop and mobile phone edition. For the mobile phone edition, you will need a good wireless internet connection. Most of the modern smartphones will do the job.
The playing mode can adjust to the mobile phone screen size. It is of crucial importance if you decide to play for many hours. All sounds and graphics can also play to the smartphone edition.
Keep in mind that you can always save your game in case the internet signal fades away. There is no chance you will lose your money with these slots.
Floridita Fandango Graphic Design
The graphic designs can give you an essence of the exotic Cuba. You get to know the Cuban cocktails, cherries and the well-known BAR symbol.
These graphics are changing through the game especially the ones in the background. It creates a very cozy situation with players wanting to play even more.
Special audio and visual effects are there when you hit a triple symbol. You are also getting to know the coins you are winning each time through the graphics.
A unique experience for all beginner players.
About Floridita Fandango Slots
These slots are fair and give all players equal opportunities to win. You can say they can be your initial steps for the world of online casinos. The easy to log in front screen is going to help you a lot.
Bonuses and free spins are there to keep you engaged. People always come back for the high interactivity and the many rewards available.
Easy to play on every possible mobile machine without special requirements. A unique experience for every beginner player.
What is the Floridita Fandango Slots Software?
The software that powers Floridita Fandango Slots is Microgaming.
This company is also using Microgaming software. It is the one that most online casinos do prefer to use. Many opportunities to win are there and legitimate ways to make money as well.
Floridita Fandango Slots RTP Review
The RTP Value for Floridita Fandango Slots is 95.93%.
RTP stands for Return to Player and represents the likelihood of a return per spin. The average RTP is 95% and anything that exceeds that has an above average payout percentage.
Slot Volatility
Floridita Fandango Slot is of medium variance.
Medium variance slots allow regular wins and also the chance to win big too.
Related Games
Check out more from Microgaming below to see other offers in May 2023.
This is a shortlist of the most popular games available from Microgaming and does not mean the best in the online gamers reviews.