You'll be hard-pushed to find someone who doesn't love pandas. If you don't get that warm fuzzy feeling in your belly when you see those gentle giants chewing on bamboo, there's something really wrong. Chances are, then, you'll like spinning the reels on this slot.
Wacky Panda Slots is a 3-reel, 1 payline online video slot game, with a panda theme. This medium variance casino game has an RTP of 95.7% and you can expect to find the red panda and banana symbols. Bonus features include the scatters (Panda wearing a melon hat). 
Filled with cuddly pandas, this video slot is sure to bring you some fresh and entertaining gaming experiences as well as a good jackpot prize! So, read this Wacky Panda Slot Review to find out how you can spend some quality time with these cute bears and gain their prizes while doing so.
Are you interested in finding out more on Wacky Panda Slot Sites 2023?
Best Wacky Panda Slot Sites
From our research here is a list of the best Wacky Panda Slot Sites.
About Wacky Panda Slot Game
Deep within the Asian jungles hide a colony of pandas. Now, unlike the ones we see in the wild or in zoos, these adorable critters sport different clothing which adds to their lovable character. They, along with some delicious tropical fruits truly capture the game's fun and whimsical nature.
There's no doubt that people who love pandas will love this slot. The game itself is quite basic, but that's not a negative. The bonus features do make up for that though. It has a modern look that is fresh. It has a 3333 credit prize offering to those who land 3 red pandas on the payline.
Set in a bamboo forest, the Wacky Panda has a classic 3 reel, 1 payline format. Pandas love bamboo so it only makes sense to hold this whimsical slot game in their domain. This game is pretty straight forward as, from the get go, you will be welcomed into the forest which acts as the board, with bamboo stalks encasing the reels. It also only has 3 reels so your eyes do not have to keep track of other things going on in the game.
You can't fail to notice the simplicity of this video slot. The game is different from the more modern slots in that it has a retro vibe. The reel format and fruit icons are fairly traditional. Not to say it looks older than its years. The graphics are fresh and on par with other slots from Microgaming.
The panda theme comes to life through its group of unusual pandas. Each has its own personality. The prizes attached to them aren't bad either. You just need 3 of the same one to land on your payline. Whether you land the lead panda or any of his other cute and cuddly buddies, you are sure to land some pretty generous wins as they seem determined to help you enjoy the game. Although, you may want to keep an eye out for the panda with the watermelon hat as his symbol packs the biggest punch.
You can play this Microgaming offering from as little a penny a spin. It has a cute Asian panda theme. It's about landing winning combos with big roller pandas. The biggest panda will let you have 1111x your wager!
If you're ready to spend some time with a couple of whimsical and cute panda cubs, then spin the reels and see just how many fantastic wins you can gain!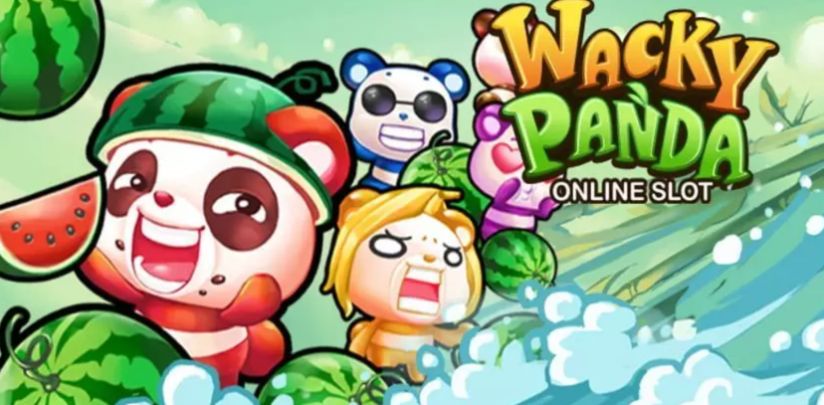 How to Play Wacky Panda Slot Online
This game is a classic 3 reels, one payline format. Players can begin the game by placing a bets. You can do so by managing the amounts on the control panel on the lower part of the screen. After you've done so, you can start spinning the reels by either clicking the Spin button for a single spin, or the Autoplay icon for several spins that do not get interrupted.
The best symbol to land is the red panda. The second is the banana peel panda. This can be triggered during any spin. It all depends on what symbol lands on your payline. The multipliers work like this:
1 symbol rewards 10x your total bet and two gives 15x. So, even though this slot doesn't offer too much, at least the multipliers are fruitful.
Wacky Panda can be enjoyed on a multitude of devices. Mobile, tablet and desktop.
Slot Info
| Wacky Panda Slots | Attributes |
| --- | --- |
| Casino Game: | Wacky Panda Slot Game |
| Paylines: | |
| Reels: | |
| Software: | |
| Minimum Bet: | £0.03 |
| Max Bet: | £50 |
| Variance: | |
| RTP: | 95.7% |
| Slot Theme:  | Panda |
| Max Win: | 16,665 |
| Bonus Features | Scatters |
| Free Spins: | No |
| Release Date: | December 2017 |
Interactive Features
Scatters. The scatter icon is the Panda wearing a melon hat. Landing one or more of this icon on the reels can reward players some coin wins.
What Symbol Triggers Wacky Panda Slot Bonus Free Spins?
As with your standard 3 reel slot game, this also won't dish up anything too surprising or juicy. There's not much of note in regard to free spins. It does, however, offer a helpful scatter bonus feature.
Paylines and Stakes
Stakes range from a penny to £15 a spin. The max 3 symbol winning combo win of 3333 coins. Your total potential coin jackpot is 16,665. There may not be a multitude of helpful bonus features here apart from the scatter, but players can still win payouts from the symbols such as the different panda characters, the watermelon, banana, and grapes. These icons can give out a minimum of 20 and a maximum of 1,000. However, players will have to land 3 of these in order to gain those wins.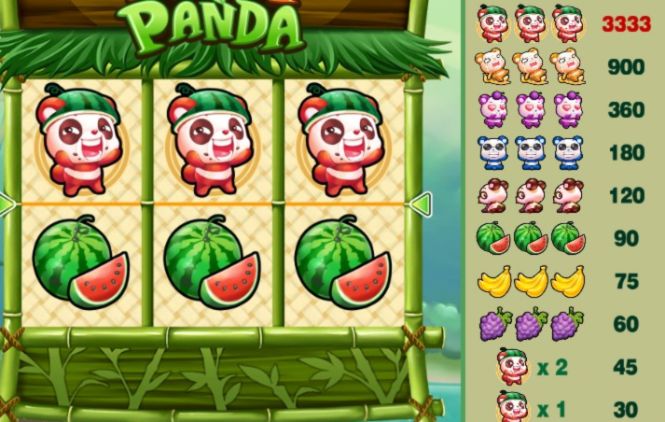 Wacky Panda Slot Game Software
The software that powers Wacky Panda Slots is Microgaming.
This gaming provider is known for developing the world's first online casino software and then, they've been responsible for a multitude of exciting games which are now available on both mobile and desktop platforms.
What is Wacky Panda Slots RTP?
The RTP Value for Wacky Panda Slots is 95.7%.
The return to player rate on Wacky Panda is 95 percent. It's on a level with a lot of the modern slot games. This is a pretty good payout percentage since anyone who wagers as much as £100 can hypothetically win as much as £95 for every game played.
Slot Volatility
This is a medium variance game.
Online slot games with this kind of volatility are ones that pay out big wins once in a while. Small wins happen frequently. Good for the casual gamer, not so much the high-rollers.
Summary
As just mentioned, there aren't a lot of special bonus features. There's one incredible payline. The way it works is simple. You spin your 3 reels until they stop. Any of the higher-paying symbols that land on your payline, regardless of their position, are thought to be a winning combo.
Now, although the game is more on the simple side, players will definitely enjoy playing since the cute characters and the serene background is very welcoming. Any level of player is welcome to try this game out, though players who are more experienced may find this more enjoyable than those who are still getting a hang of the game. Nevertheless, this is one online casino slot that will leave you smiling and your pockets full. So, take the reels for a spin and enjoy the fun, carefree nature of these playful bears.
Similar Games
Check out more from Microgaming below to see other offers in 2023.
This is a shortlist of the most popular games available from Microgaming and does not mean the best in the online gamers reviews.