Vinyl Countdown Slot Machine
Time to dance your way back to the 50's! This slot game will give you jukeboxes, dancing shoes and some vinyl music to finetune your inner retro vibe.
Vinyl Countdown Slots is a 5-reel video slot game with 9 paylines, 3 rows and a 1950's theme. Powered by Microgaming, this casino game comes with wilds (the disco ball) and scatters (the juxebox). The game's symbols consist of a man, woman, couple, shoes, and different desserts. 
This slot machine is perfect for players who want to relieve the simple, good old days of the 1950's. Think rock 'n' roll music played on vinyl records and jukeboxes. Just don't forget your quarters and you can dance the day away on your favourite coffee shops. Find out how to jive to the beat of the reels to get all the wins when you read this Vinyl Countdown Slot Review.
Are you interested in finding out more on Vinyl Countdown Slot Sites September 2023?
Best Vinyl Countdown Slot Sites
From our research here is a list of the best Vinyl Countdown Slot Sites.
About Vinyl Countdown Slot Game
Really, who can resist a bit of retro in their lives? Those 50's haircut, even if they are a bit cringe-worthy at times, are to die for! With all these fun features, this slots game will surely make you groove to that rockin' beat. It may not be the top game when it comes to bonus features, but its theme and overall aesthetic sure makes up for that. It delivers a unique and well-designed game that anyone, even if you're not born in the 50's, can enjoy.
Here, you can experience a complete retro atmosphere – complete with the visuals and sounds. So, get your groove on and try the Vinyl Countdown Slots game! The slot has 9 playlines spread on 5 reels, making it a relatively simple slots game to play. What makes this stand out though, are the wild and scatter symbols that make the game exciting and fun.
Only a few games offer this kind of vibe. It adds something new to the usual theme of slot games. Because you must admit, you're tired of seeing slot games with Ancient Egyptian themes. Are we right or are we right?
This slot machine tickles nostalgia. Here, you can enjoy 50's rock 'n' roll music, complete with ambient sounds, while looking at some of the most iconic items that can only be found during that era. After all, what screams more retro than vinyl and a jukebox?
To keep the retro vibe sweet, the game features sugar-filled treats which act as the least valuable icons. It can only multiply the coin size up to 250 times. Other icons, in order of their values, include a pair of dancing shoes, a heart, a belle, and a 50's rocker. The highest paying symbol is that of the Vinyl itself, which can multiply the coin size up to 1,000 times – now that's a rocking win!
To add to its appeal, even if you are not alive and kicking during those days, the cool and retro aesthetic of this game will still attract you to play the game.
So, if you are looking for a new game to try, this is the right one for you.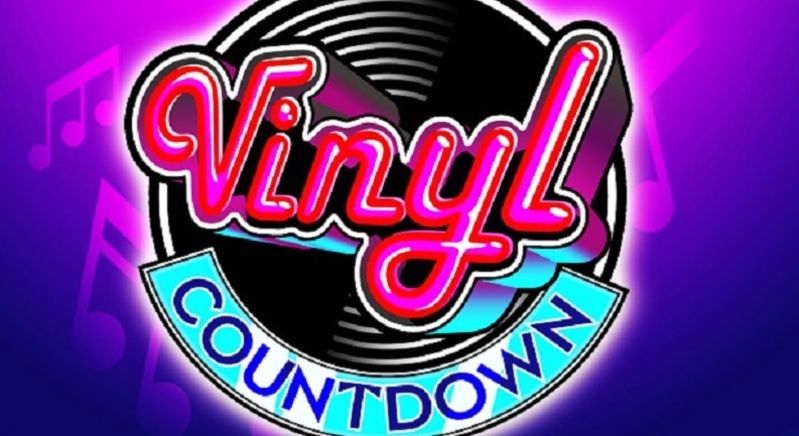 How to Play Vinyl Countdown Slot Online
Playing the Vinyl Countdown is as easy as spinning your favourite 50's rock song on vinyl record. Just place your bet, pull the lever, and spin.
This slot machine has 3 rows, 5 reels, and 9 playlines. You can start playing by selecting your wagering option – 0.25, 0.50, 1.00 or 2.00. Having these wagering options make it easier for you to choose and bet.
But of course, if you don't want to take the easy route, you can up your game by activating more playlines and by placing higher bets of up to £18. The higher the playline and bet, the higher the winnings.
For advanced players, you also have the option to let the gameplay for you. It has an "expert" mode which allows you to set up autoplay for up to 500 spins.
Slot Info
| Vinyl Countdown Slots | Attributes |
| --- | --- |
| Casino Game: | Vinyl Countdown Slot Game |
| Paylines: | |
| Reels: | |
| Software: | |
| Minimum Bet: | £0.25 |
| Max Bet: | £18 |
| Variance: | |
| RTP: | 95.56% |
| Slot Theme:  | 1950's |
| Bonus Features: | Wilds & Scatters |
| Max Win: | 1000 |
| Free Spins: | No |
| Release Date: | 1999 |
Interactive Features
The Vinyl Countdown slot may not have any special features such as free spins or multipliers, but it gives the game an extra twist with its wild and scatter symbols.
Wilds. The disco ball symbol serves as the wild symbol. With this, you can dance the night away because when it appears three times anywhere on the reels you are bound to have extra winnings.
Scatters. The jukebox symbol serves as the scatter symbol. With this symbol, winning lines can be achieved easier as it acts as a substitute for any other symbol except for the disco ball.
Now, that's the 50's twist we are all looking for!
What Symbol Triggers Vinyl Countdown Slot Bonus Free Spins?
The disco may make you jive to the music pretty easily, but there are no free spins to be had in this video slot game. There are, however, a couple of other groovy bonus features that can help land some winning combinations.
Paylines and Stakes
You can begin this fun online slot game by first wagering amounts varying from £0.25 to £5 per spin. Doing so can reward players some wins from the bonus features such as the wilds and scatters, or it could give out the jackpot prize of 1000.
Placing that wager can also give payouts from the paying symbols. These symbols consist of the man, woman, couple, shoes, and the different desserts. Players who can land 2 to 5 of a kind on the reels can gain amounts varying from 1 to 1,000.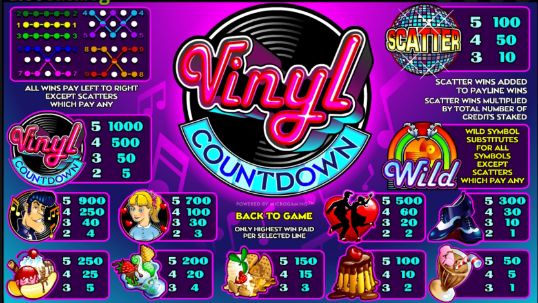 Vinyl Countdown Slot Game Software
This groovy game of slots was made possible by Microgaming.
This gaming provider is known for the multitude of their exciting games including Avalon, Thunderstruck and much more! They also launch new games monthly which all now available on both mobile and desktop platforms.
What is Vinyl Countdown Slots RTP?
The RTP Value for Vinyl Countdown Slots is 95.56%.
With this kind of payout percentage, you can expect to gain a whopping £95 worth of hypothetical wins for ever £100 you wager.
Slot Volatility
This fun disco slot has a pretty high volatility. Not only does this slot machine dance to a groovy beat, it also has a relatively high returns to player which means players can expect to gain good amounts throughout the game albeit in a semi-frequent to rare manner.
Summary
The Vinyl Countdown Slot brings some vintage feels to the reels, both in the theme and in the game's principle. Just like any classic slot game, this online video slot brings players back to the fun, colourful time of the 50's but presents it with the challenge of having limited helpful bonuses. Despite this little hiccup, players of all skill level are welcome to try this slot game out for size.
Similar Games
Check out more from Microgaming below to see other offers in September 2023.
This is a shortlist of the most popular games available from Microgaming and does not mean the best in the online gamers reviews.