Kings of Chicago Slot Machine
Prohibition is back, and the kings are out to rule the town. Will you roll with them or against them? If you're skilled in the art of poker, then now's the time to test out your talent. Don't choke, for the mob bosses are watching your every move.
Kings of Chicago Slots is a 5-reel, 5 payline, online video slot game, developed by NetEnt. The medium variance casino game has an RTP of 97.8% and a Poker theme. With the help of bonus features, alike to Joker Wilds, Playing Card Scatters and Free Spins, you could win up to £650,000 in real money!
In this Kings of Chicago Slot Review, find out how you can spin with their crowd to see your coins grow. Will you walk away and let go of the treasure, or will you find a way to keep it all for yourself? Find out when you spin and become one of the Kings of Chicago.
Kings of Chicago Slot Sites
From our research, we have created a list of Kings of Chicago Sites in 2023:
About Kings of Chicago Slot Game
Dine with the elite and party until the break of dawn. That's what everyone dreams of. But would you dare join them if they were made of notorious gangsters and their posse?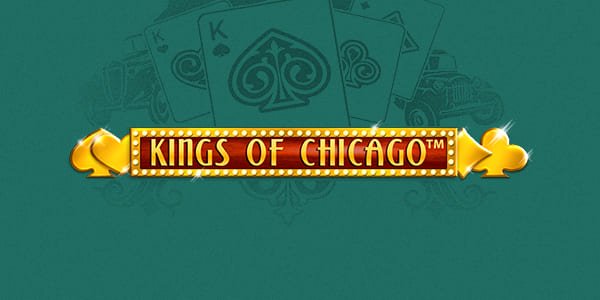 NetEnt software is letting players enter the 3-dimensional world of the kings, in their underground casinos with their secret rooms and prohibition clubs, to see what the giggle water crowd can bestow upon you. Will it be wilds, scatters, or other bonus features?
If you think you can beat the master at his own game, then try this video slot on for size. With the reels set like a poker match, Netent Software makes players pray double to up their luck or die trying. So, strap on your poker face, and spin those reels!
This five-reel, five pay-line poker-themed video slot game thrusts you back into the era where drinking was prohibited, and fun was all that mattered. Play to win and this game will have you joining the club in no time.
Set to mirror the glory of the 1920s era, where liquor bans and vices were rampant, the Kings of Chicago brings out the colour and glamour of that age. This game is unconventional, making the reels play out like a poker game.
Is it poker, or is it slots? Or maybe, it could be both. The overall idea of the game will interest those who want to travel back to a more vibrant time. Graphically designed to exude class and money, players will soon want to keep playing for more.
The cards include the kings themselves – those who reigned in Chicago. The gangsters, their mobs, and their beguiling women fill up the board alongside the playing cards.
Sleek and elegant illustrations will awe players as well as the jazzy music playing as you spin. Be a victim of the mob or a winner of the game. The choice is yours.
Slot Info
| Kings of Chicago Slots | Attributes |
| --- | --- |
| Casino Game: | Kings of Chicago Slot Game |
| Paylines: | |
| Reels: | |
| Software: | |
| Minimum Bet: | £0.50 |
| Max Bet: | £50 |
| Variance: | |
| RTP: | 97.8% |
| Slot Theme:  | Poker Casino |
| Bonus Features: | Joker Wild, Scatter Card |
| Max Win: | £650,000 |
| Free Spins: | Yes |
| Release Date: | 10th August 2011 |
How to Play Kings of Chicago Slot Online
Fancy drinking with the prohibition crew? Here are a few tips to win their favour:
Adjust the Coin Value and Bet Level by clicking the (+/-) section found on the lower part of the screen. When you are happy on the amounts, you can start spinning the reels by pressing the Spin or Autoplay buttons to begin either one spin or uninterrupted spins respectively.
In the mood for some moonshine? The Kings of Chicago can offer you that, any time, anywhere! Play online on any mobile, tablet, or PC device.
Interactive Features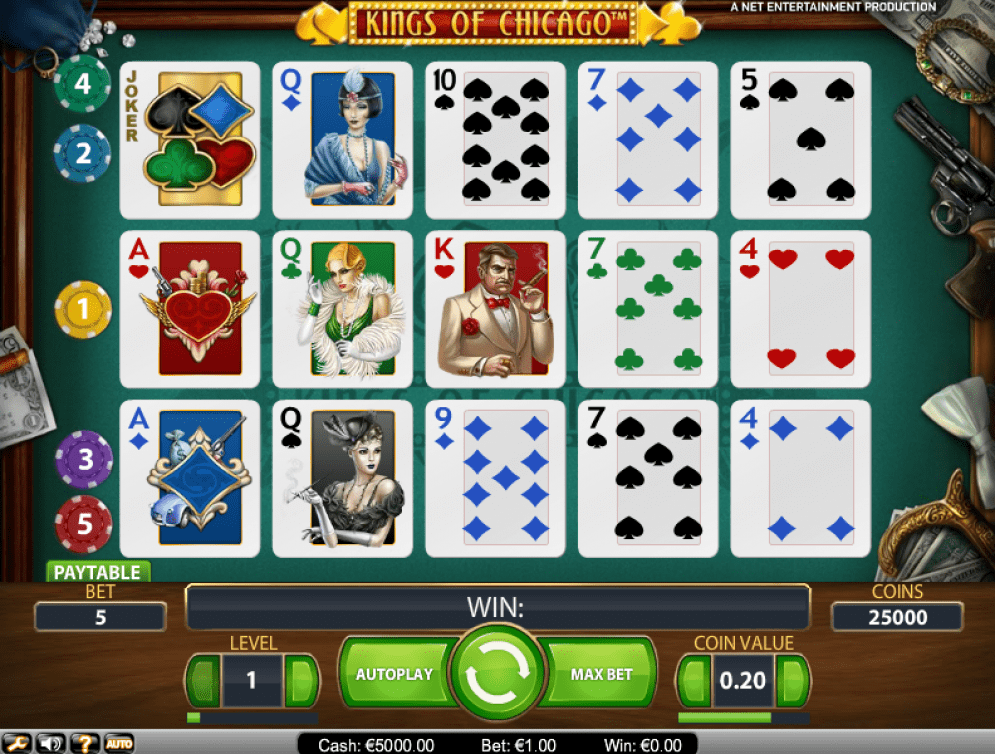 Wilds. The Joker card represents the wild symbol. This kind of icon can substitute for other card symbols.
Scatters. For this game, there is no separate scatter symbol. Scatter symbols will vary per spin. Any card can be marked with a "scatter" sign. These scatter symbols can trigger some free deals bonus or free spins.
What Symbol Triggers Kings of Chicago Slot Bonus Free Spins?
The free spins can be found in the Free Deals Bonus Feature. In this game, each spin is called a "deal". Any deals won during the bonus feature will award players an additional 2x multiplier. Players can win the following free spins by landing three or more scatters in 1 deal:
5 Scatters awards players with 30 free deals.
4 Scatters awards players with 15 free deals.
3 Scatters awards players with ten free deals.
Paylines and Stakes
The kings may be rich, but it will take a while before any player can be bestowed with the king's 10,000 coin jackpot. To start this game with these royals, players must put down a bet valued at 0.01 to 1 coin per spin.
Doing so will unleash a reel filled with cards. So, if you're versed in poker hands, this should interest you. There are no high or low paying symbols, so players will have to land poker card combinations to win the coin rewards.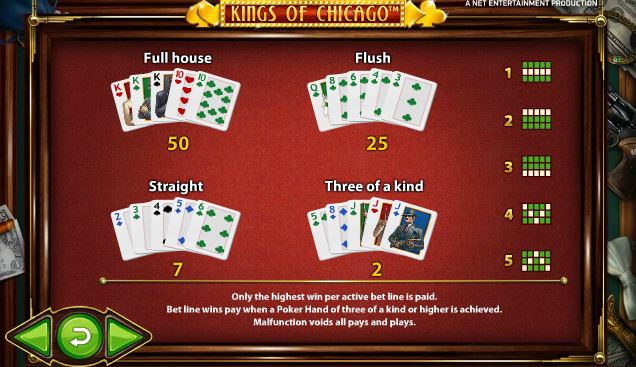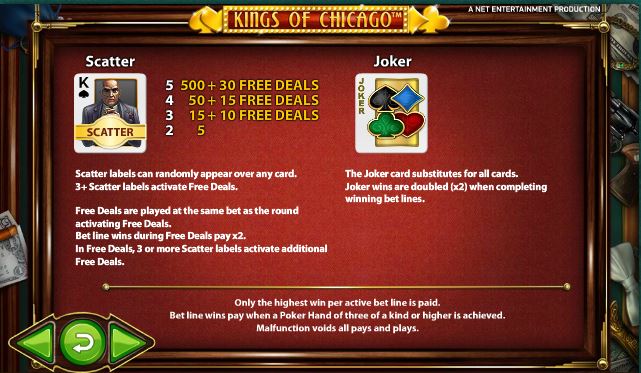 A natural royal flush (i.e. 10, J, Q, K) can award players with 10,000 coins. Landing 5 of a kind can bring on a 1,500 coin prize. These symbols comprise of 4 cards of the same number plus a joker. Next up is the royal flush which includes all the royal symbols as well as the joker. Landing this combination will result in a payout of 1,000 coins.
Meanwhile, the lowest-paying combinations are the 4 of a kind and the straight flush. 4 of a kind is exactly like 5 of a kind minus the joker. These symbols can award players with 75 coins, whereas the straight flush (i.e. 5, 6, 7, 8, 9) can award 250.
Kings of Chicago Slot Game Software
This glorious game of poker with The Kings of Chicago was made possible by NetEnt Software.
The software provider known as NetEnt is known in the industry for being the pioneers in unique and premium online games. Their games provide digital entertainment on all platforms.
What is Kings of Chicago Slots RTP?
The Kings of Chicago video slot is a non-progressive game that has a high RTP of 97.8%.
Slot Volatility
This slot has a medium variance. That kind of volatility means the game provides players with fair payouts, but these do land frequently enough to get some good wins.
Summary
Why separate poker and slots when you can get them both in one game? This unconventional video slot injects some thrill back to poker. The best part of the game is you don't even need a poker face to win the game! It will also probably be the only time when players will be delighted to mingle with mob bosses. For this slot game's theme is just that – the mob kings.
It's catered to those players who want a more thrilling yet not oh so difficult slot to play, so newbies are also welcomed to try this reel on for size.
You May Also Like
We have researched and reviewed all other NetEnt Ltd games you might also like: