Once upon a time, trolls, imps, and gnomes roamed the Earth. They have been silent for centuries – until now! Coming out from under the bridge are the forest's whimsical beings.
Trolls Slots is a 5-reel, 20 payline, online video slot game, developed by NetEnt. The medium variance casino game has an RTP of 95.1% and a Mythical Creature theme. Bonus features, such as Tree Stump Wilds, Golden Wilds and Firefly Moonlight Scatters, can help you win up to £120,000 in real money!
Explore the Nordic forests and befriend these magical creatures. If they like you enough, they may even bless you with countless gifts! Find out how to befriend the trolls to get on their prizes by reading this Trolls Slot Review.
Trolls Slot Sites
From our research, we have created a list of Trolls Sites in May 2023:
About Trolls Slot Game
In Norse folklore, they believe trolls to be the shy and reserved sort, so to see one would be an omen of good luck. Step into a fairy tale – one filled with wonderous, mythical creatures and their collection of wilds, scatters, and free spins.
It is rare for a human to set foot on their land, so it might be difficult to catch them. They may be shy, but if you are patient, they might take a liking to you. This fanciful game of Troll slots is a five-reel, 20 pay-line legend, and a myth-themed video slot game by NetEnt Software that offers plenty of big wins to players who set foot in the magical forest.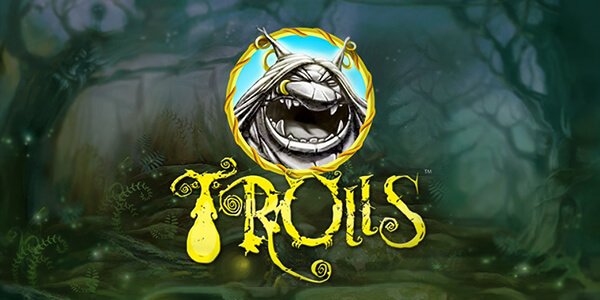 Be enchanted by the woods and all the spritely woodland creatures. Trolls are mysterious, and just like them, this game will appeal to any player's curiosity. But unlike trolls, players will not have to look under bridges or far off lands to gain the wins these magical beings.
We are all acquainted with tales of trolls, of them hiding and playing tricks on mortals, to hiding under the bridge, judging to see who was worthy of crossing.
In this version, players are taken to a book-like illustration of the forest – the trolls' domain. Though it is much darker than a normal kids' story would be. Perhaps because this version is based on the Nordic stories of them – the ones our mothers left out.
Players are set to spin the reels deep in the magical woods, amidst tangling vines, glowing fireflies, and mysterious stone sculptures surrounding the area. The reels will have your imagination spinning with the game – enticing you to stay longer.
Slot Info
| Trolls Slots | Attributes |
| --- | --- |
| Casino Game: | Trolls Slot Game |
| Paylines: | |
| Reels: | |
| Software: | |
| Minimum Bet: | £0.01 |
| Max Bet: | £80 |
| Variance: | |
| RTP: | 95.1% |
| Slot Theme:  | Mythical Creature |
| Bonus Features: | Tree Stump Wilds, Golden Wilds, Moonlight Scatters |
| Max Win: | £120,000 |
| Free Spins: | Yes |
| Release Date: | 25th August 2009 |
How to Play Trolls Slot Online
Trolls are tricky, here are some tips and tricks to help you with them:
Begin the mystical quest for wins by adjusting the bet level, bet line, and coin value. This can all be toggled by adjusting the (+/-) sections found on the lower control panel. After, players can start spinning the reels by choosing either the autoplay or spin buttons.
Experience the wealth of Nordic fairy tales any day! The Trolls slot game is available for online play on any PC (MAC, Windows, OSX), mobile (Apple and Android), and tablet devices.
Interactive Features
Wilds. The "Wild" image represents the wild symbol. This symbol can substitute for all symbols except for the scatters. Players can win an additional 2x multiplier by getting winning combinations with the wild.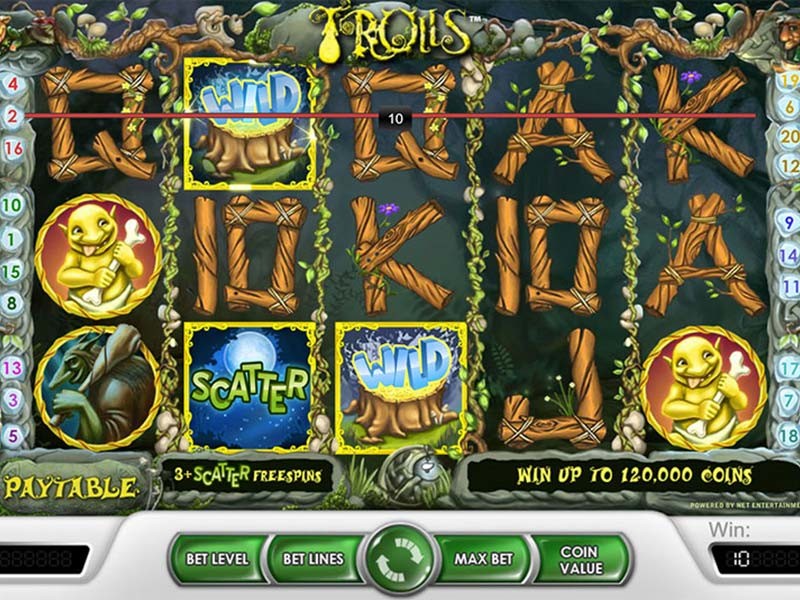 Golden Wilds. The "Golden Wild" image represents the other wild symbol. This type of wild only appears on reel 3. This symbol can substitute for all symbols except for the scatters. If used in a combination, this wild can award a 4x multiplier.
Scatters & Free Spins. The scatter symbol is represented by the moonlight. This feature will award players with some additional multipliers along with free spins which can be triggered by landing some scatters on the reels.
What Symbol Triggers Trolls Slot Bonus Free Spins?
Sometimes, it is not the mysterious that hold the treasure, but the ordinary things that we tend to overlook. In this case, it's the Moonlight. This simple-looking item acts as the scatter symbol and, when landed 3 to 5 times on the reels, can give players some free spins and multipliers. Do not worry, when these run out, it can be retriggered by landing another three or more of the treasure chest on the reels.
Five scatter symbols will award players with 500 coins and 30 free spins.
Four scatter symbols will award players with 25 coins and 20 free spins.
Three scatter symbols will award players with five coins and 20 free spins.
Paylines and Stakes
In the magical forest, anything is possible, including landing the 10,000 coin jackpot. But in order for anyone to get this, players must begin the game by placing a bet of 0.01 to 1 coin per spin.
Now, that jackpot prize is the diamond in the rough, so do not expect to claim it so easily. While waiting for that prize to land, players can rely on the different trolls, which act as the high-value symbols, and the card symbols, which act as the lower-value symbols.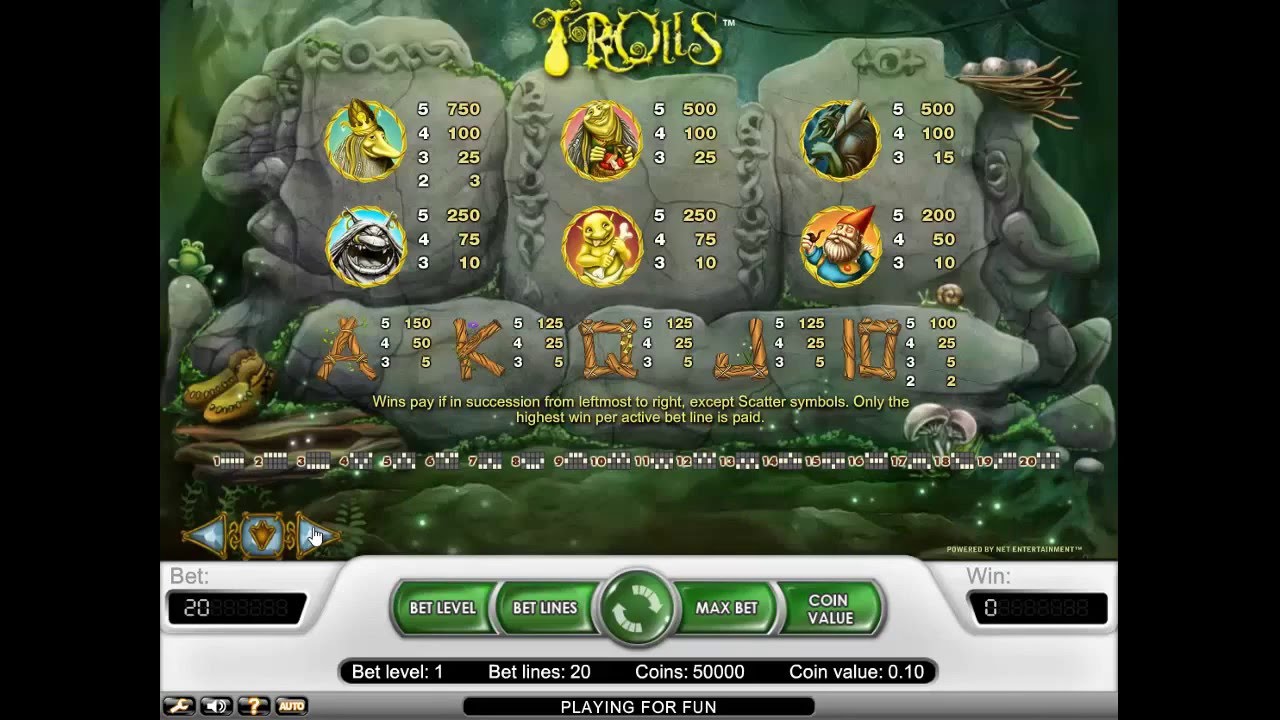 The troll king, along with his other troll subjects, pay players the most, with the kind holding the most value. By landing 2 to 5 of him on the reels, players can get anything between 3 to 750 coins. In contrast, the other trolls and the gnome can fetch players a minimum of 10 coins for landing 3 of a kind, and 500 for landing 5 of a kind.
Though, seeing as these beings are rather shy, players can seek out the A, K, Q, J, and ten symbols. These can fetch lower amounts that range from 2 to 150 when 2 to 5 of a kind lands on the reels.
Trolls Slot Game Software
The whimsical Trolls slot game was made possible by NetEnt Software.
Net Entertainment Software welcomes all players with its unique and premium online games. Their games bring everyone digital entertainment on all platforms.
What is Trolls Slots RTP?
The Trolls video slot is a non-progressive slot game with an RTP of 95.1%.
Players who play this game can expect to win over £95 whenever £100 is wagered.
Slot Volatility
This online slot game is a medium to high variance kind of game. That means the game provides players with adequate payouts, but the winning pays only land semi-frequently.
Summary
This rather playful game will incite curiosity and excitement in any player. From the theme to the payouts, and even the fun cartoon graphics, this slot game will have you glued for hours. Now, the bonus features may be quite limited and there are no additional bonus games to be seen, but players can expect to land some substantial wins now and then.
This slot may be immersive and downright enjoyable, but it may be best for those players with a little bit more experience playing this game as patience and skill are needed. It is not necessarily a "bet big, win big" kind of game, but there is a slight challenge when landing the pays. So if gnomes, trolls, and other magical woodland folk tickle your fancy, then this game is definitely for you.
You May Also Like
We have researched and reviewed all other NetEnt Ltd games you might also like: