Safari Madness Slot Machine
Slather on some bug spray and jump on your jeep. Spot lions, hippos, giraffes, and maybe a few winning combinations the slot game presents along the way. In this Safari Madness Slot Review, find out how you can load up on some beastly prizes while going on your wild safari adventure!
Safari Madness Slots is a 3-reel, 8 payline, online video slot game, powered by NetEnt. The low variance casino game has an RTP of 96.7% and a Safari Animal theme. You could win up to 3,000x your stake in real money! The minimum bet you can place is £0.01 per spin and the maximum is £6.40 per spin.
Safari Madness Slot Sites
From our research, we have created a list of Safari Madness Sites in February 2023:
About Safari Madness Slot Game
Have you ever been on a trek through the wilderness? Well, thanks to NetEnt Software, you can do so all from the comfort of your own homes. In this video slot, you can spot different wild creatures while you explore the wonders the African safari brings.
See some bright-eyed wild animals in the Safari Madness slot. This game is a classic slot game with a few tricks up its sleeve. This nine reel, eight pay line nature-themed slot guides players through the wilderness in search of some hippos, crocodiles, and other wild animals hazing around.
Based on a classic slot reel, this game brings players back to the casino floor and reintroduces them to traditional slot symbols. It may not have bonus features such as wilds or scatters, but it can allow players to control the movement of the reels.

Despite the traditional slot machine cabinet, the character elements of the game bring about an enjoyable experience with frolicking animals and bright decorations flanking the reels that can keep players entertained for hours on end.
This game of Safari Madness brings players back to the Casino for a chance to play this classic slot game. With lions, hippos, rhinos, and giraffes roaming the reels, players will truly feel as if they are in the midst of the African safari!
The sounds of the wild accompany players as they spin the reels and earn multiplier after multiplier. This classic game by NetEnt will not leave players wanting.
Join the safari ranger and take the beaten jeep off to the dirt roads to discover what other wild creatures are waiting to be discovered. Bring classic game play back to life with this mix of wild illustrated symbols along with the all too familiar noise of the slot cabinet.
Slot Info
| Safari Madness Slots | Attributes |
| --- | --- |
| Casino Game: | Safari Madness Slot Game |
| Paylines: | |
| Reels: | |
| Software: | |
| Minimum Bet: | £0.01 |
| Max Bet: | £6.40 |
| Variance: | |
| RTP: | 96.7% |
| Slot Theme:  | Safari |
| Bonus Features: | Autoplay Feature, Frozen Reels |
| Max Win: | 3,000x |
| Free Spins: | No |
| Release Date: | 30th December 2006 |
How to Play Safari Madness Slot Online
It's tricky surviving in the wilderness. Here are some tricks to get by on your adventure:
Toggle with the game's coin levels, coin values, and pay lines by adjusting the buttons found in the control panel. When you're happy with all this, you can begin the game by either pressing the Spin or Autoplay buttons. The former will give one spin while the latter will provide several undisturbed spins. You can also press the Clear Bets button to clear out all the bets on the pay lines.
The Safari Madness video slot can be played on all PC devices.
Interactive Features
There are no wilds, scatters or bonus games in this game.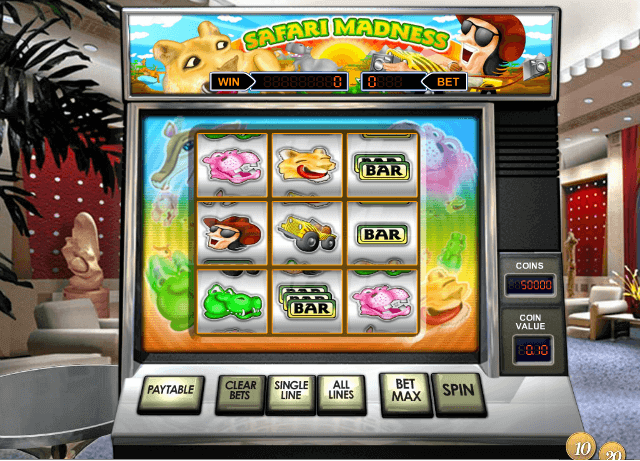 But, players have the option of stopping the reels from spinning. Players can also stop the left reel by clicking the Clear Bets button. Additionally, players can stop the middle reel by clicking the Single Line button as well as stop right lines by clicking the All Lines button. To stop all reels from spinning, players can click either the Max Bet or Spin buttons.
What Symbol Triggers Safari Madness Slot Bonus Free Spins?
It's difficult to get everything you need out in the wilderness. So, in this slot game, there are no free spins available for players to trigger, and neither can they be triggered by any symbol.
Paylines and Stakes
Hunting the 3,000 coin jackpot may not be an easy feat to overcome, but by placing a bet valued between 1 to 8 coins per spin, players can get a chance to gain some substantial wins from the symbols, all of which award multipliers.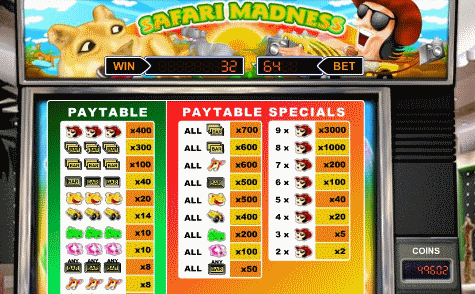 The safari man is the most valuable symbol, so keep an eye for him. Landing 2 to 9 of a kind of this symbol can award players anything from 3,000x multipliers to 2x multipliers. While landing 1 to 3 of a kind of the other symbols can award players a minimum of 2x and a maximum of 300x multipliers. These are the BAR symbol, the lion, truck, crocodile, hippo, and gazelle.
Safari Madness Slot Game Software
Safari Madness is a classic video slot game that was made possible by NetEnt Software.
NetEnt Software is leading the way with unique and premium online games that provide digital entertainment on all platforms. They now provide games for mobile play.
What is Safari Madness Slots RTP?
The non-progressive game of Safari Madness is a video slot game with a good RTP of 96.7%.
Slot Volatility
This classic slot has a low to medium variance range. That means the game provides players with fair payouts that can land semi-frequently. Players have a good shot of winning the jackpot thanks to the variance level.
Summary
This may look like a difficult game to tame, but rest assured, everyone will walk out with something after the game is through. This slot has limited features which make the game a little more challenging as the payouts only come semi-frequently. But nonetheless, the slot gives players a light, upbeat and fun gaming experience. So, if you're in for a more relaxed game, then this may be one to try out.
You May Also Like
We have researched and reviewed all other NetEnt Ltd games you might also like: