Secrets of Horus Slot Machine
God of war and god of the sky, worship Horus to see your wins fly. So gather your prayers and garner some strength, for godly a blessing you will have to play at length. Learn how to gain some ancient blessings from Horus himself in this Secrets of Horus Slot Review.
Best Secrets of Horus Slot Sites
From our research, we have created a list of the Best Secrets of Horus Slot Sites in March 2023:
Slot Info
| Secrets of Horus Slots | Attributes |
| --- | --- |
| Casino Game: | Secrets of Horus Slots Game |
| Paylines: | |
| Reels: | |
| Software: | |
| Minimum Bet: | £0.40 |
| Max Bet: | £40 |
| Variance: | |
| RTP: | 96% |
| Slot Theme:  | Ancient Egypt |
| Bonus Features: | Eagle wilds, Blue Scarab scatter |
| Max Win: | 120,000 |
| Free Spins: | Yes |
| Release Date: | 20 June 2009 |
About Secrets of Horus Slot Game
As it was then, so it is now. Players can hold their breath and hope for the best, or they can pray to Horus in hopes of getting aid in this battle to win the jackpot. Venture into the ancient tombs, suffer the gazes of the mummies, and the sphynx on your way to gaining some prizes.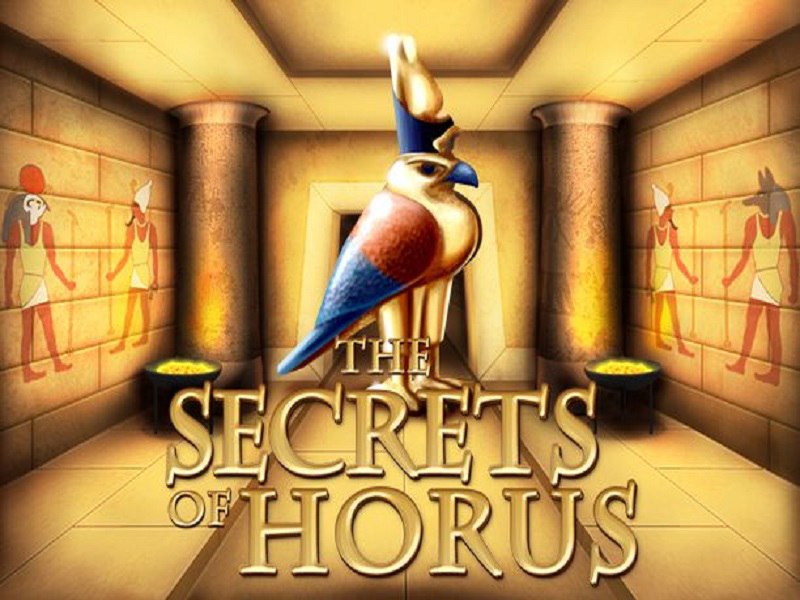 As one of the most important deities in ancient Egyptianian culture, Horus was seen as one of the most formidable of the gods – being the god of the skies as well as the god of war. People would worship and offer prayers in hopes of getting a blessing from him.
If you are into ancient Egyptian culture, stories, and artifacts, then this game is something you can appreciate. The Secrets of Horus slot game is a five-reel, 20 pay-line video slots game by none other than Netent Software.
The showcase of a detailed background of an ancient tomb makes players want to delve deeper to see what treasures lay beneath the surface. Though, much like grave robbers, players will have to watch their backs, for Horus is never one to keep his treasure unguarded.
Prove unworthy, and you will get nothing. Show your verve, and maybe then he will take mercy on you and give you a jawdropping prize. The game centres mainly on the key elements of ancient Egyptian artifacts such as the eye of Ra, scarabs, busts of Horus himself and even a canopic jar with Anubis on it.
Much like how the gods were meant to guard mortals, so they guard the treasures mortal players seek in this game as the deity aspect is heavily enforced on the slot theme and symbols.
The gems and treasures of the god are hidden in a tomb filled with secrets. If you are brave and daring enough, Horus might just see you as worthy of getting the prize.
How to Play Secrets of Horus Slot Online
Before venturing into the winding halls of the tomb, here are a few tips and tricks for you:
Every explorer knows that before the game begins, one must adjust the level and value of the coins. This is done by toggling with the (+/-) section found on the lower part of the screen. Although, for values and amounts to be placed automatically, players can simply click on the Max Bet. Now, after all, that has been settled, players can begin spinning the reels by choosing either the Spin button or the Autoplay button.
This game is only available for PC play (accessible online on any Mac, Linux or Windows computer).
Interactive Features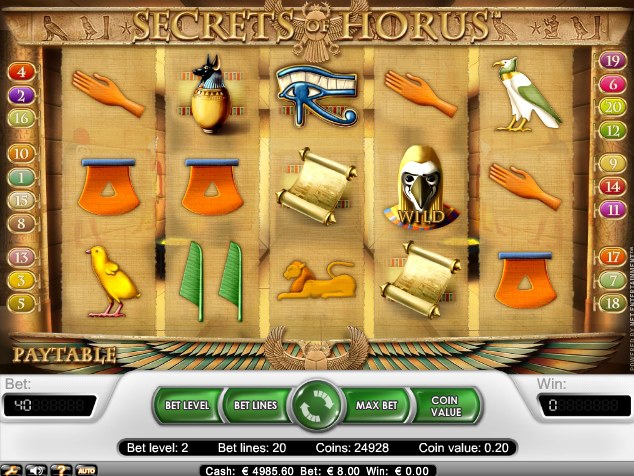 Horus Wild. The Eagle symbol represents the wild symbol. Players can win over 2x multiplier during the main game by landing a winning combination.
Scatters and Free Spins. The free spins feature is a result of triggered by landing blue scarab scatter symbols on the reels.
What Symbol Triggers Secrets of Horus Slot Bonus Free Spins?
The gods can be very generous, and in this case, offering three or more of the blue scarabs that act as scatter symbols can trigger the free spins feature. The free spins can also reward players with coin wins between 2 to 500.
Paylines and Stakes
Landing the 10,000 coin jackpot is a godly gift indeed. To get a chance to gain this prize, players must first place a bet of 1 to 4 coins per spin.
Placing a wager will start the adventure into the world of Horus. If you play your cards right, Horus can help you land some great combinations with the wild symbol. Landing 2 to 5 of a kind of this symbol can garner coin wins between 10 to 10,000.
Do not worry if you have a hard time landing these, for the other symbols also offer up some good wins. These symbols are the Eye of Ra, a gold ring, the Anubis canopic jar, a scroll, various birds, a sphynx, a hand, and some hieroglyphs. As the mightiest of the gods, Ra's all-seeing eye acts as the highest paying symbol of the bunch. Landing 2 to 5 of this on the reels can award players as little as three coins and as much as 750 while landing 2 to 5 of other symbols can award players coin values varying from 5 to 500.
Secrets of Horus Slot Game Software
Thanks to NetEnts Software, the Secrets of Horus game is now more accessible and player-friendly. 
NetEnt Software is a software provider who's known for churning out premium and unique games that players of all ages and backgrounds enjoy. Their games provide digital entertainment on all platforms.
Secrets of Horus Slots RTP Review
This non-progressive game of Secrets of Horus has a 96% RTP. 
Slot Volatility
The Secrets of Horus slot game has a low to medium variance. This level of variance enables players to gain adequate wins semi-often.
Summary
The ancient Egyptian civilization was rich with culture as well as jewels. This game perfectly captures that essence as the details of the game, from the symbol illustrations to the background image and music replicates the look and feel of old Egypt, check out Egyptian-themed slots.
That being said, players can expect a good adventure in this game in March 2023, although it is not quite as challenging as the payouts happen frequently enough despite the lack of more bonus features to help land those wins. So players of all levels, new or experienced, will surely get a kick out of this game.
You May Also Like
We have researched and reviewed all other Netent Games you might also like: