Voodoo Vibes Slot Machine
Leave some to destiny and the rest to Voodoo; you may just get a better chance at winning if you do what the Priestess of Voodoo tells you to do. In this Voodoo Vibes Slot Review, discover how this magic art will help you gain some wins.
Voodoo Vibes Slots is a 5-reel, 25 pay line online video slot game, with a magic/horror theme. This low variance casino game has an RTP of 94% and you can expect to find the Voodoo doll, chickens and magic potions symbols. Bonus features include the free spins feature and scatter symbols. 
Voodoo Vibes Slot Sites
From our research, we have created a list of Voodoo Vibes Sites in October 2022:
About Voodoo Vibes Slot Game
Witchcraft is more than just potions, witches, and spells. Sometimes, it's about pins, needles, dolls, and Voodoo. This is a dark and mysterious craft. Have you ever felt like your luck was not enough? Well, then maybe you were not arming yourself with the right spells or the right wishes. Sometimes, a little Voodoo is all you need.
This online slot game is not for the faint of heart as Voodoo requires sacrifices. During the game, you can hear tons of eerie noises. Players can listen to the hum of drums from a distance, adding to the mystical vibe that the theme brings about.
The Voodoo Vibes game is a mystery-themed video slot by NetEnt. It is a five-reel 25 pay-line video slot game that is based on a form of black magic that can be seen in the game's symbols. These symbols and images represent the magic that goes behind Voodoo rituals and practices such as the Voodoo doll, chickens, and of course, magic potions.
Voodoo has deep cultural roots that stem from Afro-American practices. In this game, NetEnt has managed to transport players into the artistic and mysterious world of Voodoo by setting the scene in an African settlement or village with several huts flanking the background.
Stick a pin on a doll and watch your wins grow! With this, players can expect high-quality graphics as the illustrations are drawn well, giving the screen a lively and colourful burst that will excite any player. The sides of the screen are also surrounded by tiki torches that glow in the night, giving the background a more ritualistic feel.
The game packs several entertaining bonus materials for the players to discover. This theme does expel a true Voodoo vibe. This game offers a bonus game and several special features that will help each player win tons of treasure. So what are you waiting for? Test out the power of Voodoo and see how well you do.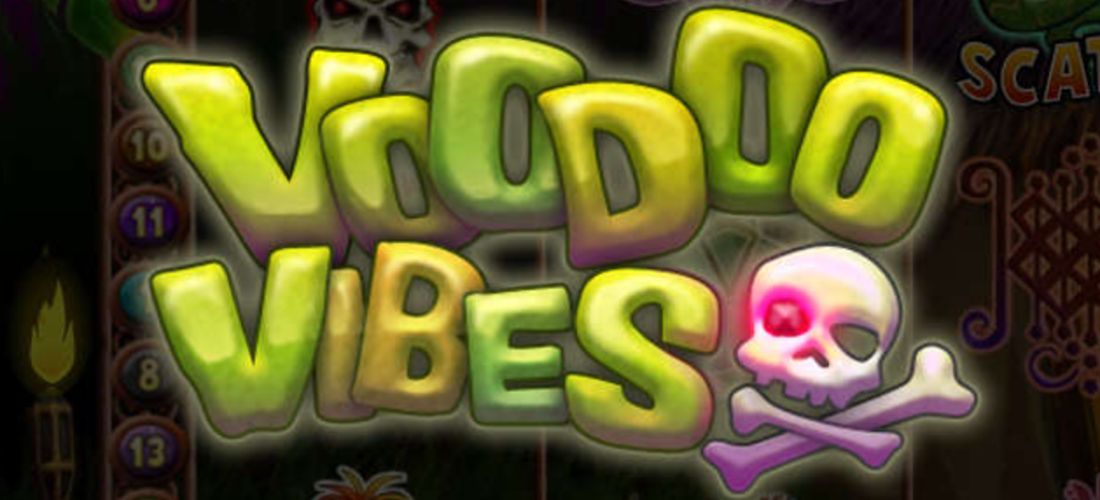 How to Play Voodoo Vibes Slot Online
To master the spells, here are a few tips and tricks for you:
Click the Coin Level (+/-) section to set the number of coins per line.
Click the Coin Value (+/-) section to set the value of coins per line.
Click the Pay line section to change the number of pay lines. There are a total of 25. Then, you can choose the Spin button to begin the game.
Though, for uninterrupted gameplay, press the Autoplay button.
You can also adjust the sounds and volume level to your liking.
The art of Voodoo takes a while to master. The Voodoo Vibes slots game is compatible with PC systems. Play from any Windows, Mac or Linux systems to hone your skills and go from apprentice to master.
Slot Info
| Voodoo Vibes Slots | Attributes |
| --- | --- |
| Casino Game: | Voodoo Vibes Slot Game |
| Paylines: | |
| Reels: | |
| Software: | |
| Minimum Bet: | £0.01 |
| Max Bet: | £50 |
| Variance: | |
| RTP: | 94% |
| Slot Theme:  | Magic |
| Bonus Features: | Wild symbols, Scatter symbols, Free spins |
| Max Win: | 90,000 |
| Free Spins: | Yes |
| Release Date: | 2009 |
Interactive Features
Wild Symbol. The Voodoo master is the Wild symbol. The wild symbol can help players get more winning combinations by changing any symbol to the winning symbol. This feature does not apply to the scatter symbol.
Scatter Symbol and Free Spins. The green rattlesnake is the scatter symbol. It can award players with free spins and multipliers.
What Symbol Triggers Voodoo Vibes Slot Bonus Free Spins?
Rattle the reels with the rattlesnake scatter symbol. By landing three of a kind or more of these scatter symbols on the reels, players can get over ten free spins and a 3x multiplier. This specific bonus feature is triggered by getting three or more symbols on any position on the reels.
5 of a kind will award players 100 coins plus ten free spins
4 of a kind will award players 25 coins plus ten free spins
3 of a kind will award players four coins plus ten free spins
Two of a kind will reward players two coins.
Paylines and Stakes
Sometimes all you need is a little voodoo magic to land some lucky wins or even the 7,500 jackpot. But even Voodoo has a price. For 1 to 4 coins per spin, players can enlist the help of the shaman to aid in landing some great symbols which will gift players with coin wins.
When asking the voodoo master for help, players can expect some wild wins coming their way. Anything from 7,500 coins to 5 coins can be gained by landing 2 to 5 of a kind of the wild symbol.
The other magical objects such as the skull candle, priestess, chicken, potions, along with the purple, gold, green and red symbols can also award players with some pretty generous gifts. Players who land 3 to 5 of a kind of them on the reels can get a minimum of 2 coins and a maximum of 250 coins.
Though, the magic doesn't stop there. For those lucky enough to land the bonus game, players can expect to receive an additional 3 to 5 bonus games.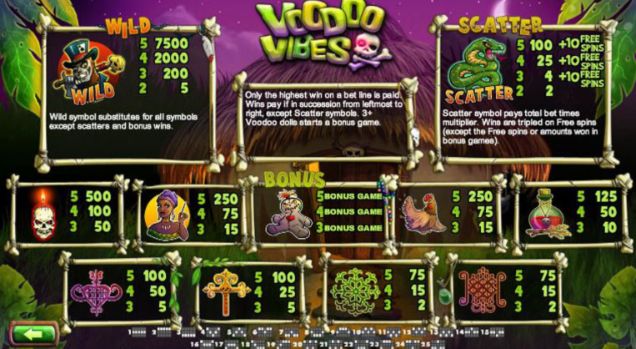 Voodoo Vibes Slot Game Software
This culture-filled masterpiece was made possible by NetEnt Software.
Net Entertainment Software is known for inciting excitement and thrill in players' gaming experiences. This is because they are leading the way with unique and premium online games that provide digital entertainment on all platforms.
What is Voodoo Vibes Slots RTP
The Voodoo Vibes video slot is a non-progressive game that has a 94% RTP.
Slot Volatility
This slot game has a low to medium variance, which gives players an excellent opportunity to land wins. The payout may be low, but it does land frequently enough.
Summary
There are many mysterious and unexplainable things when it comes to Voodoo. In this game, players can expect the same allure and appeal of the art without having to go through all the complications.
This game was designed for anyone who's looking for a more relaxed gaming experience. The volatility is low, which enables players to keep gaining, albeit in small amounts. The game may have limited features, but landing wins won't be a problem, mainly when the bonus game is triggered.
You May Also Like
We have researched and reviewed all other NetEnt Ltd games you might also like: