Wonky Wabbits Slot Machine
Imagine a garden filled with fresh, plump vegetables. The carrots are ready to be harvested, the corn ripe for the picking. Trouble is, there is a funny little rabbit ready to steal your year's harvest!
Wonky Wabbits Slots is a 5-reel, 15 pay line video slot game, with an animal/rabbit theme. This medium variance casino game has an RTP of 96.5% and you can expect to find symbols such as carrots, tomatoes, corn, broccoli, and eggplants. Bonus features include wild symbols.
In this Wonky Wabbits Slot Review, find out how you can help out the furry critter to see what prizes he can dig up from your garden.
Wonky Wabbits Slot Sites
From our research, we have created a list of Wonky Wabbits Sites in March 2023:
About Wonky Wabbits Slot Game
This Wonky Wabbit is a colorful and fun five-reel, 15 pay-line video slot game by NetEnt Software that brings players back to a childhood atmosphere – where times were simpler, filled with afternoons of fun and cartoons. The big-eyed rabbit goes through your mouth-watering vegetable patch and looks for all the scrumptious veggies. Help him harvest as many vegetables to keep him happy and helpful.
Chase the adorable, funny rabbit around the meadow to see what crops and coins he can root out for you. Back during our childhood, we had to worry about catching our favorite cartoons on the television. The Wonky Wabbits transports players back to this wonderfully simpler time in each of our lives.
The slots play with lighter, softer colors – amping up the theme of childhood and child's play. With cute characters such as the fluffy bunny rabbit along with sewn vegetables, players will find it easy to imagine the good old days, when all you had to do was play before nap time.
Light, lively music also accompanies the gameplay as the wheels spin, making players relaxed and ready to win some prizes. This may not be as advanced in illustration and graphics, but that is the beauty of it. It brings about the simplicity of childhood, cartoons, and the childish games we would all play together.
So, if you feel like taking a step back from the serious world of adulthood, this game is one for you. Step out and have some fun with the fun, wonky wabbit, and see what you can unearth!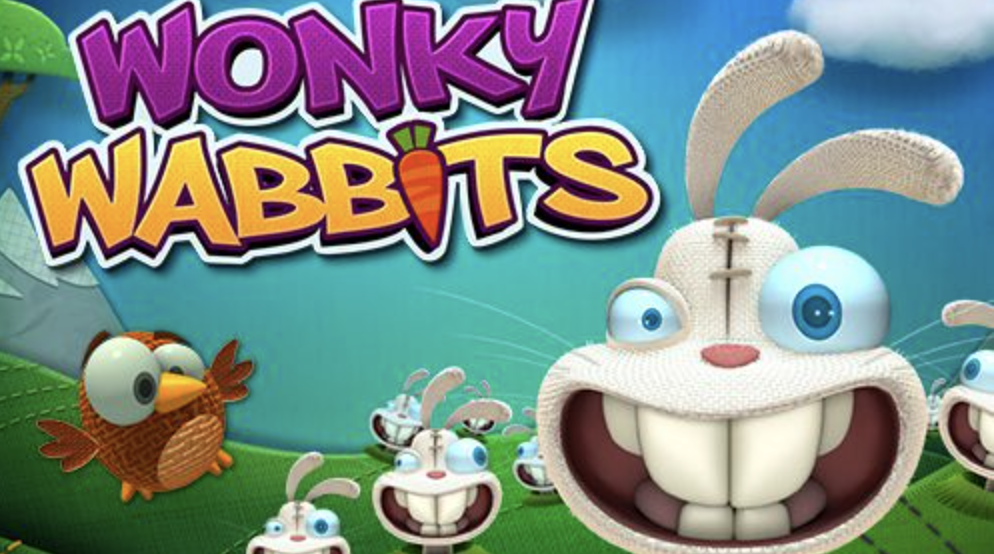 How to Play Wonky Wabbits Slot Online
Learn the art of witchcraft and wizardry with these easy tips and tricks:
Click the Coin Value and Level (+/-) segments to set the coins' level and value per line. Click the Spin button to begin the game.
Not ready to step outdoors just yet? Play from the comfort of your homes today! The Wonky Wabbits video slot game is compatible with any PC, tablet, and mobile device (Apple and Android).
Slot Info
| Wonky Wabbits Slots | Attributes |
| --- | --- |
| Casino Game: | Wonky Wabbits Slot Game |
| Paylines: | |
| Reels: | |
| Software: | |
| Minimum Bet: | £0.15 |
| Max Bet: | £150 |
| Variance: | |
| RTP: | 96.5% |
| Slot Theme:  | Animal |
| Bonus Features: | Wild symbols |
| Max Win: | 2600x |
| Free Spins: | No |
| Release Date: | 2014 |
Interactive Features
Wilds. The wild picture represents the wild symbol. The wonky wabbit will burrow underneath the soil to find you the best possible win during this feature. Players can win expect over seven wilds to appear on the reels, as well as a 20x multiplier. The Wild Duplication feature will double your wilds. Players can win over 390,000 coins from the Wild Duplication.
What Symbol Triggers Wonky Wabbits Slot Bonus Free Spins?
As there are no scatter or bonus symbols in this game, players will have to rely on the wilds to land some good wins. And since there are no scatter symbols, no free spins can be won or triggered either.
Paylines and Stakes
Sometimes, all it takes is luck and a little help from a furry friend to land significant treasures such as the 1,500 jackpot. But before all this fun can ensue, players must first place a bet of 1 to 10 coins per spin.
This will then lead to a furry good game of slots with the wonky wabbit and his high and low-paying symbols. These symbols are scattered throughout the game. It is your job to look for as many of them as possible, as these will help your wins grow faster than any weed in the wabbit's garden.
So, watch out for the carrots, tomatoes, corn, broccoli, and eggplants. These are the high-paying symbols. By landing 3 to 5 of these on the reels, players can win anything from 20 to 1,500 coins.
The A, K, Q, J, and ten symbols, on the other hand, act as the lower-value symbols. By landing 3 to 5 of these, players can win a minimum amount of 5 coins and a maximum of 100.
Wonky Wabbits Slot Game Software
The Wonky Wabbits is yet another wonderful video slot game that was made possible by NetEnt Software.
NetEnt Software is leading the way with its exciting premium online games. Their games provide players digital entertainment on all platforms.
What is Wonky Wabbits Slots RTP?
Wonky Wabbits is a non-progressive game that has a high RTP of 96.5%.
This kind of payout percentage allows you to win as much as £96 whenever as much as £100 is wagered.
Slot Volatility
Wonky Wabbits Slot is a medium variance game. That means the game provides players with good payouts, but the win pays only land semi-frequently.
Summary
This slot is an eccentric and fun game that is bound to incite laughter from any player. It is both entertaining as well as immersive as it presents players with enjoyable and generous gaming experiences. Suitable for any player level, this fun looking video slot game will surely keep any player spinning and entertained for hours on end. So, whether you're a beginner or a seasoned player, playing with the wonky wabbit will be a rewarding experience.
You May Also Like
We have researched and reviewed all other NetEnt Ltd games you might also like: